Hizbullah has consistently placed its own interests ahead of those of the Lebanese state by engaging in cross-border smuggling, financial sector manipulation and by establishing a parallel economy, experts said.
These actions have actively undermined the state and the Lebanese people, they said, and have directly contributed to Lebanon's economic collapse.
At present, according to the United Nations (UN), 82% of the Lebanese population lives in multidimensional poverty, with the steep decline in the value of the currency swallowing up people's purchasing power.
Many blame Hizbullah for the dire conditions they are now facing, which include extended power outages, with new revelations of the Iran-backed party's financial corruption coming to light on a regular basis.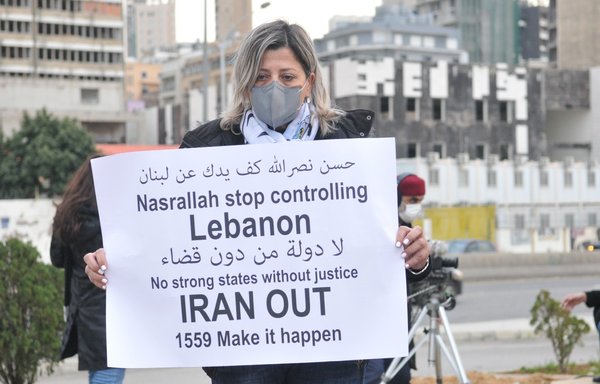 Last week, a US Treasury delegation once again warned that Hizbullah's Al-Qard Al-Hasan association -- a "charity" that acts like a bank -- is providing cover to Hizbullah's financial activities, Asharq al-Awsat reported.
During a three-day visit to Lebanon that ended March 2, the delegation highlighted Al-Qard Al-Hasan as one example of an unregulated, pseudo-financial institution that abuses its Ministry of Interior-granted NGO licence.
Al-Qard Al-Hasan, which has been under US sanctions since 2007, provides cover to Hizbullah's financial activity, jeopardising the credibility of the Lebanese financial system, the delegation said.
Last May, the US Treasury sanctioned seven individuals in connection with Hizbullah and Al-Qard Al-Hasan.
In January, US sanctions targeting Hizbullah financiers and money launderers highlighted the "corrupt and destabilising activities" that are helping the Iran-backed party profit at the expense of the Lebanese people.
Sanctions were imposed on three Hizbullah-linked financial facilitators and their Lebanon-based travel company, Dar al-Salam for Travel and Tourism.
Smuggling activity
Hizbullah "smuggles and directs major operations and deals, depriving the treasury of about a third of its income annually", writer and political activist Hanna Saleh told Al-Mashareq.
The militia smuggles goods through the Syrian port of Tartus to Lebanon without paying customs fees, he said.
It uses Beirut's southern suburb, a Hizbullah stronghold, as "a distribution point for smuggled goods", and uses the city's airport, port and close to 140 illegal land border crossings for smuggling, he added.
Since 2006, Hizbullah has controlled a large share of the country's resources, "brought harm to Lebanon and dragged it into the worst economic and financial crisis, with significant repercussions on state services", Saleh said.
Hizbullah sought to deflect growing popular anger -- even among its own base -- by sponsoring the delivery last September of a shipment of Iranian oil overland to Lebanon from the Syrian port of Banias, where it was unloaded from a vessel.
Many said they saw the move as a flagrant act of defiance to the Lebanese people and the international community that would expose Lebanon to additional sanctions, noting that Iran and Syria remain under sanctions for their actions.
Iran also has been trumpeting its readiness to build two power plants in Lebanon. But many are sceptical of its true motives.
"I only see Iran's promises of electricity as it presses on with its incursion into Lebanon and tightening its grip on it, and this is what we reject," Beirut resident Muhammad Koraytem said.
"Hizbullah is looking to exploit the crisis to invite Iranian offers to build power plants that would allow the presence of Iranian experts and technicians from the Islamic Revolutionary Guard Corps (IRGC) on Lebanese soil," he warned.
Lebanese protest
On February 27, Lebanon's Grand Mufti Abdul-Latif Derian slammed Hizbullah (without naming it) and the country's ruling class, accusing them of "destroying in a few years everything the Lebanese have accomplished in a century".
Demonstrators turned out to protest Hizbullah's hijacking of Lebanon's decision-making process on March 4 in front of the expatriate statue near the Beirut port.
Relatives of victims of the August 2020 Beirut port blast held banners denouncing Hizbullah chief Hassan Nasrallah and his party's weapons.
"Despite your threats and your missiles, you are not bigger than justice," read one sign with Nasrallah's face on it. "Justice is stronger than you or your weapons," read another sign.
Many Lebanese also have taken to the streets to call for the full implementation of UN Security Council Resolution 1559, and have stressed the need to liberate Lebanon from Iran's clutches and restore Lebanese sovereignty.