Resentment has been growing among Lebanese Shia -- Hizbullah's base -- as many now say they hold the party responsible for the country's economic crisis.
Shia from various parts of the country who spoke with Al-Mashareq said their view of Hizbullah has changed for the worse in recent months.
They distrust the party, they said, because it holds a great deal of power, while presenting an obstacle to the reforms that are needed in order for Lebanon to access international financial assistance.
Additionally, the economic crisis Lebanon is now facing has been deepened by US sanctions on Hizbullah's members and operatives.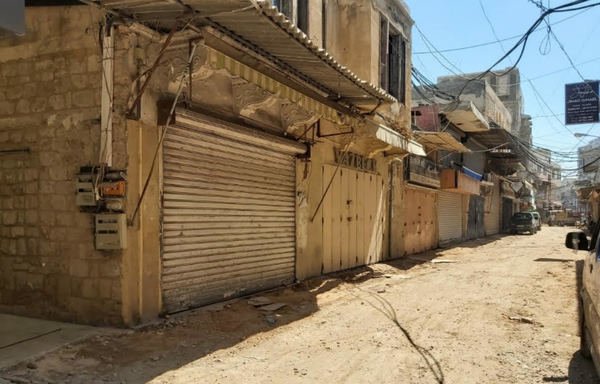 Hizbullah is no longer a "resistance" party, they noted, but rather "an accomplice to corruption and one of the reasons for Lebanon's [economic] collapse".
"I was one of the staunchest supporters of Hizbullah, but since the beginning of the economic collapse, I have realised the group is responsible for the country's economic issues," said Suleiman, a cook from the western Bekaa Valley.
"Its policies and its participation in the region's wars has led to sanctions on Lebanon, and we are paying the price," he told Al-Mashareq, asking that his last name not be disclosed.
"Here I am today, out of work," he said. "My savings have run out. I have three children. How should I support my family? What is the party doing to help us?"
'Self-serving party'
Although it has presented itself as a "saviour" to the Lebanese people, Hizbullah has only served its own members and supporters, said Mohsen Qassem, a resident of the southern city of Nabatiyeh.
"We now realise how much the party has deceived us with its slogans," he told Al-Mashareq. "The economic and financial crisis is eating away at our last resources. Now, the party is ravaging what remains of Lebanon."
According to Shia Reform Movement member Hussein Ezzeddine, the current economic situation in Lebanon has shattered Hizbullah leader Hassan Nasrallah's "saintlike status".
"We all remember Nasrallah's speech when he said that his money, weapons and all that he possesses come from Iran and that his people will not go hungry no matter what. People, even his opponents, believed him," he said.
But as events unfolded, his words gradually lost credibility and are now regarded as mere political rhetoric, Ezzeddine told Al-Mashareq.
"The majority of Lebanese Shia now hate Hizbullah," he said. "After October 17th (when the popular protests began), Nasrallah's status changed from being a Lebanese Shia leader to the leader of an ultra-extremist party."
Lebanese Shia take to streets
"With the exception of those directly associated with Hizbullah, around 80% of Shia in Lebanon are now openly expressing their anger," said a Shia dissident, who asked not to be named.
They are suffering the consequences of their bank accounts being seized and the 70% decline in the value of their salaries, he told Al-Mashareq.
They pin a big portion of the blame for this situation on Hizbullah, he added, noting that people are now wondering what will happen in the winter, with high fuel prices and the distribution of social aid.
Journalist Ali Badreddine, who heads the Nabatiyeh-based Wai (Awareness) Association, also noted that discontent is increasing among Lebanese Shia.
"This is the first time since 1984 that such a large number of Shia have taken to the streets in Lebanon's southern areas to express their anger against officials and Hizbullah," he told Al-Mashareq.
"The main reason is that poverty is on the rise among Shia," he said.
Hizbullah did not fulfill any of its promises to improve people's living conditions, and has not taken any steps to prevent the economic collapse in Lebanon or achieve economic development, Badreddine said.