With much fanfare yet little detail, Iran's Artesh Air Force last week unveiled a new underground base built "hundreds of metres" underground in an undisclosed location.
As is customary with Iranian military announcements, information provided to the public overhyped capabilities.
The "Eagle 44" base, which reportedly holds fighter aircraft and unmanned aerial vehicles (UAVs), commonly known as drones, "has all the required equipment for supporting a multitude of fighter aircraft", state media proclaimed on February 8.
The underground base in the mountains provides the capability "to carry out air operations at a far distance and far from the enemies' expectations", according to Iranian media reports.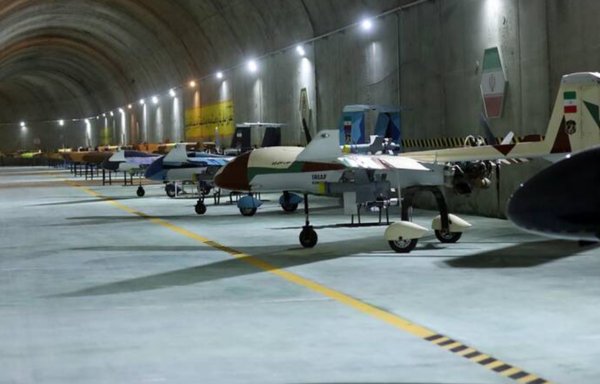 At times of war, the outlets said, the facility is reportedly capable of maintaining operations "for months", thanks to its "abundant fuel and ammunition storage".
The Iranian-manufactured radar-evading cruise missiles Yasin and Ghaem are mountable on the fighter aircraft present at the base, they said.
Another Iranian missile, Asef, is also carried by Russian Sukhoi Su-24 warplanes stationed at the Eagle 44 base, according to some reports.
It remained unclear how many of those jets are kept at the base, but last month, Iran's state media said Tehran was close to obtaining two dozen advanced Sukhoi Su-35 fighter jets from Russia.
Aviation experts say the company that manufactures the Su-35, and Kremlin-linked outlets that have been spreading information about it, have vastly conflated how the Su-35 measures up to other modern fighter jets.
Iran's military equipment has "multiple clients", Iranian Armed Forces Chief of Staff Maj. Gen. Mohammad Bagheri said ahead of the unveiling without giving details, as per Tasnim, an Islamic Revolutionary Guard Corps (IRGC) affiliate.
Bagheri also was vague about the location of the Eagle 44 base, revealing only that it was "somewhere in the mountains where no bomb can reach it".
Drone factory plans
Separately, per Iranian media reports, Tehran and Moscow are moving ahead with plans to build a new factory in Russia capable of manufacturing at least 6,000 Iranian-designed drones.
These are intended to be used in Russia's war on Ukraine.
As part of the emerging military alliance between Moscow and Tehran, a high-level Iranian delegation flew to Russia on January 5 to visit the proposed drone factory site in the town of Yelabuga, about 965km east of Moscow.
With this visit, the Wall Street Journal (WSJ) reported, Russian-Iranian talks about military co-operation morphed into concrete plans.
The delegation toured the empty site, where leaders from the two nations are planning to build a new factory that can mass produce drones in the future.
Leading the Iranian delegation was Brig. Gen. Abdollah Mehrabi, head of the IRGC Aerospace Force Research and Self-Sufficiency Jihad, and Ghassem Damavandian, chief executive of Iran's Quds Aviation Industry.
Quds Aviation Industry is a key defence manufacturer that the United States says is central to developing and building the Iranian drones, according to the WSJ.
Russia and Iran are aiming to build a faster drone that could pose new challenges for Ukrainian air defences, US officials told the WSJ.
Iranian missiles in Ukraine
Tehran has provided Moscow with hundreds of drones that it has used to hit military and civilian targets in Ukraine.
The United States says Moscow has been training Iranian pilots to fly Russian jet fighters, with the intent of sending Tehran those jets by the end of 2023.
In December, the White House warned that Moscow and Tehran were considering whether to build a joint drone-production line in Russia.
So far, Iran has mostly provided Russia with Shahed-136 "suicide drones" that contain a modest amount of explosives that detonate when the drones crash into their targets, US and Ukrainian officials have said.
The Shahed-136 is a slow-moving and loud drone with propeller engines, making it relatively easy to spot and shoot down.
Ukraine has shot down more than 540 Iranian-made drones since they started appearing over its skies last fall, according to the nation's air force.
Now, officials said, Iran is working with Russia to develop a Shahed-136 model with a new engine to make it fly faster and farther, with plans to produce the enhanced model in the new factory in Yelabuga.