Iran in the coming months is set to receive a number of Su-35 Russian fighter jets, which are touted by the Kremlin as high-end weaponry but are widely considered by aviation experts as inferior to other 4th generation aircraft.
Russia will provide the Sukhoi fighter jets to Iran early in the new solar year, which starts on March 21, the Islamic Revolutionary Guard Corps (IRGC)-affiliated Tasnim News reported January 15.
In an interview with the outlet, Shahriar Heidari, a member of Iran's national security and foreign policy committees in parliament, confirmed the order but did not mention the number of fighter jets ordered or when they were purchased.
There has long been speculation about such deals for Russian fighter jets.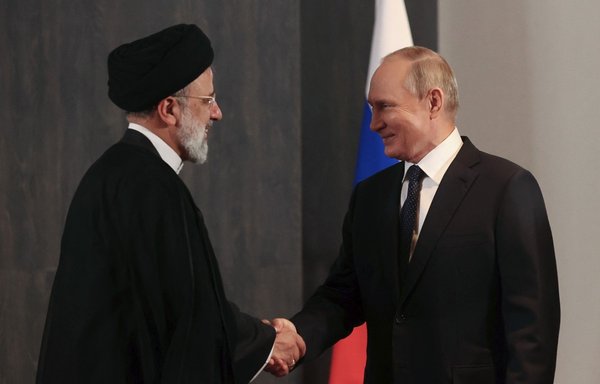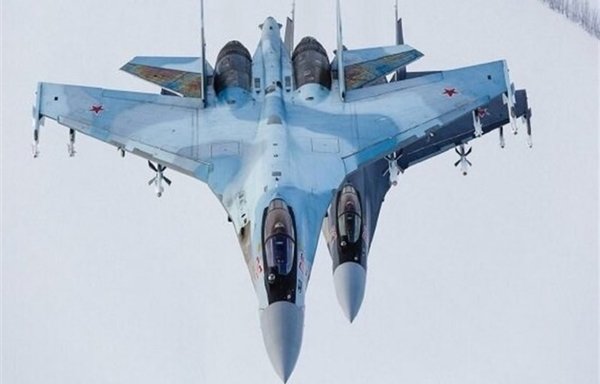 Before Russian President Vladimir Putin invaded Ukraine last February, Iranian President Ebrahim Raisi met with him in Moscow in January 2022 to discuss "long-term co-operation".
Although details of the deal have yet to be officially announced, the two sides are believed to have signed a 20-year, $10 billion defence agreement.
Under this agreement, Russia will supply Iran with 24 Su-35 Super Flanker fighter jets, two advanced S-400 air defence missile systems and a military satellite, Forbes reported December 30.
All this comes amid increasing evidence of the murky military relationship between Iran and Russia, which includes Tehran providing Moscow with a vast quantity of suicide drones for use in Ukraine.
Overhyped
Aviation experts say that the Su-35 is Russia's most advanced fighter jet and brings a number of advanced capabilities to bear, but note that the company that manufactures the jet, and Kremlin-linked outlets that have been spreading information about it, have vastly conflated how the Su-35 measures up to other modern fighter jets.
"The Su-35 is definitely the most capable Fighter in Russian Air Force ... But to say that it's on the same level as today's F-15E, F/A-18E/F, Typhoon or Rafale, much less 'superior' is defying reality," wrote aviation analyst Abhirup Sengupta on Quora, naming US-made and European alternatives.
"It's marketed as 'world-beating' -- something it doesn't come close to," Sengupta said of the Su-35.
"Look beneath the propaganda and they really don't excel anywhere outside maybe air shows."
"The Su-35 takes the title of the most overhyped 4++ generation fighter aircraft," aviation analyst Dario Leone wrote in 2020 in an article detailing a host of various deficiencies that do not affect Western rival planes.
Three years earlier, Leone detailed other issues with purchasing Russian aircraft.
"Russian jets are not exactly known for their reliability, combine that with poorly trained maintenance crews and lack of spare parts, some random Third World power is not likely to be able [to] generate a fully operational jet much of the time," Leone wrote in a 2017 article about the Su-35.
"Moreover, other than Russia and China, a potential adversary is not likely to have an AWACS [Airborne Warning and Control System] or full ground controlled intercept capabilities -- which further hampers the enemy."
Track record of boasting
Putin and his Ministry of Defence have a long history of boasting about Russia's advanced materiel, even going as far as saying it has a new generation of "invincible" weapons.
In 2018, for instance, Putin claimed Russia had built a new hypersonic missile system, the Avangard hypersonic vehicle, that could fly at 20 times the speed of sound.
"This makes it absolutely invincible for any forms of air and missile defence," he said during that year's state of the nation address, calling it an "ideal weapon".
But as the war in Ukraine has proven, Russian military technology and materiel are being vastly outperformed on the battlefield and Russian troops have resorted to using outdated and patched-up equipment.
Russian missile defences have proved helpless against US-made High Mobility Artillery Rocket Systems (HIMARS) that have repeatedly blown up ammunition dumps and command centres.
"Russian forces struggle to shoot down small battlefield tactical drones used by Ukrainian defenders to drop anti-tank grenades from the sky," Popular Mechanics reported last September.
"Russian tanks like the T-72B3 have no defence against Western anti-tank weapons such as Javelin or NLAW, which strike the thin turret roof armour, bypassing a tank's heaviest defences," it said.
Just two months into the war, last April, the Russian navy lost its Black Sea Fleet flagship to homemade Ukrainian missiles.
"Russian tanks, ships, and armoured vehicles have been regularly exploding on television screens worldwide for months, making them unattractive goods," Popular Mechanics noted in its report last September.
Backing away from deals
A number of governments recently have backed away from Su-35 deals with the Kremlin, citing issues with capabilities and spare parts.
Egypt, Algeria and Indonesia all rejected the acquisition of Su-35s, as reported early last year.
"The Russian defence industry lost three large orders for its Su-35 fighters at once due to the failure to replace scanned array radar and avionics, which were previously imported from a number of European countries and Israel," sources told the Defence Blog in January 2022.
According to the same article, Iran played the part of useful stooge for Russia when those three customers all decided to cancel their orders.
"Rosoboronexport, Russia's main arms exporter, declined to comment ... but later Mehr News Agency reported that Russia is ready to sell Su-35 fighters to Iran," according to Defence Blog.
You get what you pay for
Although the price of the fighter jets has not been disclosed in the Iran deal, making big claims and selling things cheap are a common Kremlin strategy.
In 2021, Russia unveiled its new Sukhoi stealth fighter jet, dubbed "Checkmate".
Few details had previously emerged about the plane, developed by defence contractor Rostec and the state-controlled United Aircraft Corporation (UAC), but the manufacturers were quick to make unfounded claims.
The jet can attack up to six targets simultaneously on land, air or sea, "even under strong electronic interference", they said.
UAC general director Yury Slyusar said he expected almost 300 orders in the next 15 years mainly from the Middle East, Asia and Latin America.
The strongest selling point appeared to be Checkmate's price -- "seven times lower" than that of the American-made US F-35, emphasised Slyusar.
While the Russian jet may be less expensive than other versatile and proven stealth fighter aircraft, the Kremlin's penchant for exaggeration -- and Russia's history of deadly military mishaps -- raises questions about the quality of the Russian jets.