Tehran's transfer of unmanned aerial vehicles (UAVs), commonly known as drones, to Russia, which has been using them to strike civilian infrastructure and cities in Ukraine, has given rise to public dissent inside Iran.
In a November 7 editorial, cleric and Jomhouri-ye Eslami executive editor Masih Mohajeri criticised the stance the Iranian government has taken since the start of Russia's war on Ukraine.
He expressed hope that the administration would begin taking responsibility for its actions "in other cases" as well as regarding the transfer of drones to Russia.
Asking why Tehran did not warn Moscow against using Iranian drones in the war on Ukraine, Mohajeri wrote that Islamic teachings would not allow him to remain indifferent "if there is proof that Iranian drones have been used in Ukraine".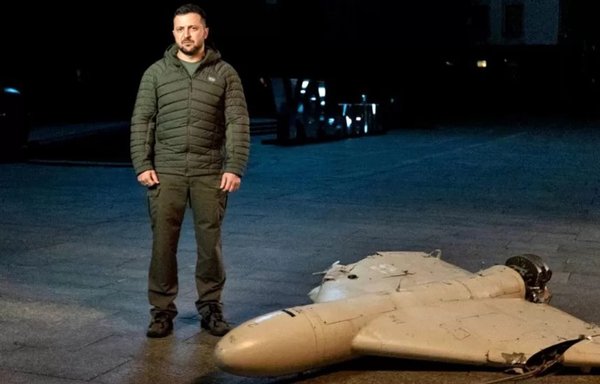 He criticised Iran's policies toward Ukraine amid the ongoing war, stressing that the foreign ministry should have clearly condemned the war.
Mohajeri, who has previously said Iranian president Ebrahim Raisi has no choice other than to join the Financial Action Task Force (FATF), also criticised the government for its lack of mediation effort to end the "ominous war" on Ukraine.
A number of Iranian politicians have been critical of many of Raisi's policies, including Iran's increasingly close ties with Russia. Like the majority of average Iranians, most of these politicians oppose the expansion of Iran's relations with Russia.
Arms deals with Moscow
While Iran's allegiance to Russia and its indirect role in the war on Ukraine have been exposed, Tehran has continued to strike arms deals with Moscow.
In a November 9 report, Sky News quoted a security source who said Russia had flown 140 million euros ($144 million) in cash and a selection of captured US- and UK-made weapons to Iran in exchange for dozens of deadly drones for its war in Ukraine.
The report said a Russian military aircraft secretly transported the cash and three models of munition to an airport in Tehran.
The transaction was reportedly carried out in the early hours of August 20.
The source alleged that a further drone deal worth 200 million euros had been agreed between Tehran and Moscow in the past few days.
"That means there will be another big supply of UAVs from Iran soon," the source said.
Weeks of denial
After weeks of vehemently denying that it has transferred drones to Moscow, Tehran abruptly changed course.
Despite ample evidence that Russia is using Iranian drones in its war on Ukraine, including an October 28 photo of Ukrainian president Volodymyr Zelenskyy next to the remnants of a Shahed-136, the regime insisted these reports were false.
On October 18, Tehran even said it was ready for talks with Kyiv to clarify "baseless" claims that it is providing Russia with weapons and drones to be used in the war against Ukraine.
In a sudden U-turn on November 5, however, Iranian foreign minister Hossein Amir-Abdollahian confirmed Iran has provided Russia with drones, while rejecting reports that it has sent missiles to Moscow for its war on Kyiv.
The foreign minister said Iran does not know how the drones are being used in Ukraine, as Tehran claims neutrality in the ongoing Russia-Ukraine war.
He also claimed the drones were dispatched before the war on Ukraine broke out.
After Amir-Abdollahian's confession, Zelenskyy said Iran is still downplaying its supplying of drones to Russia.
He said Ukrainian forces shoot down at least 10 Iranian drones a day, and officials know that Iranian instructors have taught the Russians how to use the drones, even though Tehran has remained quiet on this, The Hill reported.
On Monday (November 14), the European Union (EU) sanctioned the head of Iran's Islamic Revolutionary Guard Corps (IRGC), Hossein Salami, over supplies of Iranian drones to Russia for use in Ukraine.
The bloc also included IRGC air force commander Amir Ali Hajizadeh and the Qods drone maker on the blacklist.