Iran and Russia signed an agreement in Tehran on May 17 to build a railway between the northern cities of Rasht and Astara in Iran's Gilan province as part of the International North-South Transportation Corridor (INSTC).
Tehran and Moscow say the Rasht-Astara railway is a significant section of a corridor that will eventually connect India, Iran, Russia, Azerbaijan and other countries by way of railways and sea routes.
Iranian Transportation Minister Mehrdad Bazrpash and Russian Deputy Prime Minister Alexander Novak signed the deal to finance and construct the railway, which is expected to be completed in 48 months.
Iranian and Russian presidents Ebrahim Raisi and Vladimir Putin oversaw the signing, with Putin joining the meeting via video, hailing the deal's significance.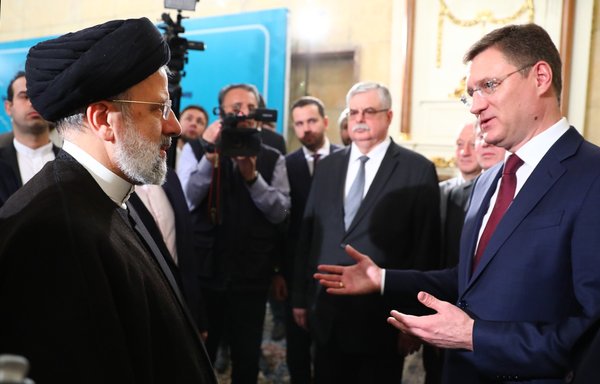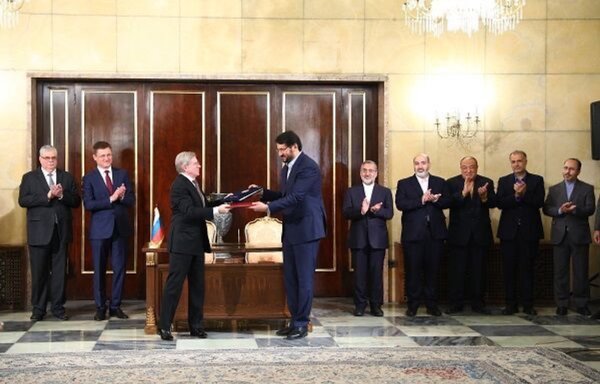 "The unique North-South transport artery, of which the Rasht-Astara railway will become a part, will help to significantly diversify global traffic flows," Putin said.
Raisi said, "Without a doubt, this agreement is an important and strategic step in the direction of co-operation between Tehran and Moscow."
Aggrandising the deal
The 162km-long railway, slated to run along the coast of the Caspian Sea and through Azerbaijan, would help connect Russian ports on the Baltic Sea with Iranian ports in the Indian Ocean and the Gulf, Russia and Iran say.
The railway, which is to have nine stations, will be a key part of the INSTC, a 7,200km-long combined road, rail and sea route for transporting cargo from Russia to India.
Iran, Russia, India, Kazakhstan, Turkmenistan and Azerbaijan are part of the corridor, which runs overland between Russia and Iran and thence becomes a sea route to India.
The three countries signed on to the North-South corridor proposal in the early 2000s, followed by Azerbaijan, Belarus, Bulgaria, Kazakhstan, Kyrgyzstan, Oman, Syria, Tajikistan, Türkiye and Ukraine.
In reports published by Iranian media, Russian officials claim the INSTC will become a "serious rival of the Suez Canal" by saving on shipping time and cost.
But some experts say this will be difficult to achieve. Many aspects of the project remain murky, they say, and it is notable that almost two decades have passed without significant progress.
Egyptian officials also have been dismissive about the "unrealistic" possibility of the INSTC's competition with the Suez Canal, pointing to the lack of development activity.
Iran finances lion's share
Although Moscow and Tehran claim the INSTC will be a major success, both are facing international sanctions and isolation on the world stage, with acute economic repercussions.
This will undoubtedly complicate the project's progress, experts say.
Iran and Russia have said they are co-operating to build the railway. But the Islamic Republic has agreed to shoulder almost three times what Russia has earmarked for the construction.
Moscow is to invest $1.7 billion in the project, while Tehran has pledged to pay $4.9 billion.
Iran is reportedly searching for foreign investors to help with the investment, as it is grappling with severe economic problems and sky-high inflation.
Historically, the corridor had not been a high priority, especially for Russia, The Iran Primer reported on May 18.
"Investment was erratic," it said. "In early 2022, Tehran publicly complained that Moscow had failed to develop the requisite port facilities along the Caspian needed to ferry goods into Iran."
Failed 'Look to East' approach
Under Iranian leader Ali Khamenei's "Look to the East" policy, Tehran has expanded its relations with eastern countries, chiefly China and Russia.
Yet the majority of the Iranian public is not in favour of increased ties with Russia, expanded Russian influence or what it believes to be Russia's intervention in Iranian affairs.
Iran and Russia have a long history of enmity and mistrust dating back to the Tsarist era, including a series of Russo-Persian wars and frequent Russian meddling in Persian politics, according to an October 26 Foreign Policy report.
During the Iran-Iraq War of the 1980s, Russia sold its dilapidated weapons and tanks to the Islamic Republic at colossal prices, and it continues to do so.
Some Iranians blame Russia for the failure to revive the 2015 nuclear deal with the West, known as the Joint Comprehensive Plan of Action (JCPOA).
The Iranian regime has been cheated repeatedly in its host of deals with Russia, and has not been paid -- at least not in full -- in multiple agreements.
Yet the regime continues to provide Russia with drones for its war on Ukraine, and has quietly agreed to manufacture Iranian drones on Russian soil.
"Tehran is helping kill Ukrainian civilians through the provision of weapons and assisting Russia in its operations," US National Security Council spokeswoman Adrienne Watson said. "It's another sign of how isolated both Iran and Russia are."