The Iranian regime's increased aggression against protesters, minority groups and women who fail to comply with its dress code comes amid a troubling increase in capital punishment and reintroduction of amputation, observers said.
The current trend towards the violent suppression of perceived dissent and harsh punishment has drawn international attention and rebuke.
At least four people were killed in May when Iranian security forces launched a violent crackdown on protests over the rising cost of living, firing live ammunition and birdshot, Amnesty International said Wednesday (August 3).
The Iranian authorities needed to be held accountable for the "torrent of violence" unleashed against protesters in the southwest, the rights group said.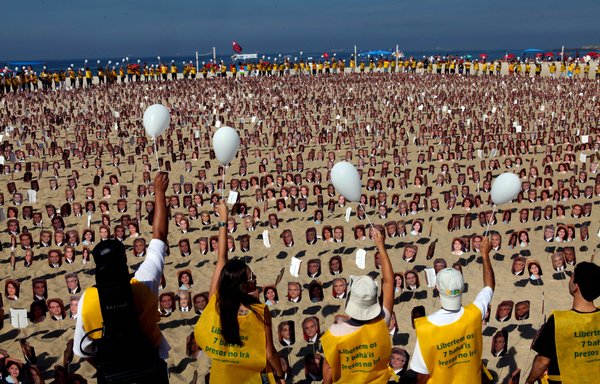 Amnesty International affirmed its demand for the United Nations (UN) to establish an independent mechanism to investigate such crimes in Iran.
"The authorities' militarised response laid bare once again their utter disregard for the sanctity of human life and international legal standards on the use of force and firearms," said Diana Eltahawy, Amnesty's deputy regional director for the Middle East and North Africa.
"Iran's security forces will continue to feel emboldened to kill and injure protesters if they are not held accountable," she added.
Protests over rising food prices erupted in southwestern Khuzestan province in early May, then spread to neighbouring Chaharmahal and Bakhtiari province.
Amnesty said video and audio evidence indicated security forces "fired weapons loaded with live ammunition and birdshot on multiple occasions during the protests".
Birdshot -- where small spheres are crammed inside a shell and then scatter outward once fired -- "is inherently indiscriminate and designed to cause a level of widespread harm", Amnesty said.
Targeting minority group
Iran's intelligence ministry said Monday it has arrested members of the Bahai minority, accusing them of espionage and of working illegally to spread their religion.
On Sunday, 13 Bahai, including prominent members of the community, were abruptly arrested in raids on 52 homes and businesses across the country, said Diane Alai of the Bahai International Community (BIC).
And on Tuesday, BIC said, Iranian officials sealed off the village of Roshankouh in Mazandaran province and completely destroyed six Bahai homes, as well as confiscating 20 hectares of land.
Video footage posted on social media showed the residents of Roshankouh, which is known to have a strong Bahai presence, standing aghast in front of the wreckage of their homes.
The BIC said in a statement that heavy earthmoving equipment was used to demolish the homes and one Bahai resident was arrested.
"We ask everyone to raise their voice and call for these dreadful acts of blatant persecution to be immediately stopped," said Diane Alai, a BIC representative to the UN.
She denounced a "step-by-step plan" by the Iranian authorities of "first blatant lies and hate speech, then raids and arrests, and today land grabs, occupations and the destruction of homes".
The Islamic Republic regards members of the Bahai faith as "heretics" and regards them with suspicion, as the community has its main centre and spiritual home in the Israeli city of Haifa.
The Bahai have faced similar persecution in Yemen at the hands of Iran's proxies, the Houthis.
In 2018, the UN General Assembly adopted a resolution calling on Iran to end human rights violations against minority religions, including the Bahai.
It pointed to "harassment, intimidation, persecution, arbitrary arrests and detention", among other breaches.
Startling rise in executions
In the first half of 2022, Iran has executed twice as many inmates as it did in the same period a year earlier, said Iran Human Rights (IHR), a Norway-based non-governmental organisation, which counted at least 318 hangings this year.
On July 23, Iran carried out its first public execution in two years.
IHR said those executed have included 10 women, with three hanged in a single day on July 27, all for murdering their husbands.
Amnesty International has said Iran is on an "execution spree" with hangings now proceeding at a "horrifying pace".
On Tuesday, Iranian media reported that based on Sharia retribution laws, the country's courts have sentenced three people to be blinded in one eye for assaulting other individuals and causing their victims to lose an eye.
Iran also has resumed amputating the fingers of convicted thieves, with at least two prisoners suffering this punishment this year, implemented by a guillotine specially installed in Tehran's Evin prison, Amnesty said.
Reports from inside Iran said at least one amputee was told he could pay to save his fingers for a transplant, but he did not have the money to do so.
There has been a growing movement inside and outside Iran -- based around the hashtag "#edam_nakon" (don't execute) –- to halt the use of the death penalty in the Islamic republic.
Iran conducts more executions annually than any nation other than China.
One prominent voice has been director Mohammad Rasoulof, whose chilling anti-capital punishment film "There Is No Evil" won the Golden Bear at the Berlin film festival in 2020.
Rasoulof was arrested in early July after launching a petition from directors and actors urging security forces to lay down their arms in the face of protests.
Iran's judicial authority announced that award-winning dissident filmmaker Jafar Panahi, arrested a few days after Rasoulof, must serve a six-year sentence previously handed down to him in 2010.
Panahi has won a number of awards at international festivals for films that have critiqued modern Iran.
"Panahi had been sentenced in 2010 to a total of six years in prison" and was taken "to Evin detention centre to serve his sentence there", judiciary spokesman Massoud Setayeshi said.
Crackdown on women's coverage
Arbitrary arrests and executions have drastically increased in Iran during Ebrahim Raisi's presidency, and have further intensified with the appointment of former intelligence minister Gholamhossein Mohseni-Ejei to lead the judiciary.
Last month, Iranian regime's "morality police" launched a crackdown on women who fail to cover themselves fully, harassing and detaining women who defy the regime's strict dress code.
With the arrival of warmer weather, the regime has deployed a large number of security forces to crack down on non-compliant women..
They attempt to arrest those who "are not fully covered according to the law" on the streets and on public transportation, but many of the targeted women resist arrest, which has led to violent incidents in some cases.