ADEN -- Ahmed Mosleh, a Yemeni public sector employee and father of seven, longs for the days when he could buy a 50kg sack of flour to meet his family's needs for basic foodstuffs.
With the price of a 50kg sack rising from 17,000 YER ($68) to 25,000 YER ($100) since the start of Russia's war on Ukraine, he now buys flour in small quantities -- about 2 to 3kg per week, he told Al-Mashareq.
"The suspension of salaries, rise in prices and stoppage of business activity have curtailed our purchasing power," Mosleh said.
"Life has become very difficult, and we are left thinking day and night of how to provide basic items for our families," he said.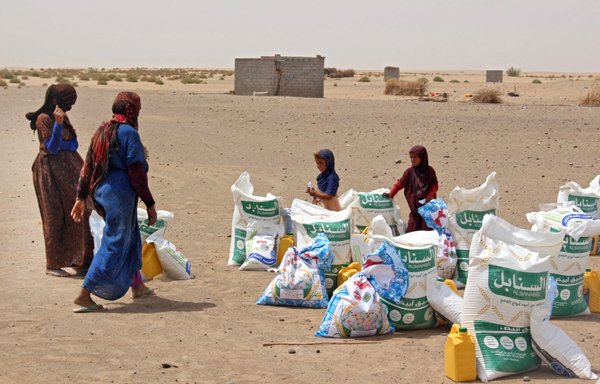 A major importer of wheat in Yemen warned of an imminent mass famine in the war-torn country last week due to the unprecedented disruption of global wheat supplies after Russia's invasion of Ukraine and an Indian ban on wheat exports.
Russian forces are blockading dozens of container ships in Ukrainian ports, choking off exports of wheat, sunflower oil and other foodstuffs, as well as fertiliser for crops.
Yemen purchases approximately one-third of its wheat from Ukraine and Russia.
Swelling global wheat prices and turbulent markets, as well as major supply disruptions, have seen food stocks rapidly diminish across the country.
In a letter to international leaders ahead of the US-convened summit on global food security at the United Nations (UN) in New York on May 18, the Hayel Saeed Anam (HSA) Group, Yemen's largest company and leading wheat importer, raised the alarm and called for specific policy proposals.
"These developments will push the ongoing food security crisis in Yemen to the point of no return," it said.
The UN had warned in April that more than 25.5 million Yemenis out of a total population of 30 million are living below the poverty line due to the war.
"Without a substantive change in approach, there is an immediate risk that wheat supplies into Yemen will not meet the minimum levels needed to prevent hundreds of thousands more people being pushed into famine," HSA said.
On the verge of a crisis
Yemen needs exceptional measures to maintain a continuous supply of wheat and assistance programmes for hundreds of thousands of people, HSA added.
The group called for the establishment of a special fund that would enable Yemeni wheat importers to quickly access financing to purchase wheat on the global market.
It also called for extended payment terms for Yemeni food importers in their dealings with international suppliers.
Yemen is "on the verge of a major wheat crisis", said Studies and Economic Media Centre Director Mustafa Nasr.
HSA covers 55% of the market share of wheat in Yemen, he said, adding, "This crisis must be dealt with in earnest, with the creation of an emergency committee and a special subsidised account for wheat importers."
Yemen announced two months ago that its stockpile of wheat would only last three months.
"That stockpile is one month away from being depleted, and the contracted import quantities so far do not cover the market's needs," Nasr said.
The Russia-Ukraine war has contributed to the growing wave of hunger in Yemen and this was further exacerbated by India's decision to ban the export of wheat to prioritise domestic consumption, said economist Abdul Aziz Thabet.
India's ban "aggravates the humanitarian crisis in Yemen and threatens an imminent famine, especially with the lack of funds to procure Yemen's wheat needs, in addition to the rise in global wheat prices", he said.
Thabet pointed to the inability of the private sector to provide the quantities of wheat required to cover local needs.
This in turn will have a direct impact on the ability of relief organisations to provide food baskets to the needy, he said.
Saudi deposit
For its part, Saudi Arabia on May 16 announced it was extending a deposit it gave the central bank of Yemen's internationally recognised government in 2018 and agreed to pay the final installment of the promised $2 billion.
The Saudi finance ministry said the 2018 deposit duration would be extended to support Yemen's currency and economic situation, Reuters reported.
The central bank -- now based in the temporary capital of Aden after the Iran-backed Houthis staged a coup in 2014 and took over Sanaa -- said the final installment to be paid amounted to $174 million.
Saudi Ambassador to Yemen Mohammed al-Jaber said on Twitter that discussions were under way about a new $2 billion deposit that would come from Saudi Arabia and the United Arab Emirates (UAE).
Economist Faris al-Najjar highlighted the importance of utilising the Saudi deposit, saying these funds have played an important role in making foreign currency available for the import of basic commodities.
"The government's role comes into play through its central bank, which should help businessmen by providing foreign currency," he said.