Iran plans to install two new cascades of advanced centrifuges that will allow it to rapidly enrich more uranium, the global nuclear watchdog said Thursday (June 9), a day after Iran said it disconnected cameras monitoring its nuclear sites.
The decision to add the two IR-6 centrifuges cascades at its underground Natanz nuclear facility came as countries moved Wednesday to censure Iran at an International Atomic Energy Agency (IAEA) meeting in Vienna.
IAEA head Rafael Grossi said Thursday Iran is removing 27 surveillance cameras at nuclear facilities, calling it a "serious challenge" to the United Nations (UN) watchdog's work in the country.
"What we have been informed is that 27 cameras... are being removed in Iran," he told reporters.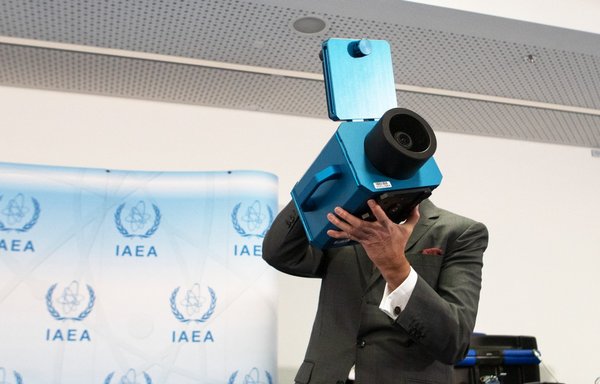 "This of course poses a serious challenge to our ability to continue working there."
Grossi said if a solution was not found within three to four weeks to this issue, this would be "a fatal blow".
The Atomic Energy Organisation of Iran (AEOI) on Wednesday had said that "the relevant authorities have been instructed to cut off the On-Line Enrichment Monitor and the flow meter cameras of the agency".
Its statement did not specify how many cameras had been turned off, but said "more than 80% of the agency's existing cameras are operating according to the safeguard agreement and will continue to operate just as before".
The move was announced after Britain, France, Germany and the United States submitted a resolution to the IAEA to censure Iran -- the first such step since June 2020 -- which passed with an "overwhelming majority".
Russia and China voted against the resolution, which formally criticises Iran for a lack of co-operation with the UN nuclear inspectorate.
'Iran must meet obligations'
Later Wednesday, the United States, Britain, France and Germany issued a joint statement in which they urged Iran to fulfill its legal obligations and co-operate with the IAEA.
The foreign ministries of the four nations welcomed the IAEA resolution, which responds to "Iran's insufficient co-operation with the IAEA on serious and outstanding safeguards issues" surrounding its nuclear activities.
The IAEA resolution "sends an unambiguous message to Iran that it must meet its safeguards obligations and provide technically credible clarifications on outstanding safeguards issues", the joint statement said.
"We urge Iran to heed the call of the international community to fulfill its legal obligations, and co-operate with the IAEA to fully clarify and resolve issues without further delay."
In a separate statement, Saudi Arabia also said it welcomed the IAEA decision, "which stresses that Iran must comply with its obligations... and the need for its co-operation with the agency to resolve all outstanding nuclear issues".
Grossi said about 40 cameras remained in the Islamic republic.
"I invite Iran to engage with me immediately... We are in a very tense situation," Grossi said Thursday.
"Does this mean it's the end of the line? I think this shouldn't be the case. Not yet... Let's hope that emotions go down a little bit."
Uranium stockpile
Tehran has backed away from some of its own commitments since 2019, and European capitals have expressed mounting concern over how far it has gone in resuming nuclear activities since the United States began reimposing sanctions.
The talks to revive the 2015 nuclear accord started in April 2021 with the aim of bringing the United States back in, lifting sanctions and getting Iran to return to the limits it agreed to on its nuclear activities.
But negotiations have stalled in recent months and the European Union's top diplomat Josep Borrell warned last weekend that the possibility of returning to the accord was "shrinking".
Iran has built up large stockpiles of enriched uranium, some of it enriched to levels far higher than those needed for nuclear power generation.
In a previous joint statement to the IAEA, Britain, France and Germany said they "strongly urge Iran to stop escalating its nuclear programme and to urgently conclude (the) deal that is on the table".
"Its nuclear programme is now more advanced than at any point in the past," the governments said, adding that Iran's accumulation of enriched uranium has no "credible civilian justification".
Iran's nuclear organisation chief Mohammad Eslami had said earlier Wednesday that "Iran has no hidden or undocumented nuclear activities or undisclosed sites", state news agency IRNA reported.
The trigger for the latest Western condemnation was a May IAEA report, in which it said it still has questions about traces of enriched uranium previously found at three sites, which Iran had not declared as having hosted nuclear activities.
Iran also has not informed the IAEA "of the current location, or locations, of the nuclear material and/or of the equipment contaminated with nuclear material, that was moved from Turquzabad in 2018", Grossi said Monday.
The IAEA "remains ready to re-engage without delay with Iran to resolve these matters", he said.
Grossi said it would be "a matter of just a few weeks" before Iran could get sufficient material needed for a nuclear weapon if it continued to develop its programme.