VIENNA, Austria -- The head of the United Nations (UN)'s nuclear watchdog expressed concern Monday (September 13) about Iran's unwillingness to respond to his agency's questions about the existence of nuclear material at four locations in Iran.
Rafael Grossi, director-general of the International Atomic Energy Agency (IAEA), said in his opening remarks at the agency's week-long Board of Governors meeting that natural uranium was found in one of the four locations.
In the three other locations, modified uranium has been discovered, he said, noting that these are violations of the agreement Iran has committed to.
This is "a clear indication that nuclear material and/or equipment contaminated by nuclear material has been present at these locations", he said.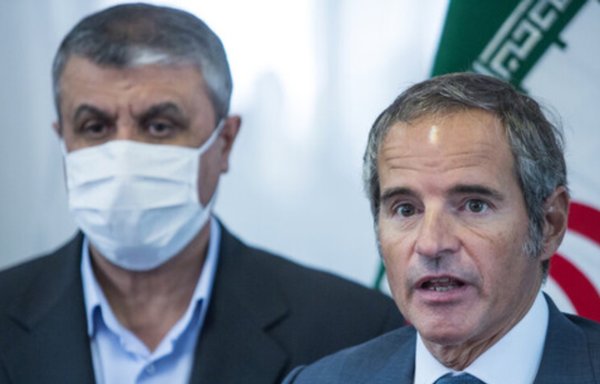 Grossi's remarks were made upon his return from Tehran, where a new agreement has been reached on Iran's nuclear activities, days after the agency criticised Tehran for lack of co-operation.
On Sunday, the Atomic Energy Organisation of Iran (AEOI) and the IAEA said they have agreed to allow inspectors to service the agency's surveillance equipment as Tehran has restricted access to them since earlier this year.
"IAEA's inspectors are permitted to service the identified equipment and replace their storage media which will be kept under the joint IAEA and AEOI seals in the Islamic Republic of Iran. The way and the timing are agreed by the two sides," they said in a joint statement.
Visit to Iran amid IAEA criticism
Grossi met with Mohammad Eslami, the newly appointed chief of the AEOI, on Sunday. This was Grossi's first trip to Tehran since the inauguration of Iran's new ultra-conservative president, Ebrahim Raisi.
"The two sides decided to maintain their mutual interactions and meetings at relevant levels," the joint statement said, adding that Grossi has planned another visit to Tehran "in the near future".
Grossi's visit comes after a deadlock in talks between major world powers to revive Iran's 2015 nuclear deal with them.
The 2015 deal, known as the Joint Comprehensive Plan of Action (JCPOA), promised Tehran sanctions relief in return for curbs on its nuclear programme. However, Iran has since violated many of its commitments.
A point of contention this year has been the limits Iran has imposed on the IAEA's ability to monitor various of its nuclear facilities.
Iran has refused to provide real-time footage from cameras and other surveillance tools that the UN agency has installed in these locations.
US President Joe Biden's administration has advocated for returning to diplomacy to revive the JCPOA.
Concerns about production of uranium metal
Last month, the IAEA voiced concern over Iran's production of uranium metal as it urged the Islamic Republic to return to talks.
The US State Department said in mid-August that it has seen the latest report submitted to members by the IAEA and has contended that Iran "has no credible need to produce uranium metal".
As part of the 2015 deal, Iran vowed not to produce uranium metal, which can be used to build a nuclear bomb.
However, earlier this year, Iran said it was researching uranium metal to provide advanced fuel for a research reactor.
The IAEA warned that the move was step three in a four-step plan, the fourth being the production of a reactor fuel plate.
"Iran should cease its nuclear escalations and return to negotiations toward full implementation of the JCPOA in good faith," it said.