VIENNA -- The United Nations (UN) nuclear watchdog Wednesday (September 7) said it could not guarantee the peaceful nature of Iran's nuclear programme.
In a report seen by AFP, the International Atomic Energy Agency (IAEA) said it was "not in a position to provide assurance that Iran's nuclear programme is exclusively peaceful".
The agency's report said there had been "no progress" in resolving questions over the past presence of nuclear material at three undeclared sites in Iran.
It said IAEA Director General Rafael Grossi was "increasingly concerned that Iran has not engaged with the agency on the outstanding safeguards issues during this reporting period".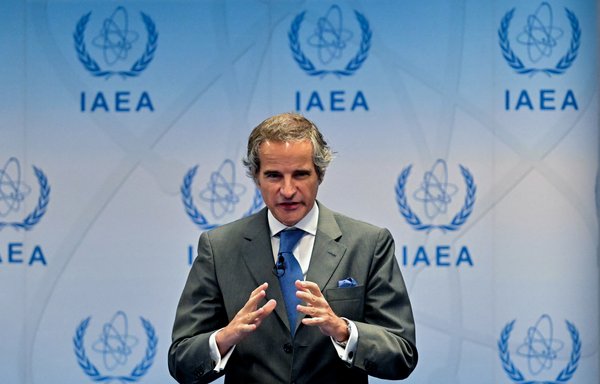 Therefore, it added, "there has been no progress towards resolving them."
The IAEA has been pressing Iran for answers on the presence of nuclear material at the three sites, with the issue leading to the passage of a resolution criticising Iran at the June meeting of the IAEA's board of governors.
Iran's stockpile of uranium enriched to 60% has put it within weeks of being able to create a nuclear weapon, according to a Vienna-based diplomat.
A 90% enrichment threshold is required for use in a weapon.
But analysts cautioned that it was not clear that Iran had taken the additional steps that are necessary to achieve this outcome.
Violating 2015 deal
The 2015 nuclear deal, known as the Joint Comprehensive Plan of Action (JCPOA), capped Iran's allowance to enrich uranium at 3.67%.
Iran had enriched uranium at 20% before the agreement, and has increased the rate of enrichment even more since 2018.
Despite violating the terms of the accord and accordingly being punished with international sanctions, Iran has continued to demand sanctions relief in order to expand its exports, while continuing to pursue its expansionist policies and destabilising activities through its regional proxies.
On Monday, foreign ministry spokesman Nasser Kanani said Iran hoped to see the sanctions eased or lifted so it could sell natural gas to Europe.
"Given Europe's energy supply problems triggered by the Ukraine crisis, Iran could provide Europe's energy needs if sanctions against it are lifted," Kanani said.
Though Iran has the world's second-largest natural-gas reserves after Russia, it is incapable of increasing its exports beyond the current amount (exported to Iraq and Turkey alone) as it lacks the infrastructure to do so, sources said.
Stockpile over limit
In a separate report issued Wednesday, the IAEA said Iran's enriched uranium stockpile is at least 19 times over the limit set in the 2015 nuclear accord.
The report stated that Iran's stockpile stood at an estimated 3,940kg, up 131.6kg from the last quarterly report.
On Tuesday, Atomic Energy Organisation of Iran (AEOI) director Mohammad Eslami said the organisation intends to "turn Iran into a hub for the design and construction of atomic nuclear plants".
Tehran insists the IAEA probe into the presence of nuclear material at three undeclared sites be concluded prior to the revival of the 2015 deal.
After Iran unilaterally disabled the IAEA's surveillance cameras in June, Eslami said in July the cameras would remain disabled.
Reacting to the IAEA's new report on Thursday, AEOI spokesman Behrouz Kamalvandi described it as "baseless" and "prepared with political motivations".
Iranian President Ebrahim Raisi has said an IAEA investigation into safeguards issues needs to end for his country to return to the nuclear deal.
"Talking about an agreement without resolving safeguards issues would be meaningless," Raisi said Monday.
The United States repeatedly has said the IAEA's surveillance must continue.
Loss of confidence
European Union foreign policy chief Josep Borrell, who has been making efforts to revive the nuclear deal, has said recent exchanges with Iran have left him "less confident" about the deal's revival.
"I am sorry to say that I am less confident today than 28 hours before...about the prospects of closing the deal right now," he said Monday.
In August, Borrell presented what he described as a "final text" to restore the 2015 nuclear accord, calling on the United States and Iran to provide a "yes or no" answer to the proposal.
On September 1, the United States said Iran's latest proposed changes to the text were "not constructive".
Of Iran's response, Borrell said, "if the purpose is to close the deal quickly, it is not going to help it."
Negotiations aimed at reviving the 2015 nuclear deal with Iran have been ongoing since April 2021.