An explosion followed by power failure at Iran's Natanz uranium enrichment facility on Sunday (April 11) has once again put the spotlight on the flaws of the Iranian regime's internal security.
The incident, like others in the past year, shows that Iran is unable to protect its most significant sources of self-proclaimed national pride.
The Natanz facility's blackout, caused by a deliberately planned explosion, has disabled Iran's uranium enrichment, preventing it from enriching uranium for months, the New York Times reported.
No one has accepted responsibility for the attack.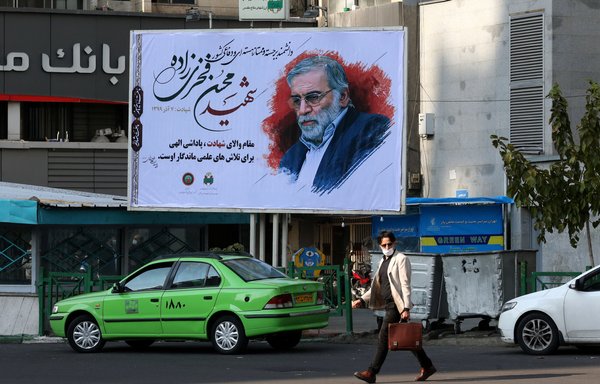 The New York Times quoted two unnamed intelligence sources as saying the Natanz explosion has completely destroyed independent power sources feeding the centrifuges that enrich uranium.
In a scramble to emphasise strength, Iranian officials claimed that damaged Natanz centrifuges can be replaced with more advanced ones.
Natanz is one of the primary facilities where Iran continues to actively breach the terms of the 2015 nuclear deal by enriching uranium at higher purity levels than agreed upon and stockpiling it.
Just last week, the Atomic Energy Organisation of Iran (AEOI) said the mechanical testing of an IR-9 prototype centrifuge had begun. That centrifuge would enrich uranium 50 times faster than is allowed under the accord.
Back in January, the International Atomic Energy Agency (IAEA) said Iran had notified it that it was advancing research on uranium metal production, aiming to provide advanced fuel for a research reactor in Tehran.
At the time of that violation, European powers voiced deep concern over Iran's plans, warning that Tehran has "no credible civilian use" for the element.
Earlier, on January 4, Iran also announced it has started the process to enrich uranium to 20% purity at its underground Fordow facility, going well beyond the threshold set by the 2015 deal.
'Deep flaws' in Iranian security
The explosion at the Natanz nuclear complex is the latest in a series of security breaches, explosions and assassinations revealing the vulnerability of the Iranian regime and its inability to guard what it deems most important to its identity.
The setbacks have also prompted a deluge of criticism of Iran's intelligence capabilities.
Last summer, a series of blasts led up to a July 2 explosion at the nuclear complex. The incident was followed by others across the country, increasingly pointing to the possibility of sabotage.
On June 25, a few days before the Natanz incident, a major explosion was reported in Khojir, near Tehran. The light from the blast lit up the sky and was visible from several kilometres away.
Also in late June, an explosion occurred at the Shiraz power plant, causing blackouts in half of the city. On June 29, another explosion was reported in the well-known Parchin military complex near Tehran.
On July 4, part of a power plant in the southern city of Ahvaz exploded, and in mid-July, media reported an explosion at the Tondgooyan petrochemical plant in southern Iran and yet another in an industrial complex near the city of Mashhad in north-eastern Iran.
The assassination of Iranian nuclear mastermind Mohsen Fakhrizadeh outside Tehran last November was another national embarrassment.
About the attack on Fakhrizadeh, Ariane Tabatabai, a US State Department senior advisor, who at the time was a German Marshall Fund fellow, told the Washington Post, "This is very significant politically and symbolically."
"It again exposes the deep flaws in Iran's internal security," she said, adding that it is "one of many incidents involving Iran's nuclear programme this year and one of several targeted killings on Iranian soil or affecting high-level Iranians."
In 2011, Darioush Rezaeinejad, an electrical engineering doctoral student whose work involved nuclear applications, was gunned down outside his Tehran apartment.
In 2012, motorcycle riders attached a magnetic bomb that tore apart a car carrying Mostafa Ahmadi Roshan, a nuclear scientist working at the Natanz facility.
Roshan, 32, had planned to attend a memorial for another nuclear researcher, Tehran University professor Masoud Ali Mohammadi, who was killed in a similar targeted blast in 2010.