Russia's ambassador to Damascus recently praised the Syrian regime for its steadfast support of Russia amid its assault on Ukraine, which has so far killed at least 3,455 civilians and displaced nearly a quarter of the population.
"A friend in need is a friend indeed," Alexander Efimov declared, in reference to the Syrian regime of Bashar al-Assad, during a meeting hosted by the Arab Writers Union, the Syrian Observatory for Human Rights reported March 27.
In exchange, Deputy Foreign Minister Bashar al-Jaafari affirmed that Syria is on Russia's side of the conflict, standing ready to support its long-time ally.
Behind this public proclamation of Russian friendship and Syrian solidarity, however, there are growing signs that Syria is being used -- serving as a lap dog to its Russian overlords.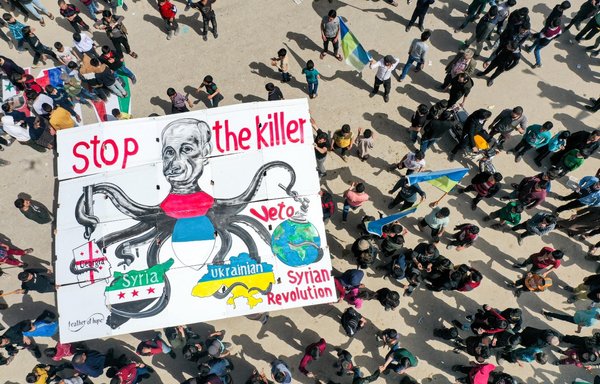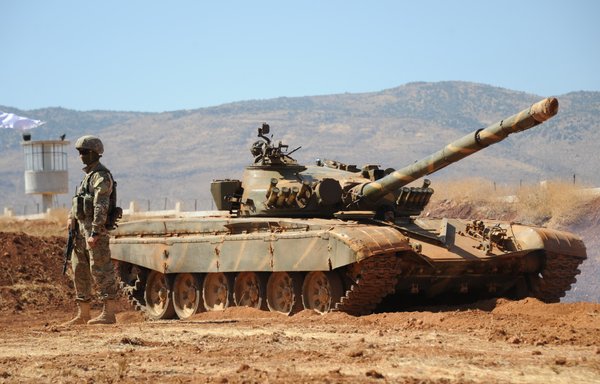 It is abundantly clear, according to numerous media reports, that Syria is being milked for its natural resources, tapped for its mercenary manpower and is now being prevailed upon to aid and abet Russia in its efforts to dodge sanctions.
Analysts describe the relationship between the two countries as uneven, colonial, with Russia invested in keeping the status quo in Syria rather than resolving the conflict, as the current circumstances support its political and economic goals.
History of exploitation
For some years, Russian forces have been expanding their presence in Syria and carving out new areas of control, both directly and through mercenaries and militias they are funding, according to Syrian lawyer Bashir al-Bassam.
Their end goal has been to gain control of key natural resources, he said, by first gaining military control of specific areas, and then signing agreements with the Syrian regime to exploit the natural resources in these areas.
Sought-after resources include petroleum, phosphate and silicon, he said, and mercenary groups have been brought in under the guise of fighting groups such as the "Islamic State of Iraq and Syria" (ISIS) to protect these enterprises.
To facilitate the shipment of resources, Russia secured an outlet to the Mediterranean Sea, entering into a 49-year agreement with the Syrian regime to expand the Russian military's naval facility in the Syrian port of Tartus.
Russian oil and gas consultants now reside in the Syrian city of Palmyra, along with technicians from Evro Polis -- a Russian company owned by Yevgeny Prigozhin, an ally of Russian President Vladimir Putin.
Prigozhin finances the Wagner Group, which controls Palmyra along with the Russian military police, Syrian journalist Mohammed al-Abdullah said.
Evro Polis has secured long-term contracts with the Syrian regime that grant it 25% of the oil and gas revenue generated in the areas under the control of the Russian mercenary group.
The Wagner Group provides technicians with protection in Palmyra and in their daily travel to and from the gas and oil fields, al-Abdullah said.
It also provides "protection" for the fields, as well as a chemical fertiliser plant near Homs, and around a large number of the phosphate mines in Palmyra.
Wagner has also been implicated in gross human rights abuses and crimes in Syria, including the torture and mutilation of a Syrian army deserter.
Putting Russia first
Even before the Ukraine war triggered a bread crisis in Syria and other Middle Eastern countries that import much of the wheat they consume from Russia and Ukraine, Russia had contributed to food insecurity in Syria.
Once a self-sufficient producer of wheat, Syria was forced by the war into importing wheat from Russia.
But Russian companies, protecting domestic supply amid the coronavirus crisis, withdrew from six contracts with Syria last year, cutting its annual wheat imports in half, the Syria Report and the Syrian Grain Establishment reported.
Amid the current conflict in Ukraine, the continued supply of wheat from Russia "is doubtful, and the supply of wheat from Belarus, Syria's second largest wheat supplier, is also questionable", according to Syrian economist Mahmoud Mustafa.
Russia is now actively recruiting Syrian men who are desperate to feed their families as mercenaries to join its war effort in Ukraine, where experts say they are being used as cannon fodder and might not receive payment.
Meanwhile Syria has been "a friend indeed" to Russia by unwittingly serving as a testing ground for Russian weapons that are now being used in the Ukraine war.
Russia freely admits it has tested "all of the Russian latest weapons systems" in Syria -- more than 320 types of weapons in total.
Attempts to dodge sanctions
In an apparent attempt to dodge the sweeping international sanctions that were imposed on it after it attacked Ukraine, Russia has again turned to Syria.
The Kremlin has extended two loans totaling $1 billion to Syria, on condition that the money be used to pay specific Russian companies during a six-month window, New Lines Magazine reported Tuesday (April 5).
The Russian companies listed in the agreement include those belonging to Prigozhin and Gennady Timchenko, both of whom are under US and European Union sanctions for their role in facilitating the Ukraine war, it said.
The loans may have been designed as a scheme for sanctions evasion, it said.
Syria already has a history of sanctions evasion, with the Guardian on March 22 reporting that the regime has been setting up shell companies in a systematic attempt to avoid sanctions.
Documents seen by the Guardian show clear links between the owners of several new shell companies and al-Assad and Syria's economically powerful elite, including individuals under sanctions, the media outlet said.
Three new shell companies, established in October, are majority owned by an individual linked to the Syrian regime by an intricate web of connections, it said.
Two of the figures who own them are the daughters of Ahmad Khalil Khalil, co-owner of Sanad Protection and Security Services.
Sanad is a Russian controlled private security company that is overseen by the Wagner Group, and is in charge of protecting Russian phosphate shipments from central Syria to Tartus.