Though Russian forces and Iran's Islamic Revolutionary Guard Corps (IRGC) have helped the Syrian regime regain control over most of the country, their assistance has come at a heavy price, Syrian activists said.
Russia and Iran are each racing to extend their own influence in Syria and reap political, military and economic gains for themselves, they said, even though this comes at the expense of the Syrian people.
"Both sides want to expand their political and military influence and secure the largest share of the reconstruction projects," political researcher Abdul Nabi Bakkar told Diyaruna.
They seek to gain control of the country's natural resources, such as oil and minerals, by locking the regime into long-term contracts, he said.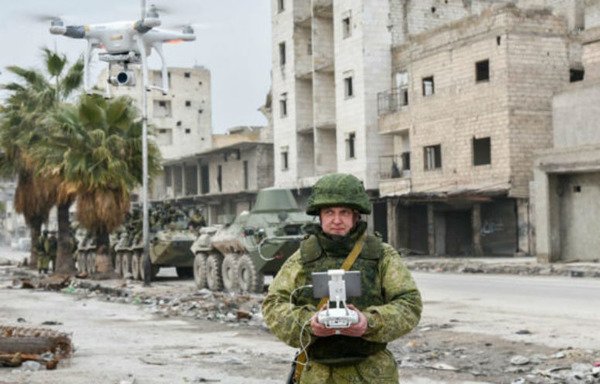 The resources "belong to the Syrian people alone", he said, pointing out that the agreements will take these resources out of their hands for long periods of time.
Meanwhile, Russia and the IRGC are supporting local militias that prolong the conflict, Bakkar added, thereby keeping the Syrian people trapped in a cycle of violence.
Russia claims Syrian resources
Russian forces in Syria have been expanding their presence on the ground and carving out new areas of control, both directly and through the militias they are funding, Syrian lawyer Bashir al-Bassam told Diyaruna.
Through these actions, Russia seeks to gain control of key natural resources, he said, seeking to first control areas militarily, and then sign agreements with the Syrian government to exploit the natural resources in these areas.
Sought-after resources include petroleum, phosphate and silicon, he said.
Russia recently signed a 49-year agreement with the Syrian regime to expand the Russian military's naval facility in the Syrian port of Tartus, he noted.
This would provide Russia with an outlet to the Mediterranean Sea.
In its drive to achieve its ambitions, Russia is not taking the safety and wellbeing of the Syrian people into account, al-Bassam said.
As it pursues its agenda in the Idlib region, for example, Russian warplanes have carried out dozens of airstrikes without sufficient regard for the civilian population, and hundreds have been wounded as a result, he said.
This is despite a deal Russia struck with Turkey in September to create a buffer zone intended to prevent a potentially devastating regime offensive in Idlib.
Corruption has been festering
Russian forces operating out of the Syrian regime's Hmeimim airbase oversee militias deployed in Aleppo and the Syrian south that impose tributes, block roads and clash with Iran-backed militias, al-Bassam said.
This has fostered instability and economic hardship, he said, noting that civilians who had been displaced by the conflict and had returned "after they were given promises of security and safety" are the ones who are paying the price.
"Russia is not providing any actual aid to Syrian civilians," al-Bassam said, pointing out that many areas under its control still lack electricity and water.
These areas also are afflicted by high prices due to the taxes imposed by personnel manning checkpoints set up by Russian-allied militias, he said.
IRGC seeks long-term presence
Meanwhile, the IRGC and its militias have given themselves permission "to appropriate Syrian territory and resources of the Syrian people", said Al-Sharq Centre for Regional and Strategic Studies researcher Fathi al-Sayed.
The IRGC seeks to reinforce its presence in Syria and link its militias with its forces in other countries in order to realise its "long-held dream of establishing a route that connects Tehran to the Mediterranean Sea", he told Diyaruna.
"The IRGC also has its eyes set on winning many of the reconstruction projects needed in Syrian areas," said al-Sayed, who specialises in Iranian affairs.
The Syrian regime has already signed several agreements that IRGC companies are implementing, he said, which also provides the IRGC with a way to circumvent the sanctions imposed on it.
"There is even an agreement to facilitate bank transfers between the two countries that was imposed by Iran to evade the sanctions," he said.