Sanctions levied against Iran's Islamic Revolutionary Guard Corps (IRGC) are undermining China's economic support for Tehran significantly, observers say.
Iran has been economically reliant on China for years, and last year's signing of a 25-year strategic deal between the two countries further cemented Beijing's dominance in the Islamic Republic.
While that deal has been described as a "win-win" by both regimes, observers say it would be wise for Iran not to pin any hopes of economic salvation on such agreements that fall under Beijing's Belt and Road Initiative (BRI), especially when IRGC sanctions risk exposing China to international sanctions.
For many years, the IRGC has been using the income from Iran's oil sales to pursue its expansionist agenda in the region.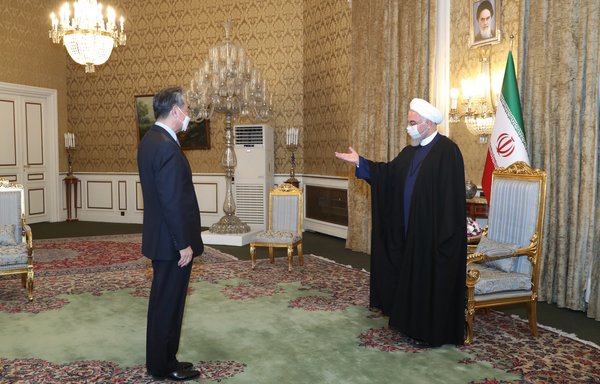 As a result, the US government, among other moves, designated the National Iranian Oil Company, Iran's petroleum ministry and the National Iranian Tanker Company in October 2020.
The Treasury Department issued the sanctions against the three entities for their financial support to the IRGC's external operations arm, the Quds Force.
In June 2020, the United States also imposed sanctions on five Iranian ship captains who delivered oil to Venezuela.
Bottom line is top priority for Beijing
While the benefits of the 25-year deal to both countries are presented as plentiful, China is taking a huge risk investing in Iran, which has been the target of US sanctions in a number of industries, observers say.
Already, two units of China's largest transportation network, COSCO, were sanctioned by the United States in September 2019 as a result of their complicity in circumventing sanctions on Iran.
COSCO owns about 4% of all existing super oil-tankers globally.
The embargo on COSCO immediately drove up the price of oil shipments in Asia and increased overall costs by about 30%.
It reached the point where Chinese government officials demanded sanctions be lifted from the company during trade negotiations with the United States in January 2020. Sanctions eventually were lifted on one of the two units.
It is worth noting that COSCO's 2019 profits were 28 times more than the amount Iran hopes China would invest in it -- some $400 billion -- within the framework of the agreement, Iran-based economic Moloud Zahedi told Al-Mashareq.
It seems highly unlikely that China would give up its largest export market, the United States, by investing excessively in Iran, Zahedi said.
China exports hundreds of billions of dollars' worth of goods and services to the United States each year, she said.
If Washington imposes sanctions on Chinese companies or citizens over their Iran-related activities, China will lose significant segments of its global markets, which are estimated to yield several times the potential profit of investment in Iran.
After the United States imposed unilateral sanctions on the Islamic Republic in 2017, China withdrew from the 11th phase of the South Pars oil field development plan.
Iran needs China, not vice versa
Any deal between China and Iran is premised on a major imbalance of power: Iran needs China but not vice versa.
While China is Iran's top trading partner, Beijing prioritises other Middle Eastern countries over Iran, since international sanctions complicate trade.
"Since 2005, the average Chinese investment in Iran never exceeded $1.8 billion a year, which is markedly less than its investments in Saudi Arabia and the United Arab Emirates (UAE)," the Carnegie Endowment for International Peace said in August.
The official 2020 China Statistical Yearbook lists the top 18 exporters to the country. Saudi Arabia and Kuwait appear on that list, while Iran is nowhere to be seen.
As for oil, Iran supplies only 3% of China's oil imports, The Diplomat reported last March, while Saudi Arabia, Russia, Iraq and Brazil rank as Beijing's top oil suppliers.
The Aggregates Business news site in November 2020 described some top BRI projects in the Middle East -- none pertaining to Iran: "At a meeting of the China-Arab States Co-operation Forum (CASCF) in Beijing in 2018, China pledged $23 billion in loans and development aid to the region. The meeting identified the UAE's Khalifa Port, Oman's Duqm, Saudi Arabia's Jizan, and Egypt's Port Said and Ain Sokhna as key projects that China will develop in association with the BRI in the Middle East."
"Chinese contractors are also involved in major infrastructure construction contracts in Qatar, including the $25 billion expansion plans for Hamad International Airport (HIA)."
Indebted, isolated, cornered
From Beijing's perspective, "the point of the deal is for China to gain a foothold in Iran, particularly on the islands of Jask and Kish in the Persian Gulf", said a former Iranian navy analyst who spoke on condition of anonymity.
Enhanced Chinese military co-operation with Iran resulting from the deal "is a foregone conclusion", he said.
Many observers fear that Beijing will offer unaffordable loans to Iran, similar to what it has done in other countries -- imposing burdensome contracts on vulnerable countries -- to demand even more concessions from Iran, possibly military concessions.
China already has constructed a series of ports along the Indian Ocean, creating a necklace of refuelling and resupply stations from the South China Sea to the Suez Canal, and with the deal, focus will now shift to the Iranian ports of Jask and Chabahar.
These ports are commercial, but the agreement could make way for China's navy to extend and expand its presence in the region through them.
Calls are rising from within Iran for the Islamic Republic to reconsider its plans to rely on trade with the East as a solution to the country's current economic woes.
"The 'Looking East' policy will not save us," international relations analyst Ali Bigdeli said in an August 24 interview with Khabar Online, referring to the policy that has been promulgated by Iranian leader Ali Khamenei since 2018.
"Both China and Russia fear the impact of US sanctions. Our trade relations with East or West Asia depends on our ability to work with international banks and the FATF (Financial Action Task Force). Both Russia and China also depend on the West in this regard," he said.
China will not compromise its $750 billion market in the West to serve Iran's interests, Bigdeli said.
"We need to maintain relations with all countries. Relying on one side and ignoring the other side cannot help us exit the current impasse."