Iran's continued shipment of oil to Venezuela is a hostile and provocative act that will compound the two countries' isolation and financial hardships, as the US government warns of further sanctions, analysts said.
Venezuela is almost entirely dependent on its oil revenues, but its production has fallen to roughly a quarter of its 2008 level, and its economy has been devastated by six years of recession.
US sanctions against the regime of President Nicolas Maduro have forced Venezuela, which used to refine enough oil for its own needs, to turn to allies such as Iran to alleviate a desperate gasoline shortage.
Iran sent several tankers to Venezuela earlier this year. In August, another four oil tankers were seized en route to Venezuela.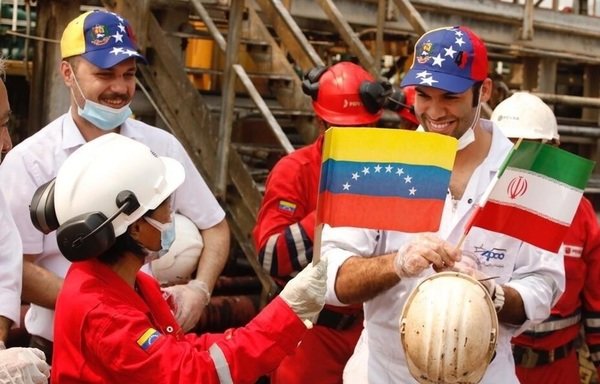 The US has accused Iranian businessman Mahmoud Madanipour, who allegedly had links to the Islamic Revolutionary Guard Corps (IRGC), of arranging oil shipments for Venezuela using offshore front companies and ship-to-ship transfers to get around sanctions on Iran.
In an effort to cut off trade between Iran and Venezuela, the US Treasury is preparing sanctions on as many as 50 oil and fuel tankers, Bloomberg reported June 9th, citing a person familiar with the matter.
Targeting the tankers would represent an escalation of US efforts to disrupt trade and money flowing between the two countries as they forge an increasingly close relationship, it said.
Treasury department officials declined to comment.
On June 24th, the US imposed sanctions on five Iranian ship captains who delivered oil to Venezuela.
US Secretary of State Mike Pompeo said the Iranian-flagged oil tankers, which delivered 1.5 million barrels of gasoline and oil to Venezuela, had been placed on the US Treasury's Office of Foreign Assets Control (OFAC) blacklist.
Maduro recently thanked Iranian President Hassan Rouhani and Supreme Leader Ali Khamenei for the deliveries, saying Venezuela has "good and brave friends".
'A provocative military act'
The dispatch of oil tankers to Venezuela by the IRGC is a "provocative military act that will have grave consequences", said Iranian opposition writer and political analyst Ali Narimani.
Iran is providing assistance to Venezuela and other countries "at a time when the Iranian people are facing the worst economic conditions they have ever experienced", he told Al-Mashareq.
"The oil shipments from Iran to Venezuela will lead to additional sanctions imposed on the IRGC, which seems to be indifferent to the Iranian people who are on the brink of starvation," he said.
In doing business with Iran, Venezuela risks further economic collapse -- as other allies of Tehran have experienced, including the Syrian regime and Lebanon's Hizbullah.
The purchase of Iranian oil also funds the activities of the IRGC -- a US-designated terror group.
Iran exploits countries in crisis in order to infiltrate them and make money, said Lebanese military expert and retired military officer Jamil Abu Hamdan.
In Iraq, Yemen, Syria and Lebanon, Iran has exploited the dire economic situation by launching a major propaganda campaign publicising its provision of all types of aid, including oil and food, he told Al-Mashareq.
Iran's propaganda machine claims the assistance comes without strings attached, "while in truth it seeks something in return", such as money or influence, Abu Hamdan said.
Self-serving interventions
"Had it not been for the Iranian intervention in Syria, the situation now might have been totally different," Syrian journalist Mohammed al-Abdullah told Al-Mashareq.
Iran intervened under the pretext of defending the holy sites and protecting and assisting the Syrian people "only for it to become clear later that this intervention served only the interest of the Iranian regime", he said.
Iran has sought to dominate Syria "by controlling its economic and natural resources", he added. "For every piaster Iran gave to Syria, it was paid back with thousands of piasters."
It circumvented the sanctions imposed on it, delivering large quantities of oil to Syria to meet the needs of the Syrian army and power plants, he said. "But it was learned later that [Iran] was paid for the oil directly or with long-term contracts."
The scenario is being repeated with Venezuela, al-Abdullah said.
Iran appears to be supporting Venezuela with much needed oil, he said, "while the truth is that the IRGC is counting on major deals to help it survive amid the financial hardship it is facing, as the Iranian economy is on the verge of collapse".