With its attacks inside Iraq on international coalition and Iraqi government targets and its threats to attack Israel, Iran-backed militia Asaib Asl al-Haq seems intent on destabilising Iraq, analysts warn.
Operating at the behest of Iran, Asaib Ahl al-Haq leader Qais al-Khazaali seeks to ignite a regional war that would have serious and long-lasting repercussions on Iraq's security and stability, they cautioned.
In August, al-Khazaali stated -- not for the first time -- that his group and other Iraqi militias would fight alongside Lebanese Hizbullah in any war with Israel.
He said the militias are part of the "deterrence equation" Hizbullah chief Hassan Nasrallah reaffirmed last summer, after Hizbullah launched a retaliatory barrage of rockets at Israeli forces in the Shebaa Farms area.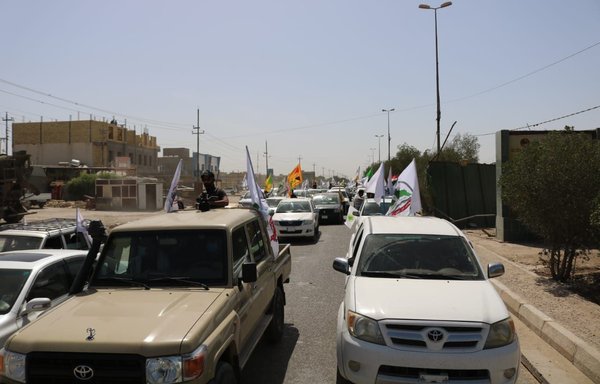 The so-called "deterrence equation" militias, allied with Iran and Hizbullah, regard themselves as the defenders of Lebanon's sovereignty against Israel.
But they do not have a mandate from the Lebanese state for this self-appointed role, and through their actions they have in fact destabilised Lebanon.
Al-Khazaali also said the militias retain the "right to respond" to the strikes targeting Iran-backed militias in the city of al-Qaim on the border between Iraq and Syria, which he has repeatedly blamed on Israel.
He recalled a visit he made to Lebanon's border with Israel in 2017, and the pledge he made there to support Hizbullah -- a visit seen as a dangerous escalation of the Iranian threat to ignite proxy wars in the region.
'Serious threats'
These threats must be taken seriously, political analyst Hatem al-Falahi said, noting that Asaib Asl al-Haq and allied militias have previously used their rockets and drones to strike at the region's security.
Iran-aligned militias have attacked Saudi Arabia, and more recently the United Arab Emirates (UAE), with little-known Iraqi militia Alwiyat al-Waad al-Haq claiming responsibility for attacking them with drones.
Iraqi militias do not deny their responsibility for these attacks, al-Falahi said, and there is intelligence indicating they were launched from Iraq.
These hostile activities in the region are part of an Iranian "strategic" decision, he added, noting that the militias act on orders from Iran.
They continue to operate as "mafias" that infringe on the authority and sovereignty of the Iraqi state, he said.
Fixation on Israel
Al-Khazaali mentions Israel in almost all of his speeches as part of the propaganda he uses to justify the illegal existence of the Iran-backed militias and their activities, analysts said.
In addition to holding Israel responsible for targeting these militias in Syria and seeking to dissolve them, he also seeks to blame it for all the incidents and crises in Iraq -- even those his own group and its allies were behind.
These include the November drone attack on the home of Prime Minister Mustafa Kadhemi, and a July fire at a COVID-19 isolation hospital that investigators concluded had been caused by the militias' corruption and negligence.
Al-Khazaali also insinuated that Israel was a sponsor of the demonstrations against Iranian influence in Iraq, which prompted the militias to go after the protesters.
When the Houthis launched missile attacks on the UAE on January 17, al-Khazaali offered his "blessing" in a post on Twitter.
His words angered people across the political spectrum in Iraq, who considered them an interference and a direct compromise of Iraq's interests and relations.
Harming Iraq
Asaib Ahl al-Haq is one of the groups spreading the doctrine of Wilayat al-Faqih (Guardianship of the Jurist), which calls for allegiance to Iranian leader Ali Khamenei, said Iraqi Centre for Strategic Studies head Ghazi Faisal Hussein.
The dissemination of this doctrine is part of a global project directed by the Islamic Revolutionary Guard Corps Quds Force (IRGC-QF) "based on the pretext of the Islamic resistance", he said.
All of these cross-border armed groups that adopt the Iranian vision of hostility towards Israel, the West and the Gulf states "will not hesitate to carry out any directive issued to them" by Khamenei and the IRGC-QF, he said.
He pointed to Iran's continuous attempt to maintain the level of threat against Israel, as evidenced by the deployment of the various militias they control, in Syria's Eastern Desert (Badiya) and in the Golan Heights.
"The regional threats of Asaib and the militias and their attacks on Saudi Arabia and the UAE cause serious harm to Iraq's interests, its policies and its international reputation," Hussein said.
"The government must rein in these lawless, illegal groups," he said.