US air strikes hit operational and weapons storage facilities used by Iran-backed militias in the Iraq-Syria border region during Sunday (June 27) night and Monday morning raids.
The defensive strikes hit three military facilities used by Iran-backed militias -- two in Syria and one in Iraq -- Pentagon spokesman John Kirby said.
The targets had been selected as they were used by "Iran-backed militias that are engaged in unmanned aerial vehicle (UAV) attacks against US personnel and facilities in Iraq", he said.
Iran-backed Iraqi militias Kataib Hizbullah and Sayyed al-Shuhada were among the "several Iran-backed militia groups" that had used the facilities, Kirby said.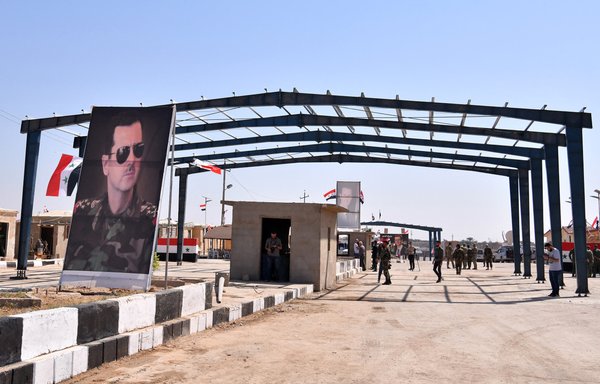 Iran-aligned groups have carried out more than 40 attacks this year -- using rockets, improvised explosive devices (IEDs) and unmanned aerial vehicles (UAVs) -- on logistics convoys, foreign diplomatic buildings, and targets associated with the international coalition battling the "Islamic State of Iraq and Syria" (ISIS).
Some of these attacks also appear to be direct attacks against the Iraqi government, such as the rocket barrage that hit Baghdad's Green Zone in February.
Experts say the impact of the rocket and drone attacks would be much greater if not for the air defence systems put in place by the international coalition.
Earlier this month, the US Department of State's Rewards for Justice programme announced it was offering a reward of up to $3 million for information on attacks against Americans in Iraq.
Strikes in border area
"Given the ongoing series of attacks by Iran-backed groups targeting US interests in Iraq, the president directed further military action to disrupt and deter such attacks," Kirby said.
"Specifically, the US strikes targeted operational and weapons storage facilities at two locations in Syria and one location in Iraq, both of which lie close to the border between those countries," he added.
The Syrian Observatory for Human Rights said seven fighters had been killed in the strikes, with at least six more fighters wounded.
Observatory director Rami Abdel Rahman said the strikes had targeted "a weapons storage facility and a military position near Albu Kamal", a Syrian border town that is directly across from the Iraqi border town of al-Qaim, in Anbar province.
Iraqi paramilitary sources said four fighters had been killed in one raid in Anbar.
Some Iran-backed Iraqi militias have been deployed in Syria over the years to support regime forces and to further Iran's interests in the country.
In February, US strikes on facilities in east Syria used by Iran-backed militias left more than 20 fighters dead in a raid Kirby said was "an unambiguous message" that Biden will act to protect US and international coalition personnel.
Drone attack on Erbil
Meanwhile, officials in Iraq's Kurdish region on Saturday said three explosives-laden drones hit near Erbil.
The drone attack occurred overnight, the Kurdish region's anti-terrorist unit said, with two striking a house and causing damage, while the payload on the third did not explode.
The US consulate in Erbil condemned the assault on Twitter, saying "this attack represents a clear violation of Iraqi sovereignty".
The drone bombardment occurred as a pro-Iran paramilitary alliance held a military parade near Baghdad.
In April, a drone packed with explosives hit the coalition's Iraq headquarters in the military part of the airport in Erbil.
Most such attacks have been claimed by a new crop of shadowy militias aligned with Iran that has emerged in Iraq over the last year, at least 15 in total.