Asaib Ahl al-Haq has been sowing lawlessness and chaos in Iraq and undermining the country's security and stability as one of the most prominent militias affiliated with Iran's Islamic Revolutionary Guard Corps (IRGC).
Like other Iranian proxies, Asaib Ahl al-Haq -- which was formed in 2006 by Qais al-Khazaali -- receives money and weapons from the IRGC's Quds Force, which oversees its activities and draws up plans for it, experts say.
"It is known that the armed group is one of Iran's main affiliates in Iraq, and implements the project of imposing [Iranian] hegemony over the region," said strategy analyst Alaa al-Nashou.
The militia has declared its allegiance to the Iranian regime and follows the orders of Iran's supreme leader Ali Khamenei, al-Wali al-Faqih (Guardian Jurist).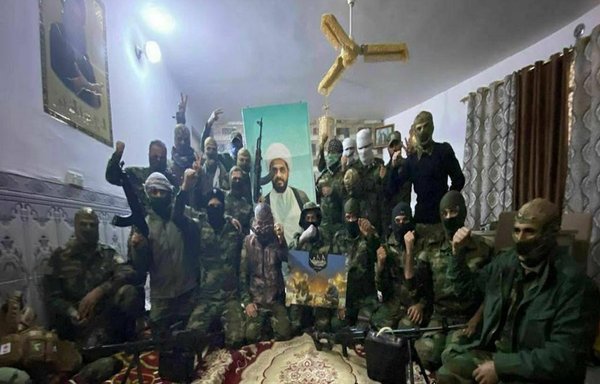 "Since its establishment, the group has been actively serving the Iranian agenda and policies at the expense of the Iraqi people," al-Nashou said.
"It is still receiving support and funding from Iranian officials to remain an armed force under their authority and implement their plans," he added.
Under Iraqi law, Asaib Ahl al-Haq is supposed to function as a paramilitary group operating as part of the national security apparatus, al-Nashou said.
As such, he said, it is expected to comply with the decisions of Prime Minister Mustafa Kadhemi, who is commander in chief of the armed forces.
But in reality, it only follows Iran's orders, he said -- even if by doing so, that ignites war in Iraq and plunges it into a cycle of violence and crises.
Sanctions on militia leader
In December 2019, the US Treasury sanctioned al-Khazaali and his brother Laith for their involvement in "serious human rights abuse" in Iraq.
Days later, IRGC Quds Force commander Qassem Soleimani and Abu Mahdi al-Muhandis were killed in a US strike near Baghdad International Airport.
In the aftermath of Soleimani's death, al-Khazaali issued several public threats of revenge, highlighting his militia's close relationship with Iran.
Under his direction, Asaib Ahl al-Haq has launched numerous rocket attacks against military bases where international coalition forces are housed.
On June 29, al-Khazaali threatened military escalation after US air strikes hit three operational and weapons storage facilities used by Iran-backed militias in the Iraq-Syria border region.
The defensive strikes took place in response to drone attacks the militias had carried out against US targets in Iraq.
Asaib Ahl al-Haq also has been involved in the assassination and kidnapping of Iraqis who demonstrated against Iran's interference in their country's affairs.
On May 12, the Iraqi Intelligence Service's tactical division clashed with members of the militia in Basra after the division raided the home of Sabah al-Wafi, an Asaib Ahl al-Haq element who is suspected of killing activist Riham Yaaqub.
Some Iraqi officials also say Asaib Ahl al-Haq elements are responsible for an October incident in the Salaheddine province village of al-Farhatiya in which eight men were killed and four others went missing.
Guided by Iranian regime
Iraqi Centre for Strategic Studies director Ghazi Faisal Hussein described Asaib Ahl al-Haq as "an armed group that espouses the Iranian doctrine".
"It is one of more than 30 (Iraqi) militias that are organisationally and ideologically affiliated with the IRGC's Quds Force," he said.
"This group is following in Iran's footsteps and constantly declares that it is on the side of the Iranian regime in its confrontation with the United States and in its defiance of the international community," Hussein said.
"It does not care about the negative consequences its activities have on Iraq's global standing or their disruptive impact on internal and regional security," he added.
Members of the international coalition, who met in Rome on June 26 to renew their collective commitment to fending off the danger posed by the "Islamic State of Iraq and Syria" (ISIS), recognise the challenges posed by Iran's proxies, he said.
Their alliances with the Iraqi government are based on the sustainability of co-ordination and joint co-operation at all levels, he noted.
"Armed violence, be it by Asaib Ahl al-Haq or any of the other Iranian militias, will not affect this partnership nor international efforts to combat terrorism and extremism and build regional stability," he said.