Asaib Ahl al-Haq's defiance of the Iranian will has exploded into the open in recent weeks in both words and action, revealing a growing rift between Iran-backed Iraqi militias of the so-called "resistance axis" and the Iranian regime.
In a January 20 interview with BBC Persian, Asaib Ahl al-Haq leader Qais al-Khazaali spoke openly about tensions and divergence between the Iranian regime and its Iraqi proxies, which include the armed group he heads.
Iran's response to a Friday (January 28) rocket attack on Baghdad airport is yet another sign that Iran and its Iraqi proxies have fallen out of step, analysts said.
Six rockets were fired at Baghdad airport on Friday, causing damage to one runway and two civilian planes but no casualties, AFP reported.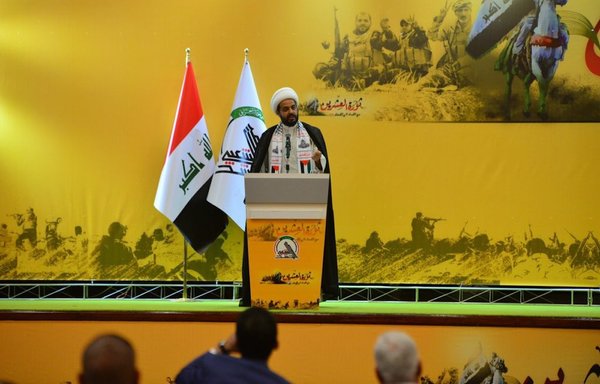 It was the latest in a string of attacks blamed on Iran-aligned militias, though no group immediately claimed responsibility for it.
Iran's foreign ministry on Saturday condemned the attack as an act that seeks to "destabilise" Iraq.
"Such suspicious actions have created insecurity and unrest in Iraq, paving the way for the ill-wishers and the insurgents, and affecting the government's services to the Iraqi citizens," said ministry spokesman Saeed Khatibzadeh.
The rockets fell around civil installations at the airport, damaging an out of service Boeing 767 belonging to state-owned Iraqi Airways.
The attack prompted Kuwait Airways to suspend its flights to Iraq.
Al-Khazaali complained to the BBC that after the death of Islamic Revolutionary Guard Corps Quds Force (IRGC-QF) commander Qassem Soleimani, "serious changes" were made to Iran's support for the so-called "resistance forces".
Khatibzadeh's January 24 response, that Iran "has, and continues to support the resistance, and has stood by it", has not been sufficient to quell the rising tensions with Iranian proxies, as evidenced by the airport attack.
Militias go rogue
With their recent series of rocket and drone attacks against the Green Zone, Baghdad airport and Iraqi bases, Iran-aligned militias seem "determined" to plunge Iraq into chaos, strategy expert Alaa al-Nashou told Al-Mashareq.
The militias are "hinting and threatening" to drag Iraq into internal strife, he said, which seems to run counter to Iran's inclination, as the Iranian regime has called on its proxies to accept the current situation and not escalate.
The Iranian regime believes the situation in Iraq is spiraling out of control, he said, which does not serve Iran's agenda and puts its interests at risk.
In a further indication of the militias' rebellion against Iran's non-escalation directive, al-Khazaali reiterated his threats against US forces, vowing an "open war" against them if they responded to attacks in Iraq.
Al-Nashou deemed this a "weak challenge", however, noting that the militias "are too small to threaten a superpower like the United States".
But he stressed that Asaib Ahl al-Haq, Kataib Hizbullah and other militias remain "Iranian affiliates, and there are Iranian advisers who provide them with weapons and the expertise needed to manufacture them".
There are factories in Baghdad's al-Waziriyah area, he said, and in the town of Jurf al-Sakhr on the outskirts of the capital, where drones that are used to attack international interests in Iraq are assembled.
Iran also continues to supply its Iraqi proxies with rockets, al-Nashou said.
Widening rift
In his BBC Persian interview, al-Khazaali boasted that the "resistance" groups are now capable of manufacturing weapons themselves, especially drones.
"If the commander of the IRGC-QF, Esmail Qaani, one day decides to cut off support, if there is any, that would not affect the groups' capabilities," he claimed.
Al-Khazaali's remarks reveal the extent of the divergence between Iraqi militias and Iran, and the loosening of Iran's grip on its proxies, whose loyalty is waning, political analyst Ahmed Shawki said.
It is also "an implicit acknowledgment that it is Iran who is arming these groups and equipping them with drones to carry out attacks at times and targets determined by [Iran], not its proxies", he added.
Al-Khazaali's statements also point to the presence of "weapon and drones factories" belonging to the militias, he said, which is a violation of Iraqi sovereignty as these are being manufactured outside the framework of the state.
As al-Khazaali has made clear, he said, the militias will continue to escalate attacks against Iraqis under the pretext of targeting US forces which have officially concluded their combat operations in Iraq.
Shawki said the recent attacks are warning messages from the militias implying that they are ready to turn the tables on everyone if they are excluded from political life and the decision-making process.
Election fallout
In a further slap to Iran, al-Khazaali said the congratulations offered by the Iranian parliament speaker to his Iraqi counterpart, Mohammed al-Halbousi, after his election "will not change their position in rejecting the election results".
Asaib Ahl al-Haq and the Fatah alliance, the political wing of the Popular Mobilisation Forces (PMF), continue to insist that the October 10 elections were marred by fraud and manipulation, even after Tehran officially welcomed them.
Iran-aligned political parties suffered a resounding defeat in the elections, and quickly moved to contest the results. But the Supreme Court ratified the election results in December, and on January 25 rejected appeals brought by the militias.
The political bloc led by al-Khazaali's rival, Muqtada al-Sadr, has moved towards forming a coalition with the Sunnis and Kurds, which would undermine the activities of Iran-aligned militias by its very nature, analysts said.
In recent days, Sunni and Kurdish lawmakers have been targeted by a spate of warning grenade attacks, AFP reported.
Unknown attackers have hurled grenades at Kurdish and Sunni targets including political party offices and a lawmaker's home -- groups that could help al-Sadr win the parliamentary majority needed to make his choice of prime minister.
"It is a way of punishing the forces that have allied with Muqtada al-Sadr to form a parliamentary majority," said political scientist Ihsan al-Shammari.
"Their message is political," he added, calling the attacks "part of the mode of political pressure" adopted by some groups.