Faced with acute economic pressure and sky-high prices, many Iranian families who had been holding on by a thread have been sliding into homelessness, seeking shelter from the elements by sleeping in buses, on rooftops and in cars.
The "bus sleeping" phenomenon -- which the government labels variously as "bus sleeping", "tent sleeping", "rooftop sleeping" and "car sleeping" -- has been widely reported in Iranian media in recent months.
In July, domestic daily Shargh reported that rooftops in Tehran were being rented out for 500,000 IRR ($2) a night -- mostly to day labourers.
The same rooftops were rented out for half that price the previous year.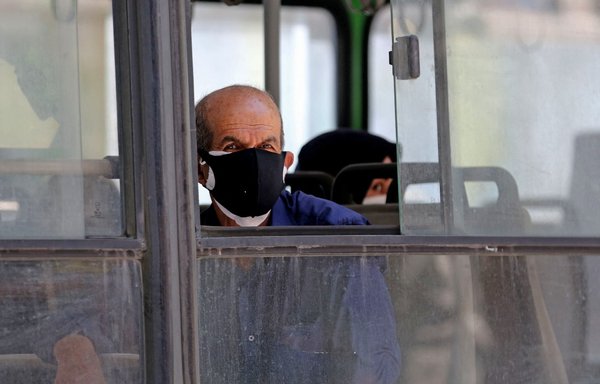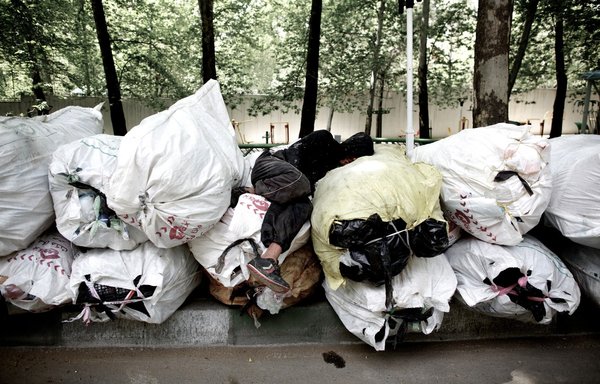 Rents in Tehran have almost doubled, along with the cost of just about everything, from foreign currency to essential items, and homelessness has risen apace.
According to some reports, many day labourers spend the night in the stores they work at in Tehran, with the storeowners' permission.
Meanwhile, many of those who have managed to hold on to their housing reside in barely habitable accommodation.
In 2017, the Ministry of Roads and Urban Development reported that 19 million people, about a third of Iran's urban population, were living in subpar conditions.
The ministry defines "subpar housing" as one-room housing, or homes that do not have standard structures or running water, electricity or gas utilities.
Even those with adequate housing are suffering from gas shortages this winter, with Iran's Meteorological Organisation on Thursday (January 20) issuing weather warnings about low temperatures in several cities, including Tehran.
The government's response? Wear warm clothes to reduce the demand for gas.
"Gas consumption can be managed by wearing warm clothes and turning off heating appliances when leaving home and work," Oil Minister Javad Owji said Sunday, according to the ministry's Shana news agency.
Sign of deeper problems
Turning off the heating is not an option for Tehran's unsheltered population.
In a January 8 report on the prevalence of bus sleeping, Tejarat News revealed that many unsheltered individuals who cannot afford to pay rent take refuge on high-speed city buses during cold nights in Tehran.
Most of them come from other cities to work in Tehran. They "go to work during the day and take refuge here at night", a city bus driver told the outlet.
"Do not think that they are all addicts," he said. "Every one that I have come across seems to have a job, but it seems they cannot afford to rent a place to live in, and now they have chosen bus sleeping."
Tehran city council chairman Mehdi Chamran has described bus sleeping as a prevalent problem.
"This is a marginal issue; of course they should not allow such a thing to happen, but nothing can be done if someone falls asleep on a bus," he said.
It was unclear which "they" Chamran was referring to.
Tejarat News noted that many bus sleepers are forced to change buses several times until morning comes.
Tehran-based journalist Vida Rezaei said the increase in the number of people who do not have stable and permanent housing indicates a grave issue in Iran's urban and social structure.
"All housing-related institutions are preoccupied with factional politics, propaganda and pretence," she said. "For this reason, no institution radically seeks to identify the causes of these social ills and provide solutions."
According to the Ministry of Roads and Urban Development, more than 60% of the income of urban households in Iran is spent on rent.
Based on a report from the Central Bank of Iran (CBI), the increase in rent was the main cause of inflation in November 2021. The report stated that rent has increased by more than 50% compared to the same month last year.
NGOs 'cut down at the roots'
The Tehran mayor's social deputy, Amin Tavakolizadeh, has suggested the municipality can help the homeless "by placing buses in crowded neighbourhoods on cold winter nights to offer homeless individuals temporary relief".
This is a "ridiculous" idea, Rezaei said, pointing out that non-governmental organisations (NGOs) that could have been effective in helping those in need have been effectively shut down by the government.
"In the 1990s, we witnessed the unprecedented growth and expansion of NGOs that operated in a wide variety of fields and offered social services," she said.
"But it was not long before the government of the Islamic Republic -- in its imagination -- perceived a significant threat from such organisations and virtually took an axe to their roots."
"Out of the hundreds of NGOs that operated during those years, there are none left save a handful who are barely able to survive," Rezaei said.
Critics say the municipality and the city councils of Tehran and other Iranian cities, which are responsible for addressing such social issues, are placing a tiny bandage on a gaping wound by offering illogical temporary solutions.
These institutions have long been mired in financial and administrative corruption, they say, with new cases regarding corrupt officials exposed every once in a while.