China is grappling with an unprecedented wave of unemployment across all sectors, threatening an economic ripple effect for years to come.
In Shanghai, residents are lining up outside blood banks for meagre subsidies of a few hundred yuan.
In Guangzhou and Shenzhen, migrant workers who are unable to find work are sleeping on the streets under building eaves, in pedestrian tunnels and at train stations.
On Douyin, a social media platform, a series of videos titled "Where to Sleep When You're Unemployed" has gone viral. The videos have garnered tens of millions of views, underscoring the widespread unemployment crisis in China, especially among the youth.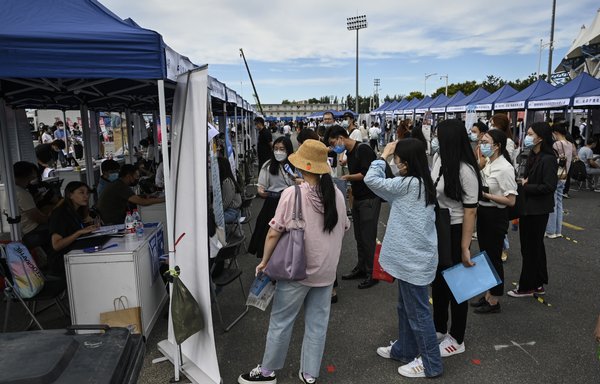 Official statistics indicate that the number of China's urban jobs dropped by 8.4 million to 459.31 million by the end of 2022, the first drop since 1962, Reuters reported February 27.
The urban unemployment rate released by the National Bureau of Statistics was 5.6%, with the urban unemployed population in China reaching 25.7 million.
Youth unemployment rate in urban areas is disproportionately high. In July 2022, it reached a peak, with nearly one-fifth of urban youth aged 15 to 24 without work.
Reports of "graduating into unemployment" for college students are common in Chinese media, and this year is expected to be the most fiercely competitive year for the labour market in various industries.
Pervasive unemployment
The labour market is facing multiple pressures for various reasons, said Ding Zekun, who imports French wine into Shanghai.
"Overseas orders have been significantly reduced, and export traders have not seen the expected recovery. The domestic consumption market is still weak, and even some dissatisfied employees have voluntarily resigned."
One of Ding's employees, who has a postgraduate degree, quit his job last December only to ask in March if he could return.
"Now, more than 30 [applicants] are competing for this position, including those with more experience," Ding said. "I'm still hesitant about whether to let him come back to work."
Coco Chen, who works in advertising production in Shanghai, said that after resigning from a medium-sized advertising company several months ago, she still has not found a job.
"My resume is relatively competitive. I have done some of the best-known advertising projects in China. However, looking for a job is not as good as expected, which I didn't expect," Chen said, adding that she has decided to start her own advertising business.
One of China's largest recruitment websites, Zhaopin.com, conducted a survey of about 50,000 white-collar workers in March, which showed that 47.3% of respondents were concerned that they might lose their jobs this year, up from 39.8% a year ago.
About 60% of respondents listed "uncertain economic environment" as the main factor affecting their confidence, up from 48.4% in 2022.
Layoffs at tech companies
What used to be enviable high-paying positions in the high-tech industry are now considered "high-risk jobs".
In 2022, Alibaba laid off about 20,000 workers. The recent restructuring of the large technology company has many employees worried that there will be more layoffs.
Layoffs also have been threatening employees at Tencent, Asia's biggest internet company, for several months.
In February, the Chinese tech giant told Reuters it was making some personnel adjustments after a media report said the Chinese tech company was laying off up to 300 staff.
Those rumours followed a round of job cuts targeting Tencent's video streaming, gaming and cloud businesses, four sources told Reuters in November.
The consequences of economic downturns have made it increasingly difficult for tech companies to monetise traffic, said Wang Jian, a senior commentator living outside China.
"Companies like Tencent and Meituan have a lot of traffic, and their business model is to turn traffic into cash, called traffic monetisation," Wang said. "When the economy is down, traffic monetisation becomes very difficult because [users] do not have purchasing power."
Additionally, he said, "the political environment in China is becoming increasingly unfriendly, and the space for internet companies to expand outward has been squeezed to a minimum".
For these reasons, "many high-paying positions in internet companies have turned into high-risk positions".
Migrant workers struggling
Chinese migrant workers, particularly those with rural household registration, have been hit the hardest by the country's struggling job market.
These workers are not included in the urban unemployment rate, but they have been stuck in the cities since the end of the Spring Festival and are struggling to find employment.
China has about 300 million migrant workers, many of whom are now unemployed.
In early March, a large number of migrant workers were seen gathering at Guangzhou South Station and Dongguan East Station, unable to find work and forced to return home.
Along the streets near Shenzhen's Longhua Bus Station, laid-off migrant workers have been seen sitting on the ground with their luggage, and some even sleeping under bridges or in public parks.
Videos shared online show unemployed residents camping out under the eaves of buildings in Shenzhen, while others share tips on how to find free accommodation and food, or how to take free showers at hotels.
'Flexible employment'
In this uncertain job market, some unemployed youth have turned to "flexible employment".
According to official statistics reported in February 2022, some 200 million Chinese are in a state of "flexible employment".
The phrase "China's flexibly employed reaches 200 million" became one of the top searches on Weibo when the report came out, according to Think China, a Singapore-based e-magazine.
State media describes "flexible employment" in positive terms, but many social media users wonder whether this relatively new concept is just a euphemism for unemployment.
It raises the question, Think China said, "How many people are leading an enviable life of 'not working', and how many are living paycheque to paycheque?"
Weibo users expressed similar concerns:
"It's just living from hand to mouth, and yet they make it sound so inspiring!"
"They make being unemployed and doing odd jobs sound so refreshing and unconventional."
"The figure of 200 million cannot be trumpeted as an achievement," said former Global Times editor-in-chief Hu Xijin. "It is a fact. The frustration and hardship would definitely outweigh the glamour and joy."