A sharp daily decline in the value of Iran's national currency is causing market volatility, public unease and a steady rise in the price of all essential items, economists told Al-Mashareq.
Some government officials blame business entities for the decline, pointing out that a large amount of non-oil export revenue has not returned to the market.
In mid-July, Iranian president Hassan Rouhani said that "some 20 billion euros ($22 billion) is missing from non oil exports", claiming this as the main reason for the decline in the value of the currency.
Rouhani added that his administration "will co-ordinate with the judiciary and take steps toward summoning potential wrongdoers".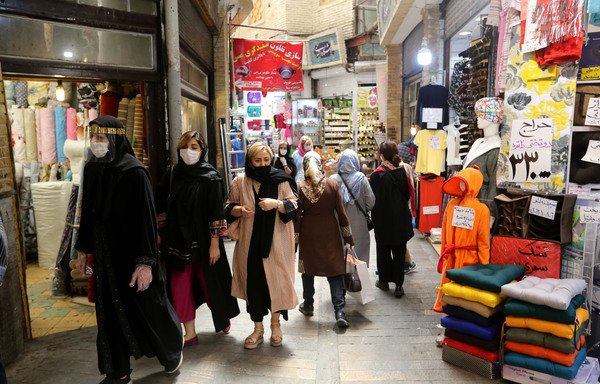 In an early July memorandum, Central Bank of Iran (CBI) governor Abdolnaser Hemmati criticized exporters who are not willing to return their revenue to the country.
According to some economists, one of the reasons for the constant decline in the value of the currency may indeed be a large amount of missing export revenue.
The main problem, however, is government incompetence and mismanagement.
Economic woes, corruption afflicting Iran
"The freefall of the national currency value is causing great concern among society's low-income groups," economist Behzad Gonabadi told Al Mashareq.
"Fear of an uncertain future has led to unprecedented instability in financial markets," he added.
The reality, Gonabadi said, is that "some government affiliates have made enormous profits from this situation".
Most of the businesses that are unwilling to return their revenue to Iranian markets are close to the government, he noted, pointing out that their unwillingness shows the elite has no hope for economic stability in Iran.
In a mid-July speech, Iran's Supreme Leader Ali Khamenei said the country is "ill due to a multitude of economic problems".
Senior government officials have acknowledged Iran's economic crisis.
Earlier this month, a story in domestic daily Jahan-e Eqtesad pointed to "structural corruption, the CBI's monetary policies and the unprecedented increase in liquidity to make up for budget deficiencies" as major culprits.
All these factors are behind Iran's current economic instability, the outlet said.
Collapse, bankruptcy concerning economists
Some observers believe Iran will soon be on the verge of bankruptcy and economic collapse, either due to non-compliance with Financial Action Task Force (FATF) regulations, failure to return export revenue, or black market activities.
"Corruption is quite widespread in Iran," Ali Nouri, a journalist who covers Iran economics, told Al Mashareq.
"Official reports show approximately $4.8 billion of government revenue disappeared in 2019, and no-one has been held accountable," he said.
"Powerful Islamic Revolutionary Guard Corps (IRGC)-affiliated corporations receive millions in funding from the government while engaging in smuggling and money-laundering," Nouri said.
"The structure of Iran's economy creates a suitable space for mafia-like groups, who profit from sanctions and unusual conditions, such as the coronavirus outbreak, to fill their pockets," he added.