Between the beginning of June and early July, the conflict around al-Hodeidah displaced more than 121,000 people -- 17,350 households -- according to the the UN Office for the Co-ordination of Humanitarian Affairs in Yemen.
Almost 80,000 of these internally displaced persons (IDPs), whose numbers have continued to rise, have been assisted with food, emergency kits and other life-saving support, OCHA Yemen said.
Many who fled the Red Sea port city have sought refuge in Sanaa.
Amna Mohammed told Al-Mashareq she fled the city of al-Hodeidah at the start of the battles there out of fear for the lives of her four children.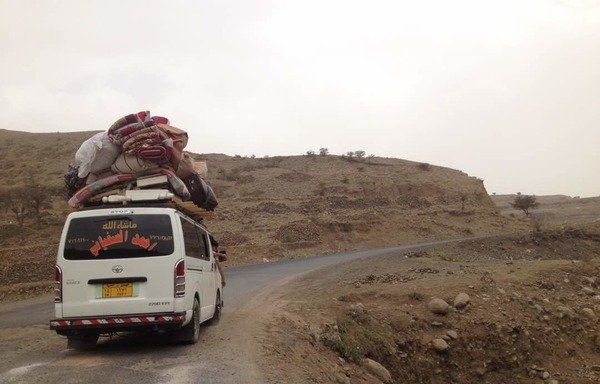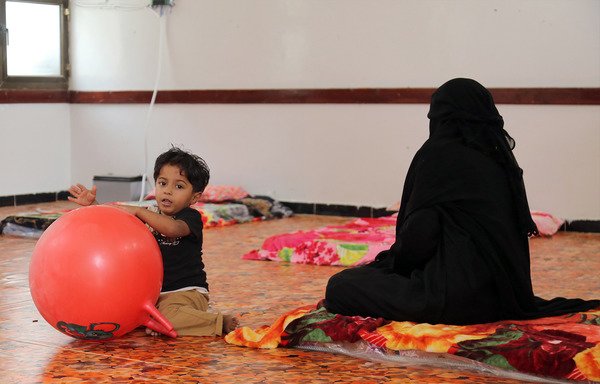 In Sanaa, she said, she has been forced to resort to begging to feed them, as the food aid she received -- flour, oil and sugar -- was not sufficient.
"How can I prepare food for my children when I do not have the rest of the necessary food items nor kitchen utensils?" she asked.
Ali al-Nashri told Al-Mashareq he fled al-Tahtiya, south of al-Hodeidah, for Sanaa with his two sons and two daughters after his wife was killed in the fighting.
The family sleeps on the streets and spends their days begging for food, he said.
Designated shelters
The UN has designated the Abu Bakr al-Siddiq school in western Sanaa as a shelter and registration centre for those fleeing al-Hodeidah, said OCHA Yemen spokesman Zaid al-Alaya.
From that point, displaced persons are distributed among six other schools designated for that purpose, he told Al-Mashareq.
Each family is provided with lodging, meals and some medical services.
"Humanitarian organisations are making great efforts to provide care for IDPs including nutrition, health care and living requirements such as blankets and tools," he told Al-Mashareq.
But some decry the lack of services and limited space allocated to them.
Ali Abdo told Al-Mashareq the allocation of one room -- a classroom -- that he must share with his mother, his wife and three children is not sufficient, so he is trying to find a job, even a temporary one, in order to rent a place to live.
Many still need help
The centres offer shelter, food, blankets and other necessities to the IDPs, said Angela for Development and Humanitarian Response head Angela Abu Asba.
The number of IDPs coming from al-Hodeidah is constantly growing, she said, adding that those outside Abu Bakr al-Siddiq school and other shelters vastly outnumber those who have found temporary accommodation inside.
Some would be happy to get even one room to shelter their families, she said.
"Humanitarian organisations are working to absorb more of the IDPs by setting up additional shelters to accommodate their growing numbers," she said.
Meanwhile, many families are sleeping rough, she added, and are waiting for their ordeal to end by having shelter provided to them.