KUT -- Gunmen said to be members of Iran-aligned Iraqi militia Asaib Ahl al-Haq on Saturday (January 8) shot and wounded two protesters who disrupted a commemoration of the death of top Iranian general Qassem Soleimani.
The incident came amid reports that Soleimani's successor, Islamic Revolutionary Guard Corps Quds Force (IRGC-QF) commander Esmail Qaani, was in Iraq on Saturday to meet with the leaders of pro-Iran political entities.
The unannounced visit, seen as yet another attempt to exert influence over the formation of Iraq's new government, came ahead of the Iraqi parliament's inaugural meeting on Sunday.
Qaani had secretly visited militia leaders in Iraq ahead of the elections but to little effect, as Iraqi voters delivered the pro-Iran bloc a resounding defeat.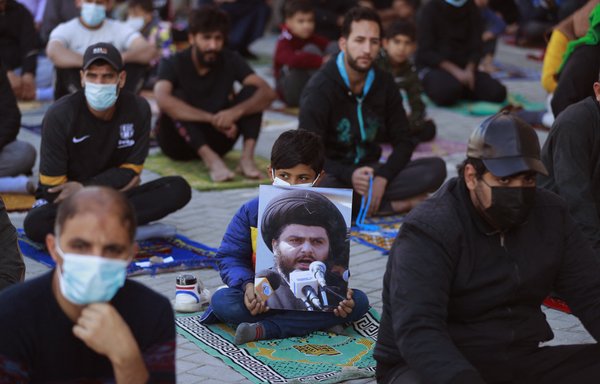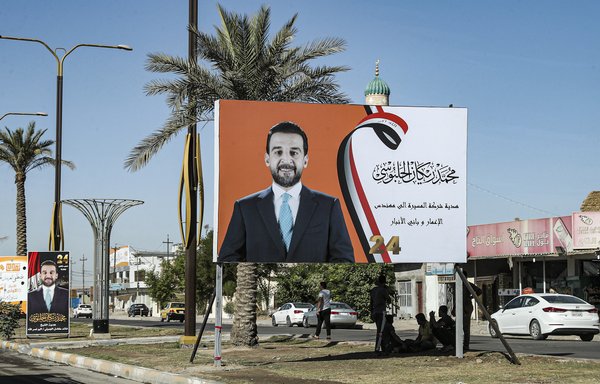 Iran and its regional proxies have in recent days held a series of commemorations to mark the second anniversary of the assassination of Soleimani and his Iraqi lieutenant Abu Mahdi al-Muhandis.
Some "150 to 200 demonstrators" stormed the Saturday ceremony in Kut, a city on the banks of the Tigris river some 160km southeast of Baghdad, according to a security source who wished to remain anonymous.
The protesters tried to "prevent" the commemoration, he said, moving in just before it was due to begin and tearing down portraits of Soleimani and al-Muhandis.
"Members of an armed faction opened fire and wounded two demonstrators," the source said.
The commemoration was suspended and security forces deployed heavily in Kut.
Iraqi MP Sajjad Salem, who is linked to the popular protest movement, posted a video on Facebook showing armed men in a square, with gunshots ringing out.
He said the video showed shots being fired by members of Asaib Ahl al-Haq.
'No room for militias'
Shia cleric Muqtada al-Sadr -- whose party won the majority of parliamentary seats in the October elections -- on Saturday denounced the pro-Iran militias, saying there was no room left for them in Iraq, Asharq al-Awsat reported.
"There is no room any more for militias, as everyone will support the army, police and security forces," he said in a post on Twitter.
Al-Sadr quickly moved to clarify his position regarding non-state militias, following the elections, provoking ire in some quarters.
With 73 seats in parliament, out of a total of 329, the Shia cleric is expected to have the key say in who will serve as the next prime minister.
He has repeatedly said he wants to break with the Iraqi political tradition of a "consensus" government to instead build a majority government, with representation from the Sunnis and the Kurds.
This would form the largest bloc in parliament, securing a ruling majority that would appoint a prime minister and cabinet from within its ranks.
"There is no room for sectarianism or racism. There is room only for a national majority government in which the Shia will defend the rights of the minority Sunnis and Kurds," al-Sadr said on Twitter.
"Our decision is Iraqi, Shia, Sunni, Kurdish, Turkmen, Christian, Feyli, Shabak, Yazidi and Sabian: This is an Iraqi mosaic that is neither eastern, nor western."
Heated inaugural session
Iraq's new parliament on Sunday held a heated inaugural session, swearing in 329 MPs and re-electing Sunni MP Mohammed al-Halbusi as speaker. Shia Hakem Zamili and Kurd Shakhwan Abdallah were elected as his deputies.
Parliamentary sources said a dispute broke out between lawmakers of the Shia Co-ordination Framework coalition and their rivals in the Sadrist bloc.
The session was suspended for more than an hour before resuming.
Within 30 days of its inaugural session, the parliament must elect the president. The new president must then appoint a prime minister, who is chosen by the largest coalition and has 30 days to form a government.
Forming a majority government would be "new" for Iraq, said political scientist Ihsan al-Shammari, noting that all Shia parties had participated in previous administrations.
The post of prime minister historically goes to a Shia, under Iraq's informal system of religious and ethnic quotas in place for close to two decades.