TEHRAN -- A statue erected to honour slain Iranian commander Qassem Soleimani was burned down by unknown individuals hours after its unveiling, Iranian media reported Thursday (January 6).
Soleimani, who headed the Quds Force (QF), the overseas operations arm of Iran's Islamic Revolutionary Guard Corps (IRGC), was killed on January 3, 2020, in a US drone strike at Baghdad airport along with his Iraqi lieutenant Abu Mahdi al-Muhandis.
On Wednesday morning, officials unveiled a statue to honour him in Shahr-e-Kord, the capital city of Chaharmahal and Bakhtiari province.
The statue caught fire in the evening, ISNA news agency said, calling it a "shameful act by unknown individuals".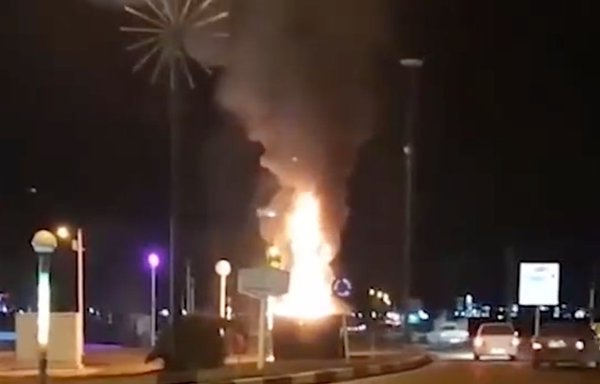 Iranian authorities have unveiled several sculptures dedicated to Soleimani since his death two years ago, and portraits of him dot the landscape across Iran.
State broadcaster IRIB condemned the latest attack as an "insulting" act, which comes as Iran marks the second anniversary of Soleimani's killing, with several events in recent days.
Radio Farda, Radio Free Europe/Radio Liberty's Persian website, reported receiving a phone call in which the callers claimed the France-based Mojahedin-e Khalq (MEK) opposition group took responsibility for torching the statue.
However, domestic media that generally rush to accuse the MEK of disruptive acts in the country blamed the fire only on "a group of unknown individuals".
Deepening grievances against regime
The torching of Soleimani's statue is a sign of growing grievances against the regime's misplaced priorities and its mismanagement of the crises that have beset Iran.
Since Iranian President Ebrahim Raisi took office last summer, his government's declared foreign policy focus has been to improve political, economic and trade relations with Iran's neighbours.
But observers say the government is in effect being held hostage to the destabilising regional policies of the IRGC.
These policies, which have relied on the use of proxy forces to undermine the interests of countries that are considered "enemies" in the eyes of IRGC leaders, have overshadowed Iran's foreign relations for decades, they said.
They have also led to popular protests inside Iran, fueled by a shortage of water, never-ending blackouts, human rights abuses and pandemic mismanagement.
The Iranian people have been sinking deeper and deeper into a staggering economic crisis due to the regime's insistence on upholding the legacy of Soleimani.
Soleimani had led the IRGC's expansionist agenda through a number of proxy wars throughout the region, including in Iraq, Syria, Lebanon, Yemen and Afghanistan.
These initiatives have been costly, showing time and again Tehran's misplaced priorities, while Iranians grow more and more dissatisfied with the government and the spiralling economy.
And now analysts warn that conditions are ripe for another large-scale uprising against the regime.