Iran-backed Asaib Ahl al-Haq has undermined the Iraqi state through its actions, which include a threat of violence following the outcome of a democratic election process regarded as free and fair, and attacks on Iraqi civilians, experts said.
After the militia's political bloc, al-Sadiqoun, lost two thirds of its 15 seats in the parliamentary elections, the results of which were confirmed Tuesday (November 30), Asaib Ahl al-Haq leader Qais al-Khazaali turned on the Iraqi government.
He called for violent protests against it, which resulted in at least one death, and issued a direct threat to Iraqi Prime Minister Mustafa Kadhemi just days ahead of a November 7 attempt on his life.
Though he publicly condemned the drone attack on Kadhemi's Baghdad residence, al-Khazaali is widely believed to have co-ordinated it.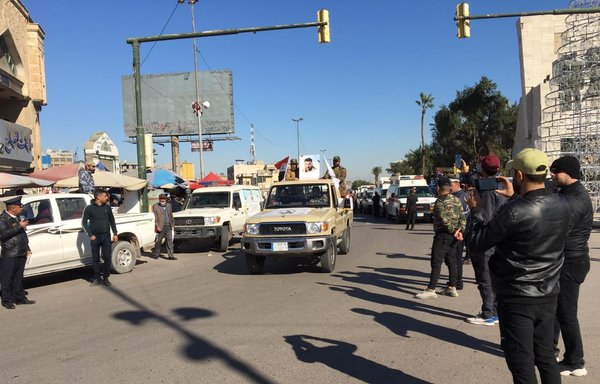 Iraqi experts who spoke to Al-Mashareq said these distinctly unpatriotic actions were carried out under the direction of Iran's leader Ali Khamenei, the "guardian jurist", to whom Asaib Ahl al-Haq owes its allegiance.
Asaib Ahl al-Haq, which comprises an estimated 10,000 fighters, was established in 2006 under the auspices of Iran's Islamic Revolutionary Guard Corps (IRGC).
It gained prominence during the fight to oust the "Islamic State of Iraq and Syria" (ISIS) from Iraq, yet right from the beginning of the battle, the militia was attracting international attention for its brutal sectarian crimes.
In an October 2014 briefing, just months after ISIS overran Mosul, Amnesty International accused Asaib Ahl al-Haq of abducting and killing scores of Sunni civilians, purportedly in revenge for attacks carried out by ISIS.
"Scores of unidentified bodies have been discovered across the country handcuffed and with gunshot wounds to the head, indicating a pattern of deliberate execution-style killings," the rights group said at the time.
The militia also carried out numerous abductions, particularly between 2015 and 2017, killing some captives even after their families had paid ransoms of $80,000 and more to secure their release, Amnesty said.
Since that time, Asaib Ahl al-Haq has assassinated activists and officials, and attacked Iraqi government, international and civilian targets with rockets.
The Iraqi War Crimes Documentation Centre is among the rights groups condemning the actions of Iran-backed militias such as Asaib Ahl al-Haq, documenting their killing of unarmed civilians in a June 6, 2020 report.
Sectarian violence
The history of Asaib Ahl al-Haq, and al-Khazaali's personal history, are riddled with war crimes and human rights violations, said former Iraqi MP Taha al-Lahibi.
The US Treasury blacklisted the militia in December 2019.
It also blacklisted al-Khazaali and his brother Laith for their involvement in "serious human rights abuse", describing them as "violent proxies" of Iran, who were funded and trained by the IRGC Quds Force.
In January 2020, the US State Department listed al-Khazaali as a specially designated global terrorist.
Asaib Ahl al-Haq's sectarian violence increased following the ouster of ISIS, when it targeted some communities, falsely accusing them of terrorism, al-Lahibi said.
Last year, Kadhemi established a special committee to investigate the killing in 2019 of 12 civilians in Salaheddine province amid widespread public anger at what many Iraqis have called a "massacre".
The victims' families and residents of the village of Farhatiya in Salaheddine's Balad district have accused Asaib Ahl al-Haq of being behind the crime.
Asaib Ahl al-Haq has "actively served as an Iranian arm that oppresses all Iraqis opposed to the Iranian influence by commanding assassination squads to kill them, particularly in the city of Basra", al-Lahibi said.
Thanks to the efforts of the Iraqi intelligence service, he said, the government has been able to dismantle some of these squads, who were responsible for taking the lives of journalists and activists, and bring the perpetrators to justice.
Militia-linked killings
In early November, a Basra court handed down a death sentence to Hamza Kazem, who was convicted of killing journalist Ahmed Abdel-Samad, photographer Safaa Ghali and activist Mujtaba Ahmed.
Abel-Samad, who was assassinated in January 2020, was known for his opposition to Iran-aligned parties.
Kazem was part of an IRGC-aligned "death squad" operating in Basra.
The security and intelligence pursuit and investigation into the death squad provoked the wrath of Asaib Ahl al-Haq, which is widely believed to be behind the recent assassinations of Iraqi officers.
On November 11, a member of the Ministry of Interior's intelligence agency was killed in an armed attack carried out by unknown persons in Basra.
Iraqi bloggers accused Asaib Ahl al-Haq of assassinating the officer for his involvement in exposing the death squads.
Before that, unknown gunmen assassinated two intelligence service officers in Baghdad: Lt. Col. Mahmoud Laith Hussein (killed March 21) and the agency's assistant director of surveillance, Col. Nibras Farman "Abu Ali" (on June 7).
Hours after the failed assassination attempt against him, Kadhemi vowed to pursue the killers of Farman, implicitly implicating the militias and Asaib Ahl al-Haq in the attempt on his own life.
Militias must be reined in
Asaib Ahl al-Haq's political bloc, al-Sadiqoun, and other parties representing Iran-backed militias that make up the Fatah alliance -- the political wing of the Popular Mobilisation Forces -- suffered a resounding defeat in the elections.
Afterwards, the followers of these groups held protests in Baghdad, blocking roads and burning tires, while threatening more escalatory acts.
Military expert Jalil Khalaf Shwayel said the Iraqi government is responsible for reining in any party or militia that attacks Iraqi citizens or harms state institutions.
As a result of their actions, he said, Iran-aligned militias, including Asaib Ahl al-Haq, are becoming increasingly distanced from the public, which sees them as solely pursuing their own interests, even if that results in embroiling Iraq in war.
"Iraqis punished the militias by not voting for their political candidates in the recent elections, and this served as a warning for them to stop their dangerous behaviour against the pillars of the state," he said.
The militias must also cease their "provocative rhetoric", he said.