The Iranian regime's failure to unite rival Shia political blocs in Iraq, a move that would give it leverage in Iraq's government, demonstrates the decline of its role as a major player in shaping the Iraqi political scene, analysts said.
Since Shia cleric Muqtada al-Sadr's victory in the October elections, Iran has repeatedly failed to persuade him to join forces with the rival Shia Co-ordination Framework coalition to form the next government.
A February 8 meeting in Najaf between al-Sadr and Islamic Revolutionary Guard Corps' Quds Force (IRGC-QF) commander Esmail Qaani was reportedly a failed last attempt by the Iranian regime to act as a bridge builder.
Less than an hour after the meeting, al-Sadr tweeted, "A national majority government, neither Western nor Eastern" in an apparent dig at Iran, whose official slogan is "Neither East, nor West, only the Islamic Republic".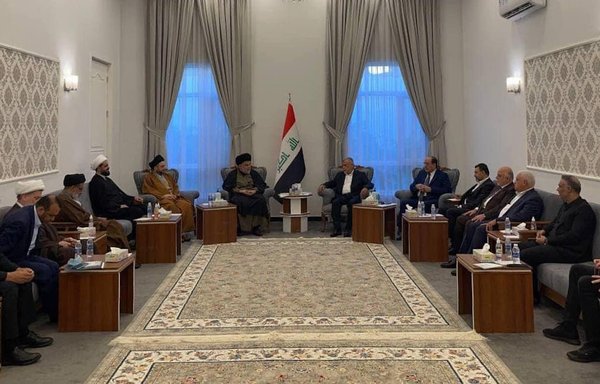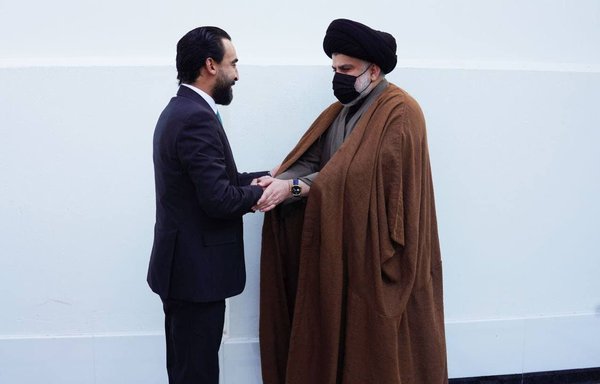 Al-Sadr's post was regarded as a confirmation of his unwillingness to form a "consensus" government that includes all election winners and losers.
The setback adds to Qaani's growing list of failures.
Qaani has not been able to match the success of his predecessor, Qassem Soleimani, in bringing Iran-aligned political opponents in Iraq together, nor in calming the militias aligned with Iran or preventing internal conflicts between them.
'Slap in the face'
Qaani's meeting with al-Sadr was a "slap in the face" of the IRGC-QF commander, tribal leader Thaer al-Bayati told Al-Mashareq.
Al-Sadr's response "shows that [Qaani] is no Soleimani, as Soleimani had influence over all Iraqi parties and could resolve disputes and end political crises in a manner that was aligned with the Iranian regime's interests", he said.
Under Qaani's command, he added, the IRGC-QF "is totally incapable of stopping the decline of its influence".
Observers say Iranian leader Ali Khamenei has inserted himself into the political crisis in Iraq by announcing that he opposes the alliance of only certain groups within the Shia Co-ordination Framework with the Sadrist movement.
The Co-ordination Framework had reportedly drafted a letter to ask Khamenei about his position regarding a possible alliance of some members of the alliance with al-Sadr, Asharq al-Awsat reported on February 9.
But before it was sent, former premier Nuri al-Maliki -- one of al-Sadr's fiercest opponents -- leaked it to Khamenei to pre-empt any move by the Hadi al-Ameri-led Fatah alliance, the most prominent Shia Co-ordination Framework party.
The Fatah alliance, which is the political wing of the Popular Mobilisation Forces (PMF), lost most of its seats in parliament in the October elections.
Tehran wants the Shia Co-ordination Framework to remain united, seeks strong representation in any future government in Iraq and does not want to lose its influence to an alliance that is opposed to the Iranian regime's agenda.
It also expects the Sadrists to return to the Shia fold.
Following a meeting of its leaders, the Co-ordination Framework on February 10 put forth an initiative to end what it referred to as "political deadlock".
The Co-ordination Framework is still insistent on involving everyone, including all Shia parties or groups, in the next government, say observers.
Desire for strong government
The Sadrists' vision stems from the need to prevent Iraqi politics from reverting to the principle of "consensus" that has set the country back in the past, political analyst Najm al-Qassab told Al-Mashareq.
Al-Sadr insists on forming a national majority government that would work "to fulfill the calls for reform, demanded by the public two years ago, when it took to the streets and made sacrifices for it", he said.
A national majority government would include Sunnis and Kurds, while excluding Iran's most prominent allies in Iraq -- al-Maliki and Asaib Ahl al-Haq leader Qais al-Khazaali.
Popular protests led to early elections, al-Qassab said, and it is now incumbent upon the winners to "demonstrate their commitments to the people, who want a strong government that fights corruption and preserves the prestige of the state".
Al-Sadr has set conditions for the leaders of political parties, should they wish to participate in forming a majority government alongside him.
These include barring corrupt figures from government and holding them to account, as well as disbanding militias and requiring they hand over their weapons, cut off their foreign relations and refrain from interfering in foreign affairs.
Last month, Mohammed al-Halbousi was named parliament speaker, but the political crisis continues to delay any agreement on naming the president of the republic and head of the government.
Any candidate running for one of these two positions needs the approval of two-thirds of the 329 members of the Iraqi parliament.