Iraqi cleric Muqtada al-Sadr, who was on Tuesday (November 30) confirmed as the biggest winner of last month's parliamentary elections, has quickly moved to clarify his position regarding non-state militias, provoking ire in some quarters.
In late October, al-Sadr announced he was closing the headquarters of his Saraya al-Salam militia and would integrate militiamen back into the Sadrist movement as civilians. He gave them a 15-day window to comply with his order.
Though he excluded the militia's headquarters in Najaf, Karbala, Salaheddine and Baghdad from the decision, it appears he has stipulated that militiamen bear arms in these provinces only in co-ordination with Iraqi security services.
Shia shrines in Iraq are concentrated in Najaf, Karbala, Samarra and Baghdad.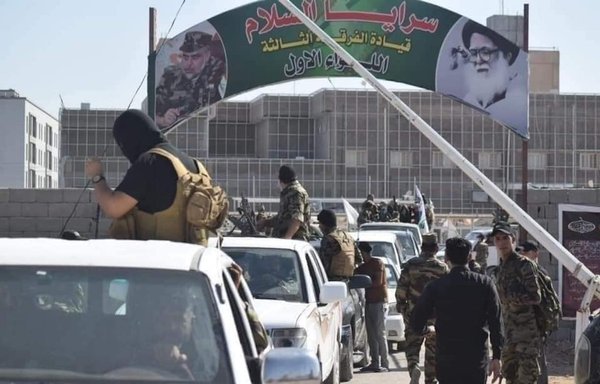 Before this, al-Sadr had suspended Saraya al-Salam activities in Babil and Diyala.
With this move, Iraqi observers said, al-Sadr appears to be asserting that he will not allow chaos or transgressions against the state.
State-building project
"Al-Sadr's last move indicates that he plans to go through with a national project to build a state that is free of uncontrolled weapons and groups that operate outside the legitimate forces," said Iraqi military expert Jalil Khalaf Shwayel.
Shwayel said this underscores al-Sadr's move to distance himself from the groups that take up arms against the state, which he described as "shameless militias whose agenda is to harm the national interest".
It seems that al-Sadr will encourage militias to follow his example, he said, by integrating themselves into Iraq's security apparatus and refusing to be manipulated by Iran to threaten Iraq.
Al-Sadr's vision is in line with that of Iraq's top Shia authority, Ali al-Sistani, who does not approve of armed groups that operate outside state control, as parallel entities, and do not obey its orders, he said.
Yet some armed groups reject the notion that al-Sadr's move should be a prelude to discussions concerning their weapons or their future influence.
Militias affiliated with Iran's Islamic Revolutionary Guard Corps Quds Force (IRGC-QF), who lost their political standing after the October 10 elections, seem more determined than ever to hold on to their weapons.
They appear to have no intention of becoming part of the Iraqi state.
After the election results were announced, militias mobilised their supporters to protest at the entrances of the Green Zone in central Baghdad to demand a vote recount, threatening to take action if their demand is not met.
On November 5, the protests escalated into clashes between militia supporters and Iraqi security forces that resulted in a number of deaths and injuries.
The recent attempt to assassinate Iraqi Prime Minister Mustafa Kadhemi with explosives-laden drones, a well-known modus operandi of the militias, added a dangerous dimension to the situation.
Observers see recent developments as attempts on the part of the militias and leaders of some defeated political groups to lead the country into internal strife.
Militias' influence is waning
"The armed groups affiliated with al-Wali al-Faqih (guardian jurist, Iranian leader Ali Khamenei) sensed a threat to their existence," security expert and retired military officer Majid al-Qaisi told Al-Mashareq.
Their sense of insecurity was heightened "in light of al-Sadr's decision to suspend the activities of his armed groups, his political moves in support of the state and his closeness to the Kadhemi government", he said.
He said these armed groups have been working over the past years to "weaken state institutions, rebel against state decisions, and stir up problems and crises to ensure that their influence and interests are not harmed".
"Today, they exist as dangerous entities that enjoy a degree of independence and freedom in decision-making, despite their subservience to Tehran, which can still exert influence on them," al-Qaisi said.
But this influence is waning with Esmail Qaani in command of the IRGC-QF.
Media reports have revealed that Qaani visited Baghdad after the failed assassination attempt against Kadhemi, and held a meeting on November 8 with militia leaders that was "marked by acrimony on both sides".
The reports said Qaani, who failed during previous meetings to impose his will on the militias, once again called on them to refrain from escalating against the Iraqi government and to "accept the results of the elections".
He reportedly urged them "to work to unify their position for the future".
Al-Qaisi said it is unlikely that armed groups will cease their threats and choose the path of de-escalation, or make any move similar to those made by al-Sadr.
Al-Sadr currently represents "a balancing force in the Iraqi arena against these groups", he said.
And if the Sadrists are able to form a government, this may see more divisions between them and the loyalist militias (loyal to al-Wali al-Faqih), especially over arms control, strengthening state authority and combatting corruption, he said.