BEIRUT -- Lebanon's internal security forces (ISF) have thwarted an attempt to smuggle four million Captagon pills into Saudi Arabia via Jordan, concealed in a shipment of coffee, the ISF said Saturday (December 11).
The seizure of the banned stimulant, which had been stuffed inside bags of coffee, is the latest in a string of similar busts that have seen drugs hidden inside shipments of oranges, pomegranates, grain and furniture.
The pills were confiscated following a series of raids on a storage facility in Bir Hassan, a neighbourhood near Beirut's southern suburb, the ISF said.
Beirut's southern suburb is a stronghold of Hizbullah, which has a long and well-documented history of producing and trafficking illegal drugs, including Captagon.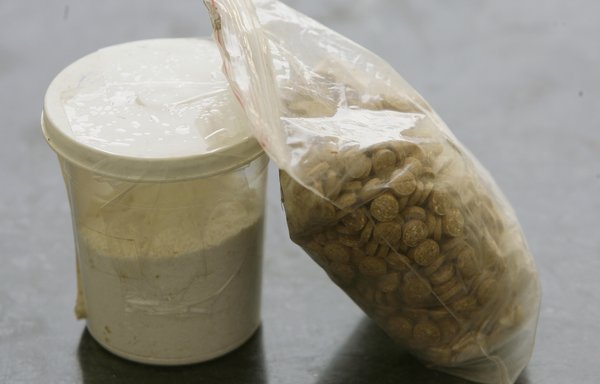 The raids were conducted on December 4, 5 and 8, after the ISF received a tip-off on the planned smuggling operation, Lebanon's National News Agency (NNA) reported.
Special forces identified the network members following an investigation.
Lebanese forces said they arrested two men behind the operation: a Lebanese national, who has a prior conviction for smuggling Captagon, and a Syrian.
The Lebanese national was arrested at Beirut's airport as he tried to flee.
The newest 'narcostate'
Last month, the ISF thwarted the smuggling of 1.5 million Captagon pills hidden in the base of wooden pallets that had been prepared for export through Beirut.
And in June, Saudi authorities intercepted more than 4.5 million Captagon pills at the port of Jeddah, hidden inside a shipment of oranges. Security analysts suggested the shipment may have originated from Lebanon.
Also in June, Saudi internal security forces seized 14.4 million pills that traffickers had hidden in a shipment of metal plates coming from Lebanon.
That shipment originated from the Syrian port of Latakia and passed through Beirut port, with smugglers using a forged Greek certificate, according to the NNA.
In an investigation published December 5, the New York Times reported that an illegal drug industry run by powerful associates and relatives of Syrian president Bashar al-Assad has grown into a multibillion-dollar operation.
In recent years, the newspaper said, hundreds of millions of pills have been seized, most of which originated from one regime-controlled port in Syria.
The revenues from this illegal trade -- whose flagship product is Captagon -- far exceeds that of Syria's legal exports, it said, noting that Syria has become "the world's newest narcostate".
According to a European Union-funded report by the Centre for Operational Analysis and Research, "Captagon exports from Syria reached a market value of at least $3.46 billion" in 2020.
Hizbullah's Syria operations
In April, Al-Mashareq revealed that Hizbullah had moved the nexus of its narcotics operation from Lebanon to Syria, where it has "established its statelet for drug manufacturing", according to activist Hussein Ataya.
Ataya said Hizbullah is sharing control of the drug manufacturing operation with units of the Syrian regime's 4th Division, led by al-Assad's brother, Maher.
The Iran-backed party and allied militias have exploited the lawlessness in regime-controlled areas of Syria as well as the lower operating costs to set up drug trafficking and manufacturing hubs in certain areas.
Hizbullah and its allies have been openly dealing in hashish and other types of narcotics, including Captagon, in rural Damascus, where these drugs can be readily obtained for low prices.
According to a Syrian Observatory for Human Rights estimate, there are about 14 factories producing illegal drugs in Syria, including three in Serghaya, a southwestern town near the border with Lebanon.
The remaining 11 narcotics manufacturing facilities are located in Rankos, Asal al-Ward, al-Jebbeh, Talfita, Bakhaa, al-Tufail, Madaya and al-Sabboura.
The drugs produced in Syria are sold far and wide, the Observatory said, with heavy consumption evident in regime-controlled areas while trafficking operations deliver drugs to other parts of Syria and outside the country.
Last week, a multinational naval coalition said it seized more than 67 tonnes of drugs worth more than $189 million in operations near the Arabian Gulf in 2021, a record for the task force.
The value of the drugs seized by the Bahrain-based Combined Task Force 150, or CTF 150, exceeded the value seized in the past four years combined, a spokesman said.