MANAMA -- A multinational naval coalition said it seized more than 67 tonnes of drugs worth more than $189 million in operations near the Arabian Gulf in 2021, a record for the task force.
The value of the drugs seized by the Bahrain-based Combined Task Force 150, or CTF 150, exceeded the past four years combined, said Tim Hawkins, spokesman for the Combined Maritime Forces (CMF) that oversees the task force.
The haul, including 6,550kg of heroin, 4,052kg of methamphetamine and 56,834 kg of hashish was all destroyed, he said.
The commander of CTF 150, Royal New Zealand Navy Capt. Brendon Clark, said the drugs came from a number of countries around the region, without specifying.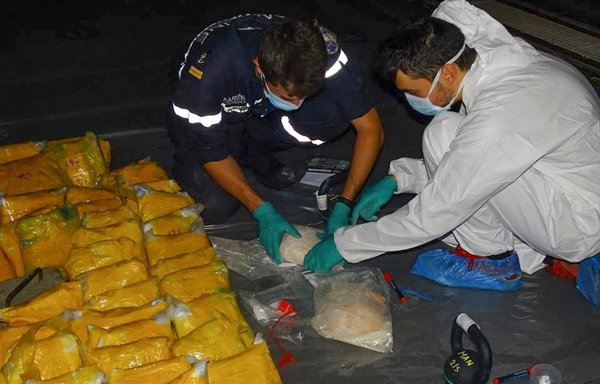 "It's all about maritime security operations... preventing illicit activity from non-state actors in the region," he said.
"We do that so that we can have legitimate commercial shipping, legitimate commercial fishing, can transit and operate in the region free from these non state threats."
A busy year for CMF
The CMF made various drug seizures in 2021, which included narcotics confiscated during eight successful interdictions in the Indian Ocean last month.
During these operations, 975kg of heroin, 523kg of methamphetamine and 4,244kg of hashish with a combined value of $26 million were seized.
On Monday (December 6), CTF 150 also seized 480.3kg of heroin worth $5 million.
On September 27, FS Languedoc, operating in support of the CMF, seized more than 3.6 tonnes of illegal drugs from a dhow during an operation on the Indian Ocean, the CMF said.
A week earlier, FS Languedoc intercepted and searched another vessel suspected of smuggling.
That time, it seized more than 1.5 tonnes of hashish and 166kg of methamphetamine, with a combined value of more than $5.2 million.
In February, UK Royal Navy frigate HMS Montrose carried out two successful interdictions of illicit drugs in the Arabian Sea. The ship seized more than 2.6 tonnes of drugs in the two raids.
CTF 150 is part of the CMF naval partnership in which 34 nations patrol 3.2 million square miles of international waters. The New Zealand navy took command of CTF 150 in July.
The CMF upholds international rules-based order by countering illicit non-state actors on the high seas and promoting security, stability and prosperity across its jurisdiction.