Sitting behind the steering wheel at a traffic light in Tehran, 58-year-old Reza could not make out the stoplight barely four cars ahead of him from the thick smog that has engulfed the city in recent days.
Reza, an accountant, said his eyes constantly sting during the cold months when the pollution levels are high.
"I cough, and I sometimes feel like I cannot breathe deeply," he said.
Tehran's air quality index has stood at or about 156 as of mid-November, which is when severe pollution begins to cast its shadow over all major Iranian cities every year.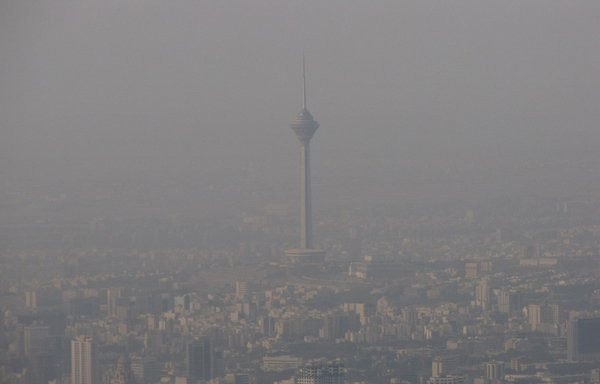 An air quality index of over 150 means the air is unhealthy, with everyone at risk of experiencing problems and sensitive groups feeling more serious effects.
Haleh, a 45-year-old math teacher who suffers from asthma, said her pulmonologist has strongly advised her against leaving her house this time of year, "but I have no choice, since I need to work".
Severe pollution has been a life-threatening problem in Iran, especially in the capital Tehran, for over two decades.
Although the air quality index hits dangerous points every fall and winter, the government has made no sustainable effort to remedy the problem, which, according to unofficial data, kills some 45,000 Iranians every year.
Overpopulation, mazut
The capital, Tehran, suffers from the highest levels of pollution among all major cities, due to several factors.
It is the most populous city in Iran with a high number of vehicles, and it gets more visitors from other cities, both in number and frequency, since it is home to many services and amenities, particularly in the medical field.
Also, since Tehran is surrounded by mountains, air becomes trapped in the city and stays still without considerable wind to blow it around, thus allowing pollution to remain in the city amid a severe shortage of air flow.
The problem is compounded during the cold months when consumption of low grade fuel or unrefined gasoline, known as mazut, reaches an all-time high in Iran.
Due to a shortage in air flow and wind, this low quality fuel exhaust also stays trapped over the cities, creating severe pollution and smog to the point of low visibility.
The regime claims that due to sanctions, the government lacks sufficient funds and equipment to refine gasoline and break it down from mazut, or to import refined fuel.
This is the reason, it says, that it is forced to use mazut, which causes high levels of deadly pollution in all major Iranian cities.
Sanctions, however, are the result of the regime's nuclear activities, interventionist behaviour and expansionist policies in the region.
But rather than changing course for the sake of its own people, the Islamic Republic contends that all its problems, including the use of mazut as fuel, are rooted in sanctions.
Bribes and buildings
Adding to the pollution problem are the illegally erected mid-rise and high-rise buildings that contribute to trapping the air inside the cities.
According to several domestic outlets, by blatantly taking millions of dollars in bribes over the past 30 years, Tehran municipality has issued permits for mid-rise and high-rise buildings in locations where they should not have been erected.
These buildings now create more pollution through more fuel consumption, and keep the air further trapped, especially since many are high.
Meanwhile, the municipality has over the years also permitted an exorbitant number of trees to be cut and allowed space for construction in their place.
Most of these permits have been issued after developers bribed the municipality, according to reports.
Older cars with subpar emissions are still being used in large numbers on Iran's streets, as most of the public is on the brink of bankruptcy and cannot afford newer vehicles.
Meanwhile several countries, France in particular (which had a large auto manufacturing presence in Iran along with South Korea), have left Iran and closed their auto assembly plants, compounding the old-car problem.
'Pray for wind'
Until five years ago, the Iranian government would announce that the air quality was dangerous for "sensitive groups", namely senior citizens, children and individuals with underlying conditions.
Every once in a while, schools and offices would be closed too, but they would stay open through most of the cold months.
As of five years ago, however, closures happen much more frequently, as air quality keeps deteriorating in major cities, Tehran in particular.
On Sunday (November 28), the government announced that all schools, day care centres and offices would be closed for three days. But these closures, without addressing the root of the problem the government itself has created, are band-aids covering gaping wounds.
Apart from memos and meetings, the government seems to have given up on resolving the issue.
Issa Kalantari, director of Iran's Environmental Protection Agency (EPA) under former president Hassan Rouhani's administration, once said there was no way out of the pollution other than wind, so "the public should pray for wind".