For weeks Iranians in major cities were forced to drive on dark streets while Chinese-run bitcoin mining operations were gaining small fortunes, diverting power and exploiting the country's heavily subsidized energy market.
These revelations have caused widespread outrage in Iran this past week, and have put into question once again the priorities of the Iranian regime.
Complaints about dark streets in major cities started in late December, and by early January, Tehran's traffic police said 44% of the capital's fatal traffic accidents happens after 9 pm due to state-enforced blackouts to "save energy", as officials stated.
Iranians have endured occasional blackouts, but street lights had never been turned off.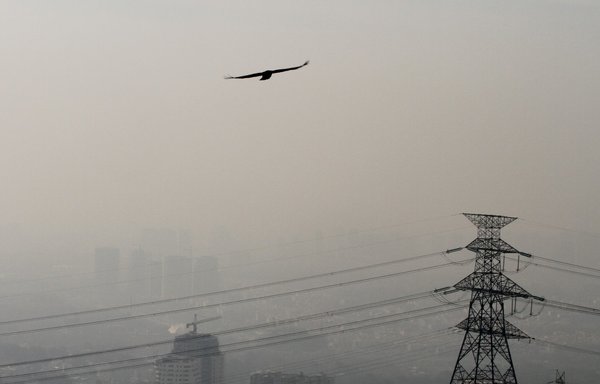 President Hassan Rouhani's administration blamed the public, saying that the only way to remedy the problem of the people's "excessive consumption" is to turn off street lights after 9 pm.
In reality, however, unchecked Chinese-run bitcoin mining -- some of which are sanctioned by Iranian officials -- were siphoning precious energy away from the Iranian people.
Cryptocurrency mining uses an exorbitant amount of electricity, as "farms" of computers are needed to solve complex mathematical problems and verify cybercurrency transactions.
Mining each bitcoin (cryptocurrency) unit requires the same amount of electricity as 24 average Iranian homes use in an entire year, according to local media.
Although the regime has frequently declined to openly discuss cryptocurrency mining, an enormous number of "cryptomining farms" are active, with or without government permits, across the country.
Secrecy, lies, denial
Cheap electricity, due to heavy government subsidies, is at the root of the increase in cryptocurrency mining in Iran, experts and officials said.
Not all cryptomining in Iran is done by the Chinese, they added, but the smaller-scale operations are not likely to be a significant factor in the country's sweeping power outages.
It is the excessive usage of power in large centres such as the one in the Kerman province city of Rafsanjan, run by the Chinese, that causes the power shortage and the associated problems, they said.
It is public knowledge that the Chinese operate a major cryptomining centre in Rafsanjan's economic hub, and the Iranian government has not denied this.
There is another Chinese-operated centre, albeit smaller, in the Aras economic hub in East Azerbaijan province.
These two centres are the biggest cryptomining operations in Iran, but even as the risk to public safety mounted, the government sought to keep this quiet.
First, officials kept the cryptocurrency mining activity secret by not announcing it. Then they blamed the blackouts on the excessive use of electricity.
Yet when blackout complaints continued, the number of deadly traffic accidents increased, and rumours became rampant, the government was forced to address the matter.
Crackdown on cryptomining
Rouhani chief of staff Mahmoud Vaezi said the Iranian government had not been involved in any kind of cryptomining itself, but admitted the administration had given permits for cryptocurrency mining "to a number of individuals and companies".
A list of these "individuals and companies" has not been published, and the relationship between the regime and these companies is not clear.
Meanwhile, with public pressure mounting, Vaezi said that Rouhani has ordered the Intelligence Ministry to investigate any illegal mining.
On January 15, deputy Tehran governor Hossein Tavakkoli-Kejani told ISNA that 500 cryptomining centres have been discovered in Sahr-e Rey, and the government has confiscated their equipment.
He claimed that 150 of these centres were located in poultry farms, noting that most mining centres in Tehran province are located in or near agricultural cities and within poultry or dairy farms, as farms pay a lower rate for electricity.
Increase in pollutants
Meanwhile, amid the colder weather, there has been an increase in natural gas consumption for residential heating in Iran, which has caused gas shortages.
This has forced power plants to burn low-quality fuel in order to generate the electricity needed for the country to keep running.
Traffic is heavier than normal in Iran's major cities due to the closure of mass transit aimed at slowing the spread of novel coronavirus (COVID-19).
Together, low-grade fuel and heavier traffic have contributed to a rise in air pollution.
Health officials have warned the increase in pollutants will exacerbate respiratory illnesses and aggravate the symptoms of COVID-19, increasing mortality rates.