Stretched thin by its regional deployments and severely lacking in funding, the Islamic Revolutionary Guard Corps (IRGC) may lack the power to counter another large-scale uprising against the Iranian regime, Iran observers said.
Protests sparked by a disputed election roiled the country in the "Green Movement" of 2009, while nationwide protests in November 2019 over a sudden spike in the price of gasoline were quelled by a massive IRGC crackdown.
As they fought to suppress the petrol protests, the IRGC and the Basij Resistance Force, an IRGC-affiliated paramilitary group that enforces internal security, killed some 1,500 protesters and arrested thousands.
The European Union on April 12 added three notorious prisons and eight Iranian security officials -- including IRGC commander Hossein Salami -- to a sanctions blacklist over the 2019 crackdown.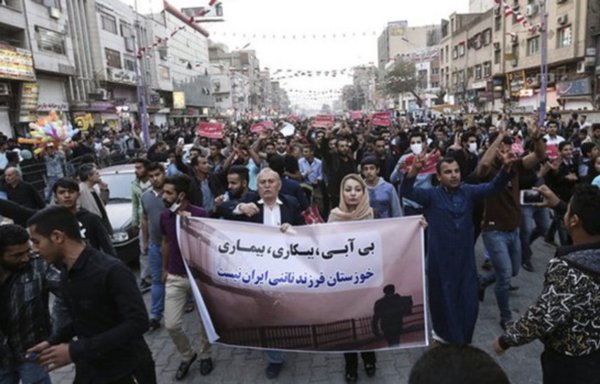 Salami "bears responsibility for serious human rights violations", it said, noting that those under his command had "used lethal force to suppress the November 2019 protests in Iran, causing the deaths of and injuries to unarmed protesters".
Undeterred, protesters across Iran have regularly taken to the streets since then to demand their basic rights, including water, work and vaccines, and to denounce the regime's prioritisation of its foreign agenda over the domestic economy.
Protests -- some on an immense scale -- are likely to feature in Iran's future.
But the IRGC Quds Force (IRGC-QF) has spent so much of its money and resources on infiltrating the region that its ability to confront and suppress them will be severely curtailed, because of both funding shortfalls and sanctions.
IRGC spread thin
Over the past decade, the IRGC has allocated a large percentage of its forces and resources towards regional intervention, establishing its presence in Syria, Lebanon, Iraq and Yemen.
As a consequence, observers said, Iran's domestic military and law enforcement forces may be weakened and vulnerable in the event of mass protests.
"The regional threats that Iran has created for itself have led to the IRGC's military and logistical resources being widely distributed," said Iran security analyst Kamran Parvareshkhah.
In addition to maintaining its active presence in Syria, Lebanon, Yemen and Iraq, Iran must now be vigilant about military developments on its border with Azerbaijan, he said.
Protesters in Khuzestan – Iran's most water-rich and oil-rich province, which hosts five major rivers including Karun, Iran's longest -- have taken to the streets since mid-July, protesting water shortages amid severe drought.
Government officials' response to these demonstrations was to first deny they were happening, and then to send security forces to suppress the protesters.
During the course of the protests, a number of participants were shot and killed.
"When the people's problems are not solved and instead continue, anything is possible," Iranian Majles representative Masoud Pezeshkian said on November 9.
United Nations High Commissioner for Human Rights Michelle Bachelet has called on the Iranian authorities to take "immediate action" to address the issue of chronic water shortages in Khuzestan province.
This must be done without using force and widespread arrests to suppress protests, she said in July after the protests first erupted.
"The impact of the devastating water crisis on the lives, health and well-being of Khuzestan's people should be the focus of the government, not the popular protests that have been triggered by years of negligence," she said.
"I am extremely concerned about the deaths and injuries that occurred last week, as well as the widespread arrests and detentions," she added.
Loss in revenue
In addition to suppressing protests, Iran's security forces have been known to restrict social media access and disseminate false information about them, observers told Al-Mashareq.
But their repressive capabilities have diminished as a result of international sanctions, they said, citing a significant loss in revenue caused by those sanctions.
Iran's foreign trade has decreased from $46 billion in 2019 to $28 billion in 2020, and is estimated at $18 billion this year.
Foreign investors, especially European companies, have left Iran.
"Iranian officials and government-affiliated clerics say Iran has succeeded in making money from oil exports outside the global banking system," said Tehran-based economist Mozhgan Gharib.
"But these statements are nothing more than slogans," she said. "Iran's oil revenue, which is the main source of its budget, has fallen dramatically."
"Even countries considered to be Tehran's allies -- including Russia and China -- have an abundance of problems carrying out financial transactions with Iran."
Iran, because of banking sanctions, has not been able to meet even its commitments to export electricity to neighbouring Iraq, where it has great influence, Gharib added.
The pressure of sanctions, and in particular the extension of sanctions on arms sales to Iran, has presented a twofold problem for Iran's security forces.
On the one hand, a large number of IRGC elements have been dispatched to countries in the region to pursue the Iranian regime's expansionist policies, even though these forces lack the financial resources to carry out this task.
On the other, analysts warn that after 10 years of Iran's aggressive policy in the region, coupled with ongoing popular protests against the government, conditions are ripe for internal uprising in Iran, like those of the "Arab Spring".
The Iranian regime would be ill prepared to crack down on any such protests, they said, because of its severe shortage of resources.