"Why now, and why on our border?"
Azerbaijani President Ilham Aliyev posed this question in a September 27 interview with Turkey's Anadolu news agency, in reference to a major military exercise carried out by the Iranian Army.
It was the first time since the Soviet collapse and Azerbaijan's independence that Iran had carried out a military drill so close to its northern border with Azerbaijan.
The drill, dubbed "Kheybar" for a tower mentioned in the Qur'an, was massive in both scale and cost, featuring missiles manufactured in Iran that were shown off amid loud fanfare.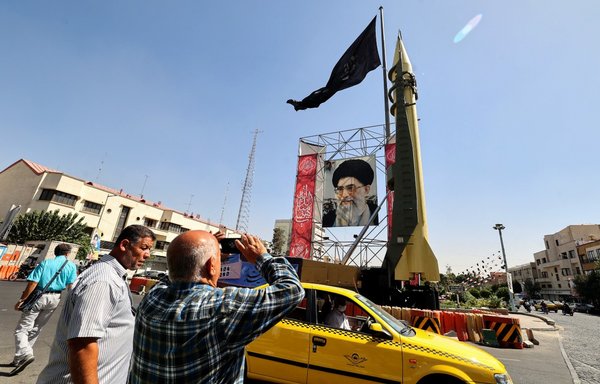 Iranian state television last Friday (October 1) showed tanks, howitzers and helicopters firing at targets in the northwest of the country near the border, AFP reported.
While Iran and Azerbaijan have thus far maintained their ties, on Tuesday denying reports of the closure of Iranian leader Ali Khamenei's office in Baku, the tensions between them stand at the highest level in the past three decades.
Iran sided with Armenia following last year's 40-day war between Yerevan and Baku over the disputed Nagorno-Karabakh territory, even though taking such a stance was not in its strategic, logistic or economic favour.
The Russian-sponsored peace treaty, signed last November 10 between Armenia and Azerbaijan, was a military victory for Baku.
By taking Armenia's side, analysts said, Tehran has endangered itself politically and strategically, and has lost large amounts of money in its trade with Baku.
Under the ceasefire agreement, Yerevan ceded swathes of contested territories, including a section of Azerbaijan's 700km-long border with Iran, which for decades had been under Armenian control.
In the past several months, Baku has been charging Iranian truckers drastically increased tariffs for importing goods into Azerbaijan -- a decision presumably made in response to Iran's stance against Azerbaijan.
Tehran has long been wary of separatist sentiments among ethnic Azeris, who make up about 10 million of Iran's 83 million people.
'Astonishing' drill
On September 27, Aliyev harshly criticised Iran for carrying out a military drill near his country's border.
He conceded that any country has the right to do so within its borders but said that the drill and its chosen location nevertheless "astonished" him.
Tehran on September 28 invoked its "sovereignty" to dismiss Azerbaijan's concerns.
In a statement posted on his ministry's website, Iranian Foreign Ministry spokesman Saeed Khatibzadeh said: "The drills carried out by our country in the northwest border areas... are a question of sovereignty."
Tehran "will take all measures it judges necessary for its national security", he said, making pointed reference to Israel's ties with Azerbaijan.
On Tuesday, unconfirmed reports in Azerbaijani media said Iran had closed its airspace to Azerbaijani military resupply flights. The next day, Azerbaijan's state-owned AZAL Airlines said that it would start using Armenian airspace for flights.
The Iranian Army drill took place approximately two weeks after Azerbaijan, Pakistan and Turkey carried out a joint military drill in the region dubbed "Friendship: Three Brothers".
Over the past three decades, the Islamic Republic has enjoyed positive political and trade relations with these countries.
But following Tehran's support of the defeated side in the Baku-Yerevan conflict, and the Gulf region's increasingly close ties with Israel, Iran has lost many allies.
While Iran's Islamic Revolutionary Guard Corps (IRGC)'s Quds Force pursues expansionist policies in the region and intervenes in Iraq, Lebanon, Yemen and Syria, it has continually criticised Tel Aviv for its warming ties with the Arab Gulf states.
Increasingly poor, isolated
Iran is grappling with severe domestic problems, almost all of which have come about from gross mismanagement, corruption, misplaced priorities and poor planning, analysts said.
Poverty is rising each month, the middle class is close to vanishing, the rates of unemployment and "stagflation" have surged, and the country's currency is experiencing free fall, they noted.
Inflation has made Iran, its citizens and its economy extremely fragile.
According to the Central Bank of Iran, the annual inflation rate reached 58% in the past year -- the highest it has been since the Islamic Revolution of 1979 that brought the current regime to power.
While showing off its drones and ballistic missiles in military parades and drills, such as the recent show of power clearly intended to intimidate Azerbaijan -- a country that just won a war and is flush with Israeli and Turkish weapons -- the Iranian regime has failed its own people, observers said.
As just one example, the IRGC, which Khamenei placed in charge of managing Iran's coronavirus crisis, instead acted as a middleman, reaping millions of dollars in profits from the vaccine black market over the past year and a half.
Cornered and isolated, Iran continues to act out while shedding more friends and allies and creating more enemies in the region and across the world.