BEIRUT -- While some parties in Lebanon and the Gulf have taken positive steps towards resolving a diplomatic spat with Saudi Arabia that erupted last year, Hizbullah appears to have doubled down on its recalcitrance.
Kuwait's foreign minister on Sunday (January 23) said he has given Lebanese authorities a list of suggested measures to be taken to ease the rift with the Gulf states, which suspended diplomatic ties with Lebanon in October.
The proposal was delivered to Lebanon's President Michel Aoun and Prime Minister Najib Mikati during a visit by Kuwaiti Foreign Minister Sheikh Ahmed Nasser al-Mohammed Al Sabah, AFP reported.
The visit, the first to Lebanon by a senior Gulf official since the row began, is part of wider efforts to restore trust between Lebanon and its Gulf neighbours as the country grapples with an unprecedented financial crisis.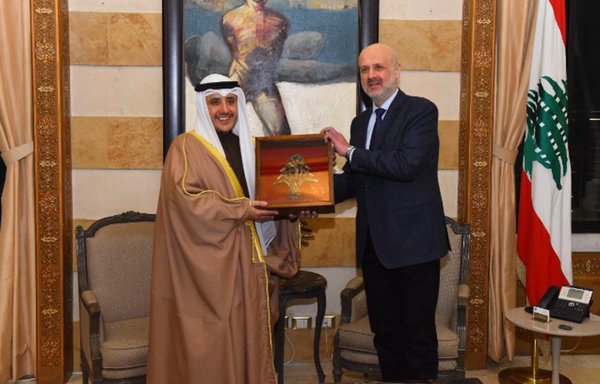 But while some work hard to achieve a thaw, Hizbullah's recent actions -- especially its hosting of a January 12 conference in Lebanon for Saudi opposition figures -- have further strained Lebanon's ties with the Gulf.
Saudi opposition figures attended the gathering, along with Houthi officials.
Hizbullah's decision to host the conference was "very offensive to Lebanon and a challenge to Saudi Arabia that impinges on its security", former justice minister Ashraf Rifi told Al-Mashareq. "Has Hizbullah no shame?"
Show of Iranian power
With this conference and other actions that preceded it, "Hizbullah is harming Lebanon's image, interests and relations with Saudi Arabia and the Gulf Co-operation Council (GCC) countries," Rifi said.
The conference was essentially a show of power and provocation that does not reflect Hizbullah's seriousness as much as it reflects Iran's use of its "pressure cards", political analyst Ali al-Amin said.
Hizbullah and Iran are playing the sectarian card, he said, "as Iran considers its role as the mouthpiece of the Shia as an acquired and legitimate right, and is demonstrating that in Yemen, Bahrain, Kuwait and Saudi Arabia".
Al-Amin said Hizbullah's actions have helped neither Lebanon nor the so-called Saudi opposition.
"Does holding the Saudi opposition conference in Hizbullah's stronghold benefit their cause, if they were really a Saudi opposition?" he said.
"Certainly not, because the location of the conference and its organiser harm the interests of the Saudi opposition figures."
The party's actions serve only to heighten the tension between Lebanon and Saudi Arabia, he said.
Hizbullah's dominance
Assembly for Sovereignty movement co-ordinator Naufal Daou said the conference was "not a challenge to Saudi Arabia but rather a threat to the Lebanese political system".
It implies the government cannot manage the country's affairs, and that Hizbullah controls the government and all the levers of the state, he said, while in practice, it does not know how to manage state affairs.
While the conference "ignited tension in relations", it was incapable of causing true harm, he said, as "Saudi Arabia has stated what we the Lebanese are saying: that Hizbullah is an Iranian tool that does what [Iran] tells it to do".
Daou noted that there is no Arab and Saudi opposition per se, "but rather terrorist cells that co-ordinate among themselves, and serve as Iran's arms in the region".
Today, Iran is caught between a rock and a hard place, he said, as it is coming under air strikes in Syria, with Russia looking the other way, and is unable to completely control its proxies in Iraq and Lebanon.
It is therefore applying pressure in different directions, via its proxies, he said.
The Iranian people and the peoples of the countries Iran wants to control are mired in hunger and isolation, and its money is spent on wars and uranium enrichment, he said, while the peoples of the GCC states are enjoying great wealth.
The GCC's money is being spent on "welfare, education and development", he said, adding that Iran seeks to disrupt this state of affairs "through Saudi and Arab terrorist cells that claim to be the opposition".