Iraq has been serving quietly for months now as a mediator for a delicate series of high-level talks between Saudi Arabia and Iran that aim to reduce tensions between the two rivals and pave the way for greater regional stability.
But the actions of Iran-aligned Iraqi militias such as Kataib Hizbullah threaten to sabotage any good that might come of them, analysts said, and raise concerns about whether the militias are acting alone or with Iran's tacit approval.
Riyadh and Tehran have been engaged in talks since April at the highest level since cutting ties in 2016, AFP reported.
Saudi Foreign Minister Prince Faisal bin Farhan on October 3 confirmed that "the fourth round of talks took place on September 21".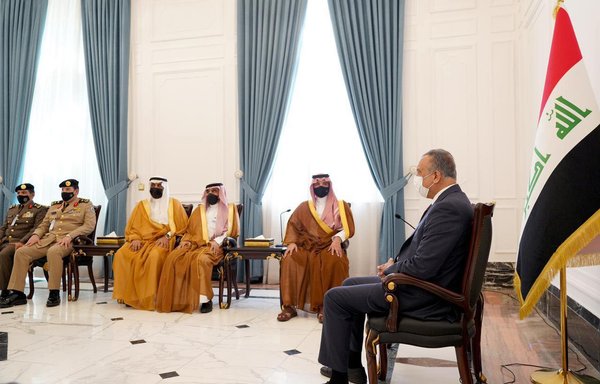 "These discussions are still in the exploratory phase, and we hope that they lay the foundation to address issues between the two sides," he said.
Iraqi sources said officials from both countries had met in Baghdad.
The talks have led to "serious progress" regarding Gulf security, Tehran's foreign ministry spokesman Saeed Khatibzadeh said on September 23.
Riyadh and Tehran are at odds over many regional issues, including the wars in Yemen and Syria.
Saudi Arabia intervened in Yemen on behalf of the internationally recognised government in 2015, shortly after the Iran-backed Houthis' coup in Sanaa.
The Houthis have repeatedly targeted the kingdom in cross-border attacks.
Riyadh also has concerns about Iran's nuclear programme, despite the Islamic Republic's insistence it is pursuing only "peaceful" nuclear technology.
Campaign of incitement
In an October speech delivered via video conference to the United Nations General Assembly, Saudi King Salman said, "We hope that our talks will lead to tangible results that would build trust" and revive bilateral "co-operation".
He again called on Tehran to "cease all forms of support" for armed groups in the region and reaffirmed the kingdom's support for "international efforts to prevent Iran from acquiring nuclear weapons".
Yet in seemingly direct opposition to the negotiation initiative, Kataib Hizbullah continues to lead a campaign of incitement and threats against Saudi Arabia, in a move that some fear has the tacit approval of Iran.
Political analysts told Al-Mashareq the repeated threats by Kataib Hizbullah and other Iranian proxies are part of the hostile policy Tehran is continuing to pursue against its neighbours.
These proxies do the bidding of the Islamic Republic to fuel violence in the region, they said.
The analysts noted that Iranian media platforms and those close to Kataib Hizbullah and its allies constantly incite hostility against Saudi Arabia and other Gulf states, such as the United Arab Emirates (UAE).
"In addition to its subversive objectives inside Iraq, Kataib Hizbullah also plays a terrorist role outside the borders targeting Arab and Gulf countries," political analyst Alaa al-Nashou told Al-Mashareq.
Kataib Hizbullah affiliate Alwiyat al-Waad al-Haq claimed responsibility for the thwarted drone attack on Riyadh's al-Yamamah Royal Palace on January 23.
That attack was preceded by a vicious media campaign against the kingdom.
Key part of Iranian axis
Al-Nashou said Kataib Hizbullah is acting at the behest of Iran to implement its agenda and is a key part of the Iranian axis, which includes the Houthis in Yemen, who have attacked Saudi Arabia with weapons and funding from Iran.
Kataib Hizbullah inflicts serious harm on Iraq's sovereignty and reputation by using its territory as a launch pad for terrorist attacks, he said.
Iraqis of all sects condemn these criminal acts and consider them a serious infringement on their national interests, al-Nashou said, noting that on most occasions, the Iraqi government also has shown its strong opposition to the activities of these militias.
He said Riyadh views Iraq's position in a positive light, stands by its government and looks forward to strengthening relations on many levels, especially in the economic sphere, despite the militias' attempts to disrupt rapprochement.
Last year, Iran's proxies, led by Kataib Hizbullah, opposed a Saudi investment plan in Iraq and launched a campaign of incitement against it.
But Iraqi Prime Minister Mustafa Kadhemi rejected the militias' pressure and continued to pursue co-operation with Riyadh, signing economic agreements in the areas of energy, agriculture and trade during a March 31 visit to Riyadh.
In September, officials of the two countries held high-level security talks in Baghdad centring on border control and security, combating terrorism and ensuring joint stability.
Threats are 'usual rhetoric'
Kataib Hizbullah's threats against Saudi Arabia and the UAE are the "usual rhetoric by the proxies of the Iranian axis", said tribal leader Sheikh Thaer al-Bayati.
These grow louder whenever Iran's international standing worsens, he said.
Iran's proxies are just "mercenaries" that Iran manipulates as it wants, he said, adding that as soon as they serve their purpose, "it would be easy for Iran to abandon them and disavow their activities if it sees that they harm its interests".
Iran's actions are detrimental to international and regional security, al-Bayati said.
The rapprochement talks between Saudi Arabia and Iran hinge on the Iranian regime changing its behaviour and ceasing its support for its militias, he added.
Kataib Hizbullah must be held accountable for the harm it has caused to Iraqis and for the terrorist attacks it has conducted outside Iraq's borders, which he said threaten Iraq's interests and harm its international standing.