Kataib Hizbullah, through its perpetuation of violence inside Iraq and beyond, is a model of Iranian ideological extremism aimed at expanding Iran's "Axis of Resistance" throughout the region.
Iran's self-described "Axis of Resistance", a term that has been used over the years to refer to an alliance between Tehran and its affiliates -- which most recently include Kataib Hizbullah and Asaib Ahl al-Haq in Iraq, Hizbullah in Lebanon and the Houthis in Yemen -- is more akin to an "Axis of Terrorism", analysts said.
Such proxies are working on several fronts to impose the Islamic Republic's hegemony and expansionist policies in the region. In return, Tehran provides its "axis" partners with all the money, weapons and support they need.
Kataib Hizbullah, in particular, is the most dangerous of Iran's proxies in Iraq, analysts said, and acts aggressively to promote the doctrine of Wilayat al-Faqih (Guardianship of the Jurist), a reference to supreme leader Ali Khamenei.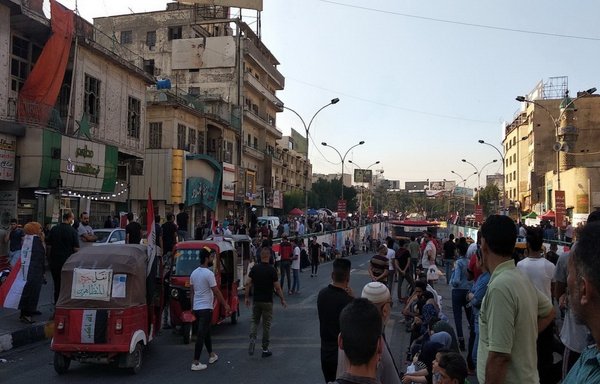 Kataib Hizbullah was behind many of the attacks carried out with explosives-laden rockets and drones that hit military installations and civilian targets across the country, causing loss of life and property.
The latest attack took place on July 29, with a rocket hitting the upscale al-Mansour neighbourhood in the heart of Baghdad, damaging a house and vehicles parked on both sides of the road.
Lethal actions
"Kataib Hizbullah's weapons are killing the Iraqi people," said former Iraqi MP Mithal al-Alousi.
"This force that supports Iran's interests continues to commit crimes that brand it as a terrorist organisation," he said.
Kataib Hizbullah insists on defying the law and Iraqi authorities, he added, and on acting like a "gang whose loyalty is to foreign entities".
The truth about this group has been exposed to Iraqis, who see it as a totally undesirable entity and a threat to their country, said Al-Alousi.
It is an "Iranian creation" that is an extension of a savage ideology and behaviour whose aim is to crush the will of the people, erase their history and identity, and control their regimes, he added.
What Iran and its militias fear most, he said, is the popular protest movement that erupted in Iraq in October 2019.
"Iran's fear of free Iraqi voices and of their support for the sovereignty and independence of their country has repeatedly spurred it to order Kataib Hizbullah and other militias to carry out activities to disrupt security and blackmail the government."
Dozens of assassinations of Iraqi activists opposed to Iran have occurred over the past year, many of them blamed on Kataib Hizbullah or "smokescreen militias" affiliated with it.
On July 25, Iraqi authorities found the body of Ali Karim, a civil activist and the eldest son of Iraqi human rights activist Fatima al-Bahadly, near Basra.
Al-Bahadly has been the victim of incitement by media outlets affiliated with Iran-backed militias.
Countless terrorist acts
"The terrorism perpetrated by Kataib Hizbullah against Iraqis of all affiliations is evidence that it does not represent any single Iraqi," said political analyst Ahmed Shawki.
"It is only a model of the al-Wali al-Faqih doctrine and Iran's extremist ideology that is centred on destroying the countries around it and obliterating their foundations."
According to Shawki, Kataib Hizbullah is Tehran's most brutal arm, as evidenced by its "innumerable" actions against Iraqis, which have in turn triggered security, economic and service-related crises.
Its terrorism extends beyond Iraq, he added, noting the attack with an explosives-laden drone on the Saudi capital Riyadh earlier this year for which Alwiyat al-Waad al-Haq (Righteous Promise Brigades), a front for Kataib Hizbullah, claimed responsibility.
The group also threatened to attack the United Arab Emirates with drones.
International sanctions on Iran "are necessary to block the ambitions of the fascist Iranian regime and its subversive projects", Shawki stressed.
It is the most effective means of exerting pressure to prevent the growth of Iran's "claws" in the region, he said.
The Iraqi government, which has taken a tough stance against members of these groups, needs to do more by cutting off their sources of income and confiscating their weapons, Shawki said.