A US Air Force bomber escorted by fighter jets from allied nations flew over key waterways in the Middle East in a show of force intended to deliver "a clear message of reassurance" to regional partners, the United States military said.
Bahrain, Egypt, Saudi Arabia and Israel joined the US Air Force B-1B Lancer patrol with fighter escorts over their respective airspaces, US Central Command (CENTCOM) said Saturday (October 30).
The B-1B is a supersonic bomber that can carry the heaviest conventional payload of all the US military's planes.
The five-hour, non-stop patrol originated in the Indian Ocean and flew over the Gulf of Aden, Bab al-Mandeb strait, the Red Sea, Suez Canal, Arabian Gulf, Strait of Hormuz and the Gulf of Oman before departing the region, it said.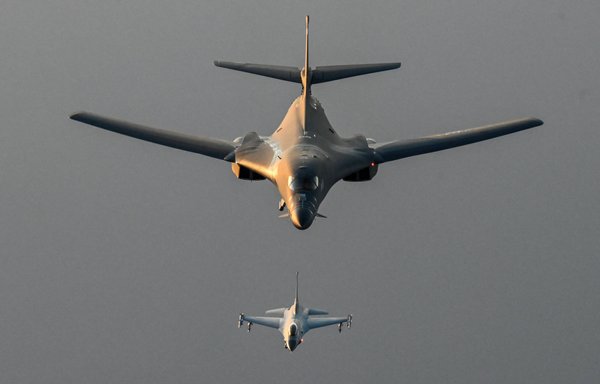 The bomber task force mission -- the fifth in CENTCOM's area of operation this year -- was intended to deliver a clear message of reassurance to allies, said CENTCOM commander Gen. Frank McKenzie.
"We are stronger together," he said.
"Military readiness for any contingency or mission -- from crisis response to multilateral exercises to one-day presence patrols like this -- depend on reliable partnerships," he said.
McKenzie said these types of missions can achieve a range of effects and are an important part of the command's force posture.
CENTCOM has co-ordinated four similar patrols this year, flying B-52 bombers over the Middle East three times in January and once in March.
Sanctions on Iran drone activities
The United States' show of force comes in the direct aftermath of an October 20 attack that targeted US troops at al-Tanf base in the tri-border area of southern Syria.
A group of about 200 US security personnel man al-Tanf base, which is positioned on a key highway that runs from Damascus to Baghdad.
No US casualties were reported, but photographs circulated online showed considerable damage to the base.
US military officials said the attack appeared to have used both unmanned aerial vehicles (UAVs), commonly known as drones, and indirect fire, the Washington Post reported.
At an October 26 briefing, Pentagon spokesman John Kirby described the incident as "a complex, co-ordinated and deliberate attack", saying Iran-aligned militias have carried out similar attacks against US troops elsewhere.
The United States on Friday said it would use every appropriate tool to counter Iran's malign influence and activities, including its proliferation of UAVs.
To that end, it has sanctioned two Iranian entities and four individuals that are linked to Iran's UAV activities.
Iran-based Kimia Part Sivan Company, Mohammad Ebrahim Zargar Tehrani, and Brig. Gen. Saeed Aghajani were designated Friday for their links to Iran's Islamic Revolutionary Guard Corps (IRGC) UAV activities.
Iran-based Mado Company, Yousef Aboutalebi, and Brig. Gen. Abdollah Mehrabi were designated for their links to the IRGC and its affiliate units.
"The IRGC has used and proliferated lethal UAVs to Iranian-supported groups, including attacks on US forces and on international shipping," US Secretary of State Antony Blinken said in a Friday statement.
"The United States will use all available tools, including sanctions, to prevent, deter, and dismantle the procurement networks that supply UAV-related material and technology to Iran, as well as the Iranian entities that engage in such proliferation," he said.
Separately, the navies of the United States and Bahrain on October 26 concluded a joint exercise at sea that began to integrate unmanned systems into regional maritime operations.
It was the first time the US Navy has integrated unmanned surface vessels (USV), commonly known as "boat drones", with manned ships at sea in the Middle East, and the first time with a regional partner testing in Gulf water.
Attack near Baghdad's Green Zone
Three Katyusha rockets on Sunday hit Baghdad's Mansour district, near the Green Zone where the US embassy and Iraqi government buildings are situated, without causing any casualties, an Iraqi security official said.
The rockets struck near a Red Crescent hospital, a bank and the district's water management department, the source said.
The attack, as yet unclaimed, is the first to target the Green Zone since July 29.
It came as Iraqi authorities conduct a recount of votes cast in an October 10 parliamentary election, in which political parties representing armed groups backed by Iran suffered a resounding defeat.
Leaders of the Fatah alliance -- the political wing of the Popular Mobilisation Forces (PMF), which includes most of the blocs representing militias loyal to Iran -- have vehemently contested the election results.
Several hundred of their supporters staged a sit-in on an avenue leading to the Green Zone this month in protest.
Leaders of the paramilitary network have repeatedly praised the rocket and drone attacks in recent months that have targeted Iraqi military bases housing US troops, without claiming responsibility for the attacks.
Many of the attacks on US and international coalition interests in Iraq have been claimed by little known militias that are linked to Iran.
These so-called "smokescreen militias" are generally understood to be fronts for the three most prominent Iran-backed militias operating in Iraq: Kataib Hizbullah, Harakat al-Nujaba and Asaib Ahl al-Haq.