US Air Force bombers, escorted by French, UK and US fighters, flew a mission over Camp Lemonnier, Djibouti, last week in a sign of commitment to stability and security in the region.
The two US Air Force B-1B Lancers on November 11 flew alongside two French Mirages, as well as two UK and two US F-35s from UK Carrier Strike Group's HMS Queen Elizabeth, US Africa Command (AFRICOM) said in a statement.
The B-1B is a supersonic bomber that can carry the heaviest conventional payload of all the US military's planes.
It is able to fly long distances to reach targets and has the ability to fire long-range missiles.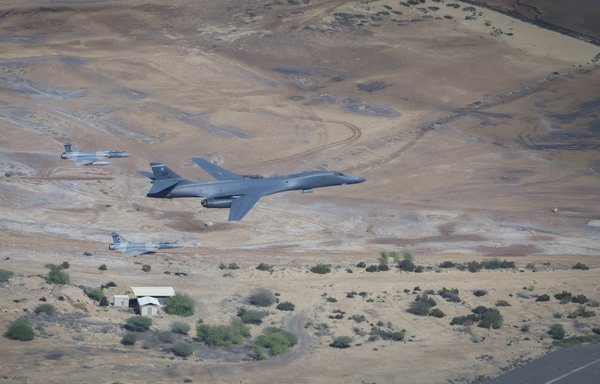 "Today's bomber task force mission served as a visual representation of the international participants' collective commitment to stability and security in the Horn of Africa," said Maj. Gen. Gregory Anderson, AFRICOM director of operations.
"And it further demonstrates Djibouti as a leading security partner in the region," he added.
'Stronger together'
The mission, which originated from Royal Air Force Fairford, United Kingdom, provided an opportunity for the aircrews to work with international forces aboard the carrier strike group and those assigned to Camp Lemonnier, the United States' only enduring base in Africa, the statement said.
The mission also exercised the US aircrews' ability to operate in and through a variety of airspaces.
After flying more than 7,000 nautical miles to reach Djibouti, bomber aircrews worked with US and French joint terminal attack controllers to provide simulated close air support at Djibouti's Grand Bara Range and went on to execute a low approach above Camp Lemonnier joined by the six fighter aircraft.
"I am delighted that the UK's Carrier Strike Group is able to participate in this event; it further demonstrates that the Strike Group and this deployment is truly international by design," said UK Royal Navy Cmdre. Steve Moorhouse, commander of the UK Carrier Strike Group.
"The ability to operate seamlessly with our allies shows that we are stronger together and underpins stability and security within the region."
The bomber task force mission coincided with Combined Joint Task Force-Horn of Africa's Allied Appreciation Day event, at which approximately 200 guests and senior leaders representing Djibouti, France, the United Kingdom, Spain, Japan, Italy and the United States came together to witness the low approach, and participate in a variety of interactive and static demonstrations.
"Celebrating together this allied appreciation day is the symbol of our mutual involvement for peace in Horn of Africa, as in other parts of Africa, particularly in the Sahel," Air Division Gen. Stéphane Dupont, commander of French Forces in Djibouti.
"Our action here in Djibouti is paramount for regional stability and contributes to the strengthening of the co-operation amongst our countries."
Djibouti and the United States have a long history of co-operation on a variety of issues related to security and stability throughout East Africa.
The strategic bombers' flight to Djibouti underscores the US commitment to this important ongoing partnership, the statement noted.
Military readiness
The mission over Djibouti comes after a similar flight in October over key waterways in the Middle East in a show of force intended to deliver "a clear message of reassurance" to regional partners, the US military said.
Bahrain, Egypt, Saudi Arabia and Israel joined a US Air Force B-1B Lancer patrol with fighter escorts over their respective airspaces, US Central Command (CENTCOM) said October 30.
The five-hour, non-stop patrol originated in the Indian Ocean and flew over the Gulf of Aden, Bab al-Mandeb strait, Red Sea, Suez Canal, Arabian Gulf, Strait of Hormuz and Gulf of Oman before departing the region, it said.
The bomber task force mission -- the fifth in CENTCOM's area of operation this year -- was intended to deliver a clear message of reassurance to allies, said CENTCOM commander Gen. Frank McKenzie.
"We are stronger together," he said.
"Military readiness for any contingency or mission -- from crisis response to multilateral exercises to one-day presence patrols like this -- depend on reliable partnerships," he said.
McKenzie said these types of missions can achieve a range of effects and are an important part of the command's force posture.
CENTCOM has co-ordinated four similar patrols this year, flying B-52 bombers over the Middle East three times in January and once in March.