Forensic evidence ties Iran to a host of attacks in the region carried out via unmanned aerial vehicles (UAVs), commonly known as drones, even though Iran adopted this modus operandi in part to hide its hand.
Satellite imagery and evidence collected at sites targeted by explosives-laden drones, including facilitates in Iraq and Saudi Arabia, link Iran to the attacks.
Evidence of Iran's role in these types of attacks began after the hugely disruptive September 14, 2019, attacks that knocked out two Saudi Aramco oil processing facilities, in Khurais and Abqaiq.
A number of media outlets said the attack had been staged in southern Iran, while a United Nations report concluded that the assault, which roughly halved Saudi Arabia's oil production, was not launched by the Iran-backed Houthis, even though they had initially claimed responsibility.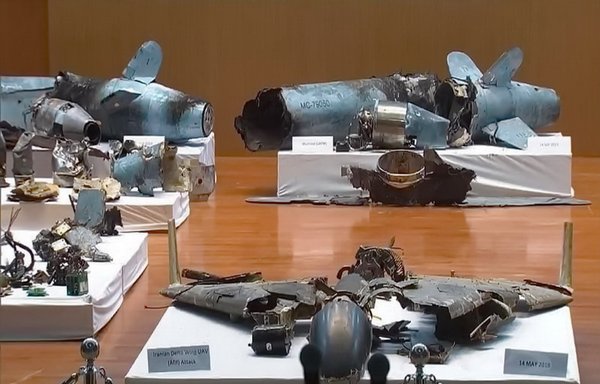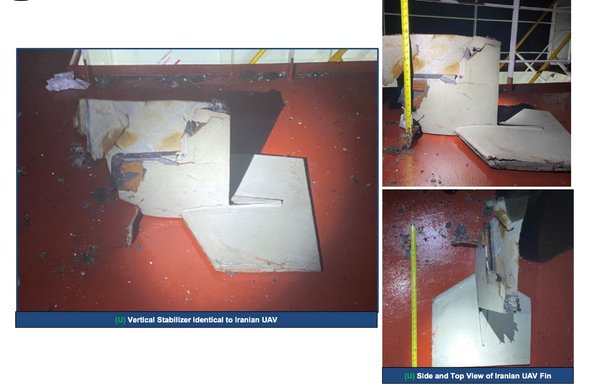 US defence officials said surveillance satellites had captured images of Iran preparing drones and missiles at launch sites on its territory before the attack, NPR reported.
And an inspection of the wreckage of the drones used in the attack later revealed that components recovered from the scene matched those of drones manufactured in Iran.
In early August, the Pentagon announced that investigations into a July 29 attack on the Mercer Street tanker in the Arabian Sea off the coast of Oman produced clear evidence that Iran was behind the incident.
A British security guard and the ship's Romanian captain were killed.
Six types of drones
Iran is directly connected to the attack on the Mercer Street and the preceding attack on the Saudi Aramco facilities, Iraqi military and strategy analyst Alaa al-Nashou said.
Additionally, he said, the Islamic Republic is responsible for continual attacks launched by its regional proxies: the Houthis in Yemen, Lebanese Hizbullah, and Iran-backed Iraqi militias such as Asaib Ahl al-Haq and Kataib Hizbullah.
"The Iranians produce about six types of assault drones, the most prominent of which are Fotros, Shahed and Yasir," he told Al-Mashareq.
These aircraft operate using technology imported from Russia, China and North Korea, and can carry explosives over a range of hundreds of miles, he said.
Drones have become Iran's weapon of choice to threaten regional security, he said, because of their "low manufacturing costs and ability to infiltrate and reach the selected targets".
While Iran attempts to hide its hand through the use of such weapons, he said, international investigations and evidence recovered from the scene of the attacks confirm its involvement.
Iran is "equipping its proxies with the components of these aircraft and providing them with expertise and advice on how to assemble them and training on operating them", he added.
The Houthis and Iran-backed militias have launched dozens of attacks on targets in Saudi Arabia and Iraq using Iranian drones.
Most recently, on October 3, the Saudi-led Arab coalition, which is fighting in support of Yemen's legitimate government, announced it had intercepted and destroyed an explosives-laden drone the Houthis had launched towards the kingdom.
And on Wednesday (October 6), four workers were wounded as the coalition intercepted another explosives-laden drone targeting the kingdom's Abha airport, state media reported.
The coalition said it also destroyed the suspected site in Yemen's northern Saada province from which the drone was launched.
On September 11, drones targeted Erbil airport in northern Iraq -- the latest in a series of similar attacks launched by Iran-backed Iraqi militias targeting the airport and bases hosting international coalition forces.
International coalition forces are supporting Iraq in the fight against the "Islamic State of Iraq and Syria" (ISIS).
Iran hides its hand
The world sees Iran's threats to commercial navigation in the Gulf and Arabian Sea and its targeting of Saudi oil infrastructure as "acts of retaliation and harassment", security analyst and former Iraqi military officer Majid al-Qaisi said.
They serve as "security and political pressure messages" from Iranian leaders to the international community to reconsider the sanctions imposed on their country and to influence the negotiations over its nuclear programme, he said.
He said the Iranians are actively involved in the smuggling of missiles and weapons to their proxies in Iraq, Yemen, Syria and Lebanon so they can attack international targets and interests and continue their malign activities.
They also are supplying these proxies with drones, he added, as UAVs are difficult to track and destroy.
Al-Qaisi said Iran "is developing the expertise of its proxies in manufacturing and operating these aircraft because [proxies] lack the sufficient capability to produce them on their own".
Proxy war is a strategic policy for Iran, he said, noting that this type of conflict is characterised by plausible deniability -- meaning it is easy for Iran to deny a direct role, and has been difficult to prove otherwise.