The hand of Iran-backed Iraqi militia Kataib Hizbullah can be seen behind recent ground and rocket attacks targeting Saudi Arabia, military experts said.
These attacks pose a direct threat to Saudi Arabia's security, they added, and underscore the need to strengthen the security alliance between Gulf states and the United States to deter the threat from Iran.
According to Iranian affairs specialist Fathi al-Sayed, of the Middle East Centre for Regional and Strategic Studies, security and media reports point to Kataib Hizbullah's involvement in an April 27 attack on an Iraq-Saudi border post.
While initial reports claimed the "Islamic State of Iraq and Syria" (ISIS) was behind the attack, security sources now say an "armed group" was likely to blame, he said.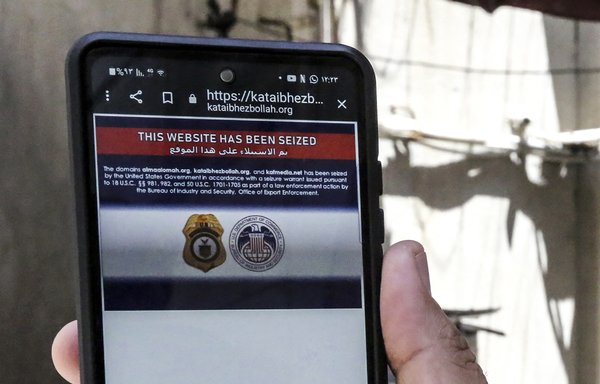 Al-Sayed said there is high probability that Kataib Hizbullah also is behind missile and drone attacks targeting Saudi border regions, including Jadidat Arar.
These attacks are in line with the modus operandi of Iran and its proxies, which is characterised by attacks that heighten political tensions, al-Sayed said.
"The attacks carried out by Kataib Hizbullah targeted a security post known for foiling attempts to smuggle drugs and contraband into Saudi Arabia," he said.
This would appear to indicate that the Iran-backed militia "is engaging in illegal trade and considers it a main source of its income", he said.
Threats to the kingdom
For Saudi Arabia, the deployment of Iran-allied militias on its northern border with Iraq is a sensitive issue, security sources told al-Araby al-Jadeed in April.
Several armed groups, notably Kataib Hizbullah, Sayed al-Shuhada, Kataib Jund al-Imam and Asaib Ahl al-Haq, are deployed at various points near the more than 800km stretch of border between Iraq and Saudi Arabia.
An Iraqi militia calling itself Alwiyat al-Waad al-Haq, which Iraqi security experts say is a Kataib Hizbullah front group, claimed responsibility for a failed January 23 attack on the kingdom.
The attack, which some reports initially blamed on the Iran-backed Houthis in Yemen, targeted al-Yamamah Palace and other sites in Riyadh.
The same militia also threatened to target sites in the United Arab Emirates, and posted virtual images of a drone attack targeting an important tower in Dubai.
Attacks carried out by Kataib Hizbullah and its affiliates against Saudi Arabia from Iraqi territory underscore the need for the Gulf states' alliance with the United States, Lebanese military expert Jamil Abu Hamdan said.
"These attacks also underscore the need to strengthen this alliance at all levels -- especially in terms of countering missile or drone attacks -- and strengthening the surveillance system and modern radars," he said.
This alliance is necessary for the kingdom and its allies in the Gulf as a deterrence to Iranian encroachments, which have negative consequences for the world, as the Gulf is a key oil-exporting region and a strategic waterway.
Attacks bear Iran's hallmark
With its attacks on the kingdom, Kataib Hizbullah has deliberately sought to conceal its hand, Abu Hamdan said.
In the ground attack on the border point, it tried to suggest ISIS was behind it, he said, noting that in the drone attacks "advanced techniques were used that an ordinary group does not possess".
These bear the hallmark of Iran, he said.
Kataib Hizbullah implements the agenda set by the commanders of the Islamic Revolutionary Guard Corps Quds Force (IRGC-QF), said Iranian affairs researcher Sheyar Turko.
It is a key proxy of the IRGC and adheres to the doctrine of Wilayat al-Faqih (Guardianship of the Jurist), pledging its allegiance to Iran's supreme leader Ali Khamenei.
"It is not possible to curb the threat posed by this group without the adoption of a comprehensive plan to undermine the threat posed by all Iranian affiliates in the region," Turko said.
"This group has extensions and relations in Syria, Iraq, Lebanon and Yemen, and the same is true for the rest of the affiliates," he noted.
This means that responding to the threat it poses must be done "by responding to the network as a whole, by weakening the leadership of the Quds Force and all the affiliates simultaneously", he said.
Curbing the transfer of weapons, missiles and advanced equipment is vital to reducing the danger of these groups in the future, Turko said.