If a UN team investigating the September 14th attacks on two Saudi oil facilities determines the Islamic Revolutionary Guard Corps' Quds Force (IRGC-QF) was responsible for them, this will be a major setback for Iran, experts said.
Though Yemen's Iran-backed Houthis (Ansarallah) initially claimed responsibility for the attacks on the Abqaiq and Khurais Aramco facilities, this has been largely discredited, and the attacks have been widely blamed on Iran.
If Iran is definitively proven to have been behind them, this would amount to a major strategic blunder on the part of the IRGC-QF, experts told Al-Mashareq.
In response to the attacks, the US has increased its footprint in the region, in order to defend its Gulf allies, they said.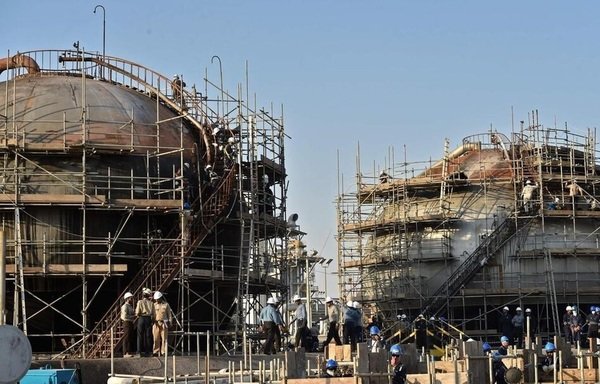 This was surely not the desired objective of IRGC-QF commander Maj. Gen. Qassem Soleimani, they added, noting that this appears to have been a serious error in judgment on his part.
"How could a country do something without thinking it through at all, that results in its biggest enemy gaining more power?" said Yasser al-Muhanna, who lectures at Qassim University's faculty of economics and management.
But this is exactly what Iran seems to have done, he added.
The attack on Saudi oil put the US in a stronger position, al-Muhanna said, "for both the oil it produces and for the protection of the Gulf region".
The US has long-established strategic partnerships with the Gulf states, he noted, adding that "the world needs a superpower that maintains the stability of oil prices, production and exports".
A foolish decision
"The IRGC made a fatal mistake by striking Aramco's facilities," Iranian affairs researcher Fathi al-Sayed told Al-Mashareq.
The military repercussions of the attack will include the strengthening of Saudi defence capabilities to respond to potential future attacks, as well as boosting the strength of the US military force supporting Gulf security, he said.
As a result of this military fortification, any malign activity on the part of the IRGC "will face a massive strategic force that will crush any action that poses a threat to any country in the region or its territorial waters", al-Sayed said.
The September 14th attacks "almost crossed all the limits of US, Saudi restraint", he said, anticipating there will be "a direct and harsh response" to any future aggression of this nature.
"Therefore, the decision to strike Aramco is perhaps one of the worst decisions ever taken and implemented in Iran's modern history," al-Sayed said.
Instead of gaining more power for Iran, he added, the attacks "will invite more sanctions and possibly a military strike and international isolation" for Iran.
Strategic blunders
The decision to attack Aramco reflects the sorry state of Iran's decision-making process, military expert Abdel-Karim Ahmed told Al-Mashareq.
The decision-making process is fully controlled by Soleimani, who is directly responsible for Iran's foreign operations, he said, and "is known for his failure to set priorities and take into account the consequences of such operations".
"This man knows nothing about such matters," Ahmed said. "All he knows is how to form armed gangs and find means to transport them and ways to smuggle narcotics and contraband."
Soleimani's track record is filled with such blunders, he said.
"Making him responsible for sovereign decisions on foreign policy has brought a lot of losses to his country at a time when it suffers from the successive sanctions imposed on it," he added.
The sanctions that have been imposed on Iran are primarily the result "of the actions of the IRGC-QF and its affiliates in the region", Ahmed said.