As novel coronavirus (COVID-19) continues to spread in Iran -- with 63 new deaths reported on Wednesday (March 11th) alone, the country's highest single-day toll -- many Iranians are accusing the regime of mishandling the crisis.
They point to inefficient management, secrecy and lies, observers said, accusing the regime of being slow to respond and take protective measures to safeguard Iranian citizens, as well as attempting to conceal the extent of the outbreak.
Iran's response to the deadly outbreak -- one of the largest outside China, where the disease originated -- has been "too little, too late", UN special rapporteur on human rights in Iran Javaid Rehman said Tuesday.
He said Tehran had been slow to react to the virus when it broke out and is still not doing enough, AFP reported.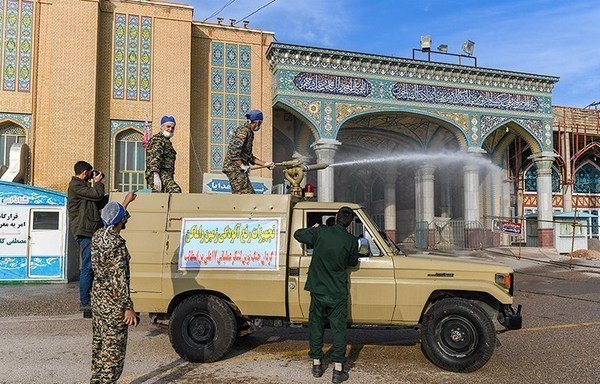 "We want transparent public outreach and communication," Rehman said.
Iran's Islamic Revolutionary Guard Corps (IRGC) on March 1st announced a "Campaign Against Coronavirus", making its role in the crisis response official.
The Basij Resistance Force, an IRGC-affiliated paramilitary group "will be prepared and active in the arena of co-operation and assistance until complete victory over this disease and return to normal conditions", it said in a statement.
But rather than instilling faith among the population that the IRGC can contain the crisis, Iranians have lost trust in the IRGC as well as the political leadership.
In recent months, Iran's political and military establishment have faced widespread criticism for brutally suppressing protests, downing a civilian airliner and initially attempting to deny it, and bungling the response to flooding.
'Public outrage'
"The inability and incompetence of the government and the IRGC in the management of this [coronavirus] crisis has caused public outrage," Tehran-based journalist Hossein Rajabi told Al-Mashareq.
"People believe that the IRGC is incapable of doing such tasks, and entrusting management of this crisis to them will lead to a big calamity," he said.
Though it has had a hand in exacerbating the situation -- by failing to implement quarantines and continuing to allow affiliated carrier Mahan Air to fly to China -- the IRGC is determined to use this crisis to boost its own standing, he said.
In January and February, when the virus was rapidly spreading in China, Mahan Air made at least 55 flights to China, media outlets reported in early February.
"The IRGC's goal during this crisis is to promote itself," Rajabi said. "It wants to make itself the hero of the story."
"In similar cases, such as floods or earthquakes, the IRGC entered the action for propaganda purposes," he said. "But this time, incorrect crisis management could lead to an unprecedented spread of the disease."
'Reliable ally'
Distrust in the Iranian regime stems from its failure to deliver accurate information to the public as the coronavirus spread uncontrolled for weeks, and for its delay in implementing quarantine and border control measures.
The Iranian regime's delay in announcing the outbreak was partly due to sensitivities regarding its strategic relationship with China, Tehran-based political activist Siavash Mirzadeh told Al-Mashareq.
"Extensive sanctions have made Iran completely dependent on China and Russia, and the Islamic Republic tries to present itself as a reliable ally in these kinds of matters so it can seek assistance from them if necessary," he said.
This might include hopes that China, with its periodic chairmanship of the Financial Action Task Force (FATF), would be able to intervene on Iran's behalf to remove the Islamic Republic from the task force's blacklist, he said.
"China's presence on the [UN] Security Council is also one of Iran's hopes for the future, in terms of bypassing sanctions," he said. "Therefore the offer of special services to China from Iran is not such a strange move."
A 'crisis of legitimacy'
"Based on new lab results, we have identified 958 new confirmed cases of COVID-19 infection in the country, bringing the total number of cases to 9,000," health ministry spokesman Kianoush Jahanpour said Wednesday.
So far, he said, 354 people in Iran have lost their lives to the virus.
The US on February 28th announced it was ready to help the people of Iran to defeat the epidemic. Iran's Foreign Ministry rejected the offer.
Tehran's response to the virus is one reason Iranian authorities are enduring a "crisis of legitimacy", US State Department envoy on Iran Brian Hook said March 5th, adding that "Iran lied to its own people about the coronavirus".
"Today as a result of the government's mismanagement and not being transparent with its own people, Iran has one of the world's worst outbreaks of the coronavirus," he said.
"We know there are gaps in their health system and we wanted to close those gaps," Hook said. "We wish they had accepted our sincere offer."