Cooling ties between Ukraine and Iran come as the United States boosts its security presence in Central and Eastern Europe, placing its forces within easy reach of Iran from the north, across the Black Sea.
Relations between Iran and Ukraine have been strained since Iran's Islamic Revolutionary Guard Corps (IRGC) shot downed a Ukrainian airliner on January 8, 2020, killing all 176 on board.
Iran's subsequent attempt to cover up information related to the Ukraine International Airlines Flight 752 crash and avoid full accountability for the disaster has further eroded relations between the two countries.
This opacity, which Ukrainian Foreign Minister Dmytro Kuleba described as "just a cynical attempt to hide true causes of the downing of our passenger aircraft", will have significant geopolitical ramifications for Iran, analysts said.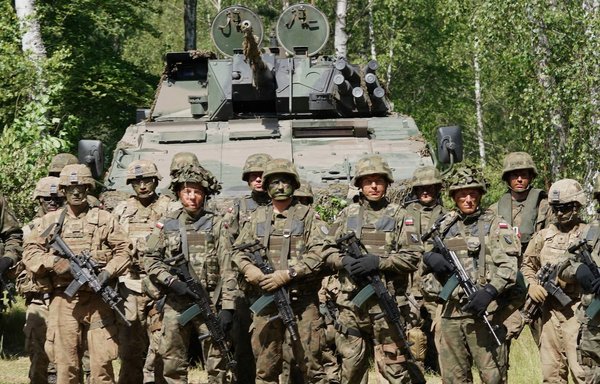 These strained relations come at a time when the United States has been increasing its security presence in Central and Eastern Europe, particularly in Poland -- Ukraine's north-western neighbour -- and possibly even more countries around the Black Sea.
Just on Tuesday (April 13), Former US Secretary of Defense Mark Esper said the United States should deploy more troops along the strategic Black Sea region to deter potential threats.
Increased US presence in Poland
The United States maintains a "rotational military presence in Poland of approximately 4,500 personnel", according to the US Congressional Research Service (CRS).
But that presence is growing, as US forces formerly based in Germany move elsewhere.
In August, a new agreement struck between the US and Polish governments increased the number of US military personnel in Poland by 1,000.
The US troop level in Poland could rapidly grow to 20,000 if needed, Warsaw said at the time.
Both Poland and Ukraine have stood firm with the United States since geopolitical and strategic considerations pushed them westward. The two Slavic countries share a land border and are on relatively good terms.
In January, Ukraine and Poland renewed their commitment to the Lublin Triangle, a trilateral partnership with Lithuania which concerns defence issues and aims to boost economic co-operation, trade and tourism between them.
US-Ukrainian military ties have been robust since 2014, per the CRS and EUCOM, with the two holding regular military exercises, including Sea Breeze, Joint Endeavour, Rapid Trident and the multi-national air force drill, Clear Sky 2018.
Rapid Trident 2020, held in Ukraine's Lviv province in September and led by the US army, included "approximately 4,100 service members from 10 allied and partner nations", the Pentagon said in a statement.
US and Ukrainian special forces also held a joint exercise, Fiction Urchin, from September 16-24.
Ukraine's armed forces on April 3 announced they will hold joint military exercises, dubbed Cossack Mace 21, with NATO forces later this year.
The militaries of Ukraine and Poland regularly train with US forces. Both are participating in the ongoing US-led multinational military exercise "DEFENDER-Europe 21", which kicked off in March.
The annual exercise, designed to build readiness and interoperability between US, NATO and partner militaries, integrates approximately 28,000 troops from 26 nations to conduct nearly simultaneous operations.
It demonstrates the ability of participating militaries to serve as a strategic security partner in the western Balkans and Black Sea regions.
The bulk of the training exercises will take place in May, across more than 30 training areas in 12 countries, with the drill continuing until June.
Fresh implications for Iran
This type of activity has fresh implications as the United States seeks to contain Iranian aggression, analysts said, by enabling it to approach the Islamic Republic from the north.
Ukraine's southern border is on the Black Sea, and from there it is a straight shot to Iran, via Turkey, Georgia or Azerbaijan.
Georgia routinely co-operates with US forces, participating in exercises such as Immediate Response, Shared Horizons, Rapid Trident and Agile Spirit.
Azerbaijan participates in NATO's Partnership for Peace, and the United States works with Azerbaijan's security forces to provide training and equipment in priority areas, including maritime security in the Caspian Sea and NATO interoperability.
Azerbaijan also allows overflights and land routes to Afghanistan for military and commercial purposes, in addition to Azerbaijani troops deployed there.
As relations with NATO member Poland and with NATO partner Ukraine evolve further, the United States has two European countries it can count on if it needs to ramp up containment of Iran.
Iranian forces used to seeing US forces in the Middle East may now have to take into account the unaccustomed presence of US forces to their north.