BAKU -- Tensions between Iran and Azerbaijan reached new heights on Monday (November 14) after Azerbaijan said it had arrested five of its nationals for spying for Iran.
The arrests came after Baku and Tehran accused each other of hostile rhetoric last week.
Baku's security services said the arrests were made as part of "measures aimed at countering intelligence-disruptive activities carried out by Iranian secret services against Azerbaijan".
It said the five people had been gathering information about the military -- including the procurement of Israeli and Turkish drones -- and about the country's energy infrastructure.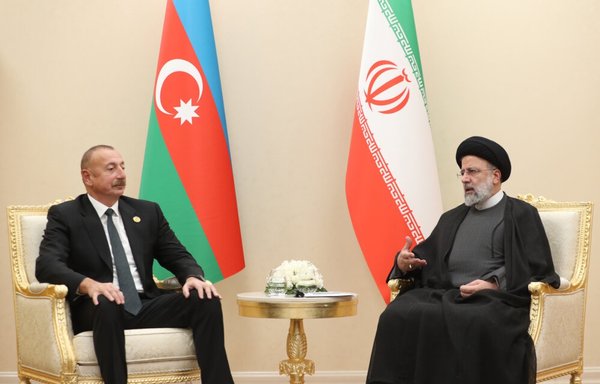 Earlier this month, Baku authorities arrested 17 men they said belonged to an "illegal armed group set up by Iran on Azerbaijani territory".
On Friday, Azerbaijan summoned the Iranian ambassador to complain about "threatening rhetoric" coming from Tehran.
The day before, the Iranian foreign ministry had handed Azerbaijan's envoy a note of protest over "anti-Iran" comments by Baku officials.
A number of countries and organisations, including the United States and the United Nations, have issued statements about Iran's ongoing threatening behaviour towards its neighbours, including its recent unprovoked series of attacks on Kurdish bases in Iraq's Kurdish region.
Rare escalation
While Iran and Azerbaijan have thus far maintained their ties, the tensions between them stand at their highest level in the past three decades.
The two countries have engaged in a rare war of words over the past year and recent official and unofficial remarks by the neighbouring countries' figures have increased the tension.
Following the second war between Azerbaijan and Armenia, in 2020, Armenian prime minister Nikol Pashinyan visited Iran and met with then-president Hassan Rouhani.
The two may have reached agreements that are detrimental to Baku, the BBC quoted the Azerbaijani military website Ordu.az as saying at the time.
More recently, Azerbaijan's Xalq Qazeti daily has reported on Armenia's plans to buy long-range missiles and drones from Iran.
"Iran is free to sell weapons to whomever it wishes, but Tehran well knows that the arms Armenia purchases will be used against Iran's Shia brothers in Azerbaijan," Azerbaijani analyst Yegana Hajiyeva said, according to the daily.
Iran sided with Armenia following the 44-day war between Yerevan and Baku over the disputed Nagorno-Karabakh territory in 2020, even though taking such a stance was not in its strategic, logistic or economic interest, analysts said.
By taking Armenia's side, they said, Tehran has endangered itself politically and strategically, and has lost large amounts of money in its trade with Baku.
It also has lost many allies, especially in view of the Gulf region's increasingly close ties with Israel.
Under the ceasefire agreement, Yerevan ceded swathes of contested territories, including a section of Azerbaijan's 700km-long border with Iran, which for decades had been under Armenian control.
Military drills
Tehran has long been wary of separatist sentiments among ethnic Azeris, who make up about 10 million of Iran's 83 million people.
Last year, Iran was angered by Baku's ambitions to set up a transport link along the Armenian-Iranian border that would connect mainland Azerbaijan to its exclave of Nakhichevan and then to Turkey.
Baku intends to limit Armenian jurisdiction over the so-called Zangezur land corridor, a project that would end its dependence on Iran for access to the Nakhichevan exclave.
The exclave is separated from Azerbaijan by the Armenian region of Zangezur.
The issue emerged as the primary sticking point between Azerbaijan and Armenia, who fought two wars -- in 2020 and in the 1990s -- over the contested Nagorno-Karabakh region, to the east of Zangezur.
"Iran will not permit the blockage of its connection route with Armenia," Iranian Foreign Minister Hossein Amir-Abdollahian said October 19.
As a show of force, Iran staged large-scale military drills last month on its border with Azerbaijan.
In September 2021, Iran held another set of drills in the same region about which very few details were released, Eurasianet reported.
It was the first time since the Soviet collapse and Azerbaijan's independence that Iran had carried out a military drill so close to its northern border with Azerbaijan.
The exercises came amid a spike in tension between the two countries and prompted sharp criticism from Baku.
In a September 27 interview with the Turkish Anadolu Agency, Azerbaijani president Ilham Aliyev said the exercises were "surprising" and that they were unprecedented in the last 30 years.
"Why now? Why exactly on our border? These questions are being asked by the Azerbaijani public, not me," Aliyev said.