Dozens of Syrians who returned home from abroad have been subjected to detention, disappearance and torture by security forces, Amnesty International said Tuesday (September 7), warning Syria is not yet safe for repatriation.
In a report titled "You're going to your death", the rights group documented a series of violations by security forces against 66 Syrians, including 13 children, who have returned since 2017.
More than 6.6 million Syrians sought refuge abroad amid the conflict. But many are now facing pressure to return to their homeland from their host countries, with the Syrian regime also claiming the return of refugees is a "priority".
Over the past three years, the fighting has decreased in Syria, with the regime consolidating its gains, now controlling more than 70% of the territory.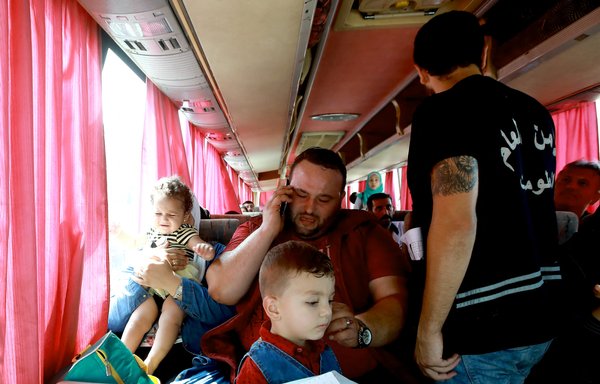 But between 2016 and mid-2021, there were just 280,000 returnees, according to the United Nations, although the actual figure is likely to be higher.
Syrian President Bashar al-Assad has attributed the slow pace of returns to damaged infrastructure, economic sanctions -- including those imposed by the United States -- and "pressures exerted on refugees not to return".
The Caesar Syrian Civilian Protection Act of 2019 is designed to hold the Syrian regime accountable for its crimes, and blocks US reconstruction aid until perpetrators of abuses in Syria's war are brought to justice.
Amnesty said the cases it reviewed show "no part of Syria is safe to return to".
Sexual violence, humiliation
"Syrian intelligence officers have subjected women, children and men returning to Syria to unlawful or arbitrary detention, torture and other ill-treatment including rape and sexual violence, and enforced disappearance," it said.
These violations have been a direct consequence of perceived affiliation with the opposition simply deriving from refugees' displacement, it added.
"Based on these findings, no part of Syria is safe for returnees to go back to, and people who have left Syria since the beginning of the conflict are at real risk of suffering persecution upon return," the rights group said.
Amnesty documented 14 cases in which security officials committed sexual violence against children, women and men returnees, including rape against five women, a 13-year-old boy and a 5-year old girl.
"Sexual violence took place at border crossings or in detention centres during questioning the day of return or shortly after, according to interviews with survivors or their relatives," the rights group said.
One woman told Amnesty that intelligence officers arrested her and her 25-year-old daughter at the border as they returned from Lebanon and detained them for five days in an intelligence centre.
They were accused of "speaking against al-Assad abroad".
The woman said she was present when her daughter was assaulted.
"They removed my daughter's clothes. They handcuffed her and hanged her on the wall. They beat her. She was totally naked. One put his penis inside her mouth. When she became unconscious, they threw water on her," she said.
"They asked: 'Why did you leave Syria? What did you bring with you? They called me a 'whore', a spy for ISIS, a terrorist," she said.
Others said security officials had raped them in order to humiliate them, punish them for leaving Syria, or assert their control over them, according to Amnesty.
"Security members beat five returnees either on their genitals or as they were stripped naked, according to returnees or their relatives," the rights group said.
One man said he had been beaten on his testicles during interrogation upon return by a security officer who told him: "We're beating you here, hoping that you'll not bear children who can harm the country as you did."
Detention, beatings and torture
Amnesty also documented 59 cases of unlawful or arbitrary detention, including two pregnant women and 10 children.
"The arrests took place up to 10 months after they returned, but the majority told Amnesty International that they had been arrested upon return or shortly afterwards," the report said.
Many were arrested based on broad accusations of "terrorism", on the assumption that one of their relatives was affiliated with the opposition or because they were from an area that was previously under opposition control.
In the cases Amnesty documented, none of the detainees had access to a lawyer nor appeared in front of a judge.
"Testimonies indicate that Syrian authorities have also used detention as a means of extortion, with detainees' families commonly paying in order to obtain information or secure the release of their relative," the report said.
Interviewees said they paid the equivalent of $1,200 to $27,000.
Some detainees were subjected to "practices that amount to torture or other ill-treatment during detention and interrogation in intelligence facilities", with the report documenting 33 such cases.
According to returnees' testimonies, it said, intelligence members mainly used torture in order to coerce detainees to "confess" to alleged crimes or punish them, or for allegedly opposing the Syrian regime.
Security officials beat returnees, using various objects, including metal sticks, electric cables, plastic pipes, and a tank belt drive in one case, interviewees said.
In one case, an intelligence agent beat a 6-year-old, according to her mother.
"Security forces also used electric devices and specific torture techniques, which Syrian security forces have routinely used, to ill-treat and torture detainees during interrogations."
Refugees once again
"They electrocuted me between the eyes," one detainee who was arrested after returning from Lebanon told Amnesty.
"I felt my whole brain was shaking. Sometimes I lost consciousness. I don't know for how long… In the end, I was unable to hold my body anymore, my shoulder was dislocated. They put electricity on my head. I wished I would die."
"Amnesty International's research shows that Syrian authorities continue to commit a range of gross human rights violations against individuals, which is consistent with and confirms a wider pattern of violations committed by the Syrian government against perceived political opponents since the beginning of the conflict," the report said.
"As a result of the Syrian regime's abuses, returnees interviewed by Amnesty International who have been able to flee have departed Syria once again and become refugees again," the rights group said.