Children taking part in Iran's protests have been subjected to "horrific acts of torture", including beatings, flogging, electric shocks, rape and other sexual violence, Amnesty International said in a Thursday (March 16) report.
Violence perpetrated by the Islamic Revolutionary Guard Corps (IRGC), the Basij Resistance Forces, police and other security and intelligence forces has been regularly directed against children as young as 12, the watchdog said.
Its aim is to discourage their involvement in nationwide protests, said the report, which exposes torture methods state agents used against girls and boys in custody "to punish and humiliate them and to extract forced confessions".
The Iranian regime's "systemic reliance on forced confessions", which have been routinely broadcast on national television and radio stations, recently made the Islamic Republic of Iran Broadcasting (IRIB) a target of US sanctions.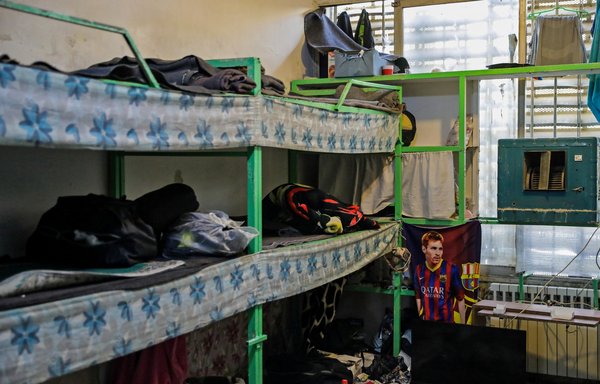 State media have broadcast the forced confessions of at least two boys detained during protests, the Amnesty report noted.
"Iranian state agents have torn children away from their families and subjected them to unfathomable cruelties," said Diana Eltahawy, Amnesty's deputy regional director for the Middle East and North Africa.
"It is abhorrent that officials have wielded such power in a criminal manner over vulnerable and frightened children, inflicting severe pain and anguish upon them and their families and leaving them with severe physical and mental scars."
"This violence against children exposes a deliberate strategy to crush the vibrant spirit of the country's youth and stop them from demanding freedom and human rights," she said.
Punishment and intimidation
Amnesty has documented in detail the cases of seven children during its investigations into the Iranian regime's brutal crackdown on the recent protests, triggered by the death of a young woman in custody of the "morality police".
Its account is drawn from the testimonies of the victims and their families.
Other eyewitnesses from across Iran testified to the widespread commission of torture against children, said Amnesty, which estimates thousands of children could have been among those swept up in the wave of arrests.
Amnesty said its findings indicate that arrested children were first taken to detention centres run by the IRGC, Ministry of Intelligence, Public Security Police, the investigation unit of Iran's police force (Agahi), or the Basij.
They were often blindfolded during this process, the report said, adding that after days or weeks in these facilities, they were transferred to regular prisons.
"Plainclothes agents abducted others from the streets during or in the aftermath of protests, took them to unofficial places such as warehouses, where they tortured them before abandoning them in remote locations," the report said.
"Such abductions were conducted without any due process and were intended to punish, intimidate and deter children from participating in protests."
"Many children have been held alongside adults, contrary to international standards, and subjected to the same patterns of torture and other ill-treatment," it added.
Rape and sexual violence
In one province, a former adult detainee told Amnesty, Basij agents forced several boys to stand with their legs apart in a line alongside adult detainees and administered electric shocks to their genital area with stun guns.
State agents "used rape and other sexual violence, including electric shocks to genitals, touching genitals, and rape threats as a weapon against child detainees to break their spirits, humiliate and punish them, and/or extract 'confessions'."
This pattern is also widely reported by adult female and male detainees.
State agents also hurled sexual slurs at detained girls, choked children, suspended them from their arms or from scarves wrapped around their necks, and forced them to perform humiliating acts, the report said.
"Security forces regularly beat children at the time of arrest, in vehicles during transfer, and in detention centres," according to Amnesty.
"Other torture methods recounted include floggings, administering electric shocks using stun guns, the forced administration of unidentified pills, and holding children's heads under water."
In one detention centre, according to a boy Amnesty interviewed, "they put 30 of us in a cage made for five people".
Children were "held in cruel and inhuman detention conditions", it said, and faced overcrowded conditions, extreme cold, poor access to toilet and washing facilities, insufficient food and water and "prolonged solitary confinement".
"Girls were held by all-male security forces with no regard for their gender-specific needs. Children were also denied adequate medical care, including for injuries sustained under torture," the report said.
Many of the children arrested over the past six months have been released -- but only after being forced to sign "repentance" letters and promising to refrain from "political activities" and to attend pro-government rallies, Amnesty said.
Before their release, many were threatened with prosecution on charges carrying the death penalty or with the arrest of their relatives if they complained.
State agents also used psychological torture including death threats to punish and intimidate children or compel them to make forced confessions.