WASHINGTON -- The United States on Wednesday (July 28) slapped sanctions on eight Syrian prisons run by the regime's intelligence apparatus and five senior security officials in the institutions that run those facilities.
These prisons have been sites of human rights abuses victimising political prisoners and other detainees, the US Treasury Department said.
The United States also sanctioned a pro-regime militia, Saraya al-Areen, which took part in the 2020 Idlib offensive, and the armed opposition group Ahrar al-Sharqiya and two of its leaders, for abuses against civilians.
Nearly one million Syrians remain displaced as a result of the Idlib operation.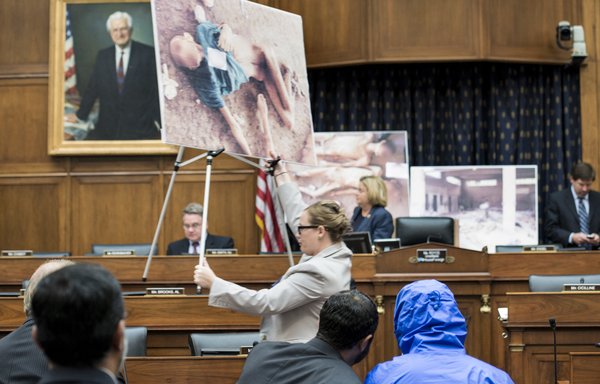 The Syrian regime "has waged a ruthless war against the Syrian people, imprisoning hundreds of thousands of Syrians calling for reform and change, of whom at least 14,000 have been tortured to death", the Treasury said.
"More than 130,000 people reportedly remain missing or arbitrarily detained to this day -- the vast majority of whom are either presumed dead or are detained without communication with family or legal representation," it said.
A Syrian regime defector, code-named Caesar, who worked as a photographer for the Syrian military, documented abuses at some of the designated prisons.
He fled Syria in 2013 with 55,000 images of brutality in the prisons and appeared before the US Congress in 2014.
The latest sanctions further the objectives of the Syrian Civilian Protection Act of 2019 (Caesar Act), the Treasury said, which seeks to promote accountability for the abuses of the regime of Syrian President Bashar al-Assad.
Cruel, degrading treatment
Saydnaya Military Prison was sanctioned for engaging in serious human rights abuse, including torture or other cruel, inhuman, or degrading treatment or punishment and extrajudicial executions, since the start of the Syrian conflict.
Two buildings at the Saydnaya prison site alone could contain "as many as 10,000 to 20,000 detainees", the Treasury said.
"Many prisoners have been denied food and water for prolonged periods of time and were subjected to extensive beatings," it added.
According to a 2017 Amnesty International report, between 2011 and 2015, jailers took groups of Saydnaya inmates out of their cells every week and beat and hanged them in the middle of the night in "utmost secrecy".
Six other prisons operated by Syrian Military Intelligence are facing sanctions: Branch 215, Branch 216, Branch 227, Branch 235, Branch 248 and Branch 290.
The Caesar photos document the injuries of 8,382 detainees in those prisons.
All six have been identified by the Independent International Commission of Inquiry on Syria, established by the United Nations Human Rights Council, as facilities where death in detention and human rights abuses have occurred.
General Intelligence Directorate Branch 251 is facing sanctions too, along with a senior official at the prison, Ahmed al-Dib.
Also facing sanctions are Syrian Military Military Intelligence head and former Branch 248 commander Kifah Moulhem, Branch 290 commander Wafiq Nasser, and Military Intelligence Branch heads Asef al-Deker and Malik Ali Habib.
"Al-Deker was involved in one of the largest massacres of the Syrian conflict, in which approximately 2,000 Syrian civilians reportedly were killed or disappeared at a Syrian Military Intelligence training school under his control," the Treasury said.
Political prisoners reportedly under Habib's supervision at the Syrian Military Intelligence Tadmur Branch were beaten, burned and crucified.
Germany charges Syrian doctor
Meanwhile, Germany on Wednesday charged a Syrian doctor with crimes against humanity including torture and one case of murder, AFP reported, in the country's latest move against alleged abuses committed in Syria.
The suspect, identified as Alaa M., was arrested June 19, 2020, and initially charged with two instances of torturing detainees at a prison in Homs city in 2011.
He now has been charged with a slew of additional crimes, including one slaying and another 18 counts of torture.
Alaa M. worked as a doctor at military hospitals in Homs and Damascus in 2011 and 2012, when he allegedly carried out horrific abuses, including setting fire to the genitals of a teenager.
In one case, he is accused of beating a prisoner, pouring flammable liquid on his wounds before setting them on fire and kicking him in the face so hard that three of his teeth had to be replaced.
In another, he allegedly administered a lethal injection to a prisoner who tried to resist being beaten.
He is accused of torturing another detainee who was suffering from epilepsy by punching him in the face, hitting him with a plastic pipe and kicking him in the head.
The man died a few days later, shortly after taking a tablet given to him by Alaa M., though the cause of death is unclear.
Alaa M. left Syria in mid-2015 and moved to Germany, where he practiced as a doctor.