Anger and distrust are intensifying in Iran over the Iranian regime's mismanaged vaccination efforts and growing COVID-19 infections.
Some 385 cities in Iran are in red or orange COVID-19 zones, with red designating the highest number of positive cases, followed by orange, according to Iranian officials. Some 8,350 coronavirus patients were reportedly hospitalised as of Thursday (August 5) in just the capital Tehran.
Since February 2020, 3.5 million Iranians have been hospitalised for COVID-19 symptoms, while some 92,700 Iranians have died of the virus, according to official data.
However, even officials have grudgingly acknowledged that the real statistics are much higher, with some estimates putting the daily death toll from COVID-19 at 400 deaths.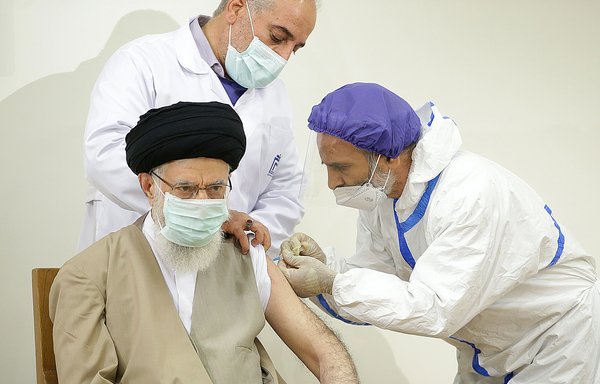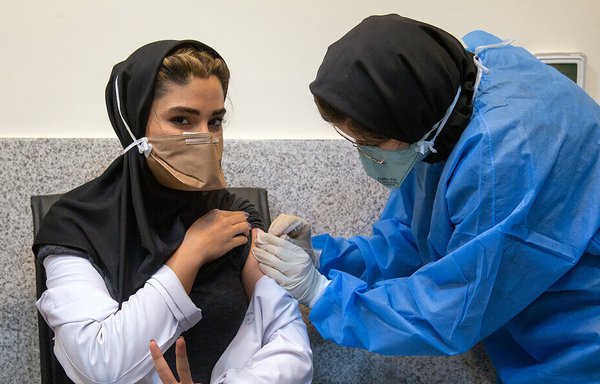 Despite soaring coronavirus cases, officials could be seen not socially distanced during the inauguration ceremony of new President Ebrahim Raisi Thursday.
It is the latest sign of mismanagement by the government, which refused to accept Western vaccines and attempted to develop its own.
Last summer, former President Hassan Rouhani's administration said it would develop a vaccine via co-operation with China and Russia, but neither plan bore fruit. Another effort with Cuba, announced early this year, only now is expected to have a vaccine ready for distribution by the end of summer.
The Iranian COVIran Barekat vaccine, developed by Iranian state-owned Shifa Pharmed Industrial Group, was authorised by the Iran Food and Drug Administration in June.
In January, Iranian leader Ali Khamenei turned down the United States' offer of COVID-19 vaccine donations and announced a ban on vaccines produced in the United States and the United Kingdom.
Currently, the available vaccines in Iran are the Iranian COVIran Barekat, the Chinese Sinopharm and the South Korean-produced AstraZeneca.
According to official data, as of August 5, some 11.5 million people have received the first of two doses of one of the available vaccines, and only 2.9 million Iranians have been fully inoculated.
Pfizer and AstraZeneca vaccines are both very rarely available at high prices on the black market, but there is no guarantee that the vials contain what they claim.
As of early August, only Iranian citizens over 53 are eligible for vaccinations.
But many ordinary citizens say the age range that the government has announced is not being recognised and that Iranians under 60 are still unable to get the vaccine in most parts of the country.
Anger at Khamenei
Reports from inside Iran, as well as Iranians' social media posts, have revealed the anger felt by citizens over Khamenei's refusal of Western vaccines, his ban on importing them and the regime's gross mismanagement of the crisis since its start.
Economic pressure in the country has worsened since the surge of COVID-19, but the regime, through its Islamic Revolutionary Guard Corps (IRGC), continues to implement its interventionist agenda in the region.
When it comes to its own people, the government says it does not have enough money to help business owners, which is why it refuses to mandate a complete lockdown to contain the spread of the virus.
Arash, a 28-year-old schoolteacher in northern Iran who has contracted COVID-19 twice in the past year, said he was looking forward to seeing his students in person at school in the fall.
"However, thanks to Khamenei, I'm pretty sure I will not be able to do that," he said.
Some students, especially those from more rural areas, had weak or non-existent internet connections at home, and they missed many lessons as well as social interaction, Arash said.
While most Iranians are not against vaccines, many do not trust Chinese- or Iranian-made jabs.
"Despite the mistrust in Chinese and Iranian vaccines, most people are so frustrated and desperate that they don't care what vaccine is administered as long as they can get one," said Babak, a 50-year-old intensive care unit nurse living in central Iran.
"People are scared of getting sick and dying; business owners are increasingly incurring losses as time goes by. People are fed up with this disaster. So many individuals have died. The government lies about death and even hospitalisation statistics all the time."
'Worse than you imagine'
Babak said he managed to get inoculated relatively early since he is a health worker.
"I reluctantly got the Chinese vaccine, with the notion that any kind of vaccine is better than nothing," he said.
"I've seen this catastrophe, felt it, lived with it up close since the very beginning," Babak said.
"The situation is much worse than you could imagine," he added.
Most average Iranians are reportedly prepared for any vaccine, regardless of where it is made, in hopes that it will save them from hospitalisation.
In more urban areas and bigger cities, residents are somewhat pickier, particularly if they are financially better off. Those who can physically and financially afford the trip have travelled to other countries to get vaccinated, or are preparing to do so, including to neighbouring Armenia.
Shahrzad, a 62-year-old accountant living in Tehran, says she cannot afford to travel abroad amid the high travel demand and soaring ticket prices but refuses to get the jab.
"I would never get a Chinese vaccine. I don't trust Chinese products one bit. But I trust the Iranian government even less."